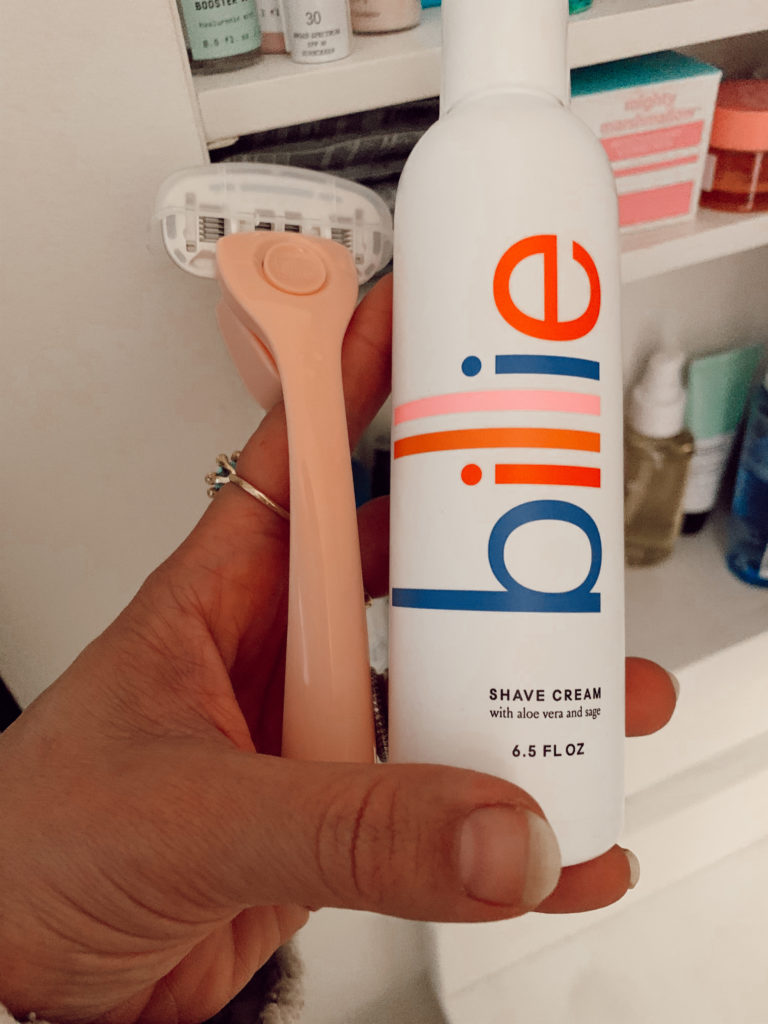 I've been using Reid's razor ever since we first got married. For some reason no one made a woman's razor that actually worked. His razor was always sharper. Go figure.

After some time, being a patient man he is, he accepted the fact that we're both using his razors. Cool. Marriage is weird like that. Until I saw Billie advertised by some of my favorite bloggers just recently. I looked it up, loved the price point, and bought one right away.

It came within a couple of days. I loved the 5 blades, ergonomic shape, pastel colors, encasement of charcoal shave soap (for a close shave), and magnetic holder for the shower. Wow, they thought of everything.
I was anxious to use it.
It glided on softly, sharp as ever and noticed by day 2, that I could go longer in between shaving days. I was hooked. I than started recommending it for my pre-teen who needed her legs shaved. Did I mention their shaving cream is awesome and clean beauty? Their products are free of toxins and additives. It is also only 9$? No, I'm not lying! While I was writing this, I was trying to find the cons, but there aren't many. I did shave too fast one day (running out the door in 5 minutes is my specialty) and cut my knee. Nothing that required a bandage, but note to self to SLOW down. Really that's part of my 2020 mantra, SIMPLIFY and SLOW down. In that thread, here's a tip for a better 2020, throw away all the other razor that never worked and buy this one for $9.
Here are some razor details to write home about:
5 sharp blades, made in USA
Encased in 360 of charcoal soap
Extra gentle on sensitive skin
Dermatalogically approved
In addition to colorful razors, they also carry shave cream, body lotion, and body wash. Everything is under $12! Shop below!