Linen shorts (wearing a sz 4 in color flax) // Cowl neck pullover // Slides on sale // Earrings // Easy white tunic // Linen Beach Pants //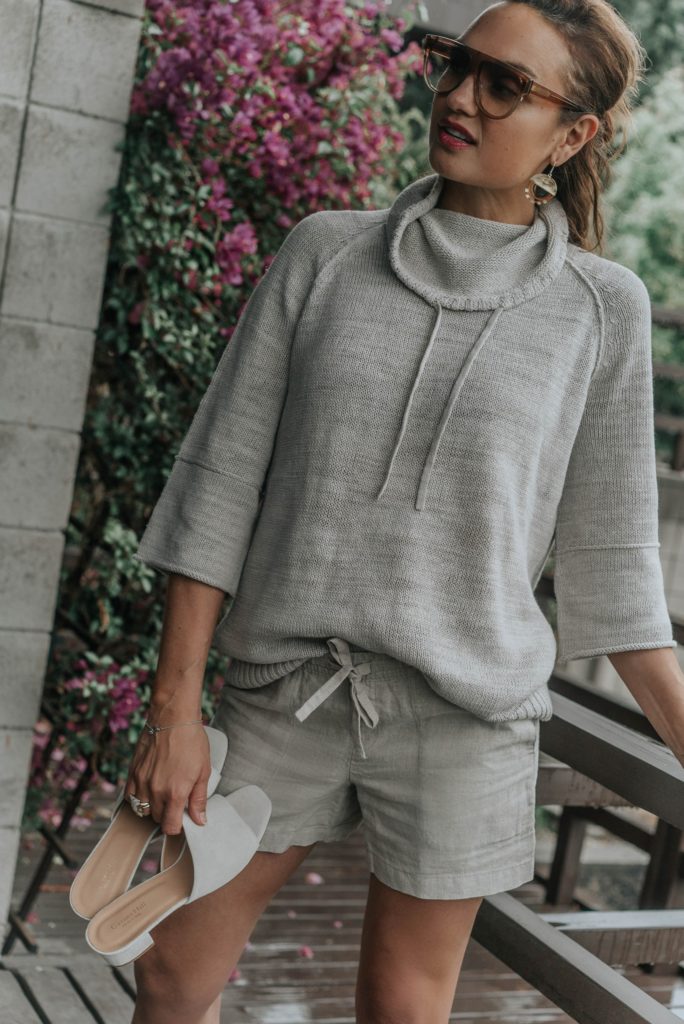 So many readers asked for the exact links to my partnership on Instagram with Garnet Hill. I love the length of these shorts! I opened up a Q and A, to my Insta followers and here are some of your questions!
Hi Shalice, what is your TULA promo code?
"shalice" for 15% off your order. I wrote a review of the rose glow eye balm here.

Which Equilibria products do you take?
I ordered the subscription for the balance box. I take one gel at breakfast and dinner, and one full dropper at lunchtime. I'm loooooving the sleep I'm getting right now. Truly a gift during these crazy and uncertain times. Read my in depth review HERE!
What are the Golden Goose dupes you like?

How are you guys doing quaranting?
Reid is working from home, I'm cooking a ton, helping kids with their school and we are going on long walks! It has been hard for me to keep up with everything, I'll admit. But I love having Reid home. I know this too shall end.
Help a girl out, shoes under $100?

Can you share your bronzer and brush from yesterday, it's gorgeous!
Yes! I used the dark bronzer from Kosas and brush from Hourglass.

What is Dandy Blend?

It's a coffee alternative I started using when nursing Levi. I make it with hot almond milk and it is yummy!
How do you make your hash brown casserole? Do I thaw the hash browns?
No! Just throw them in the 9×13 pan as a layer, no thawing needed! HERE is the official recipe!
Holy Grail Beauty Product?

Can I pick three? It's a trio of help for this girl from a killer concealer (in yucca) and bronzer, Mascara, and THIS $24 BLACK TUNIC that is super flattering. I happen to be wearing it as I write.
What's a good bag I could buy right now, #retailtherapy?!

As always, my shop page is open, 24/7 and you can Shop My Instagrams on my page. Happy Friday!