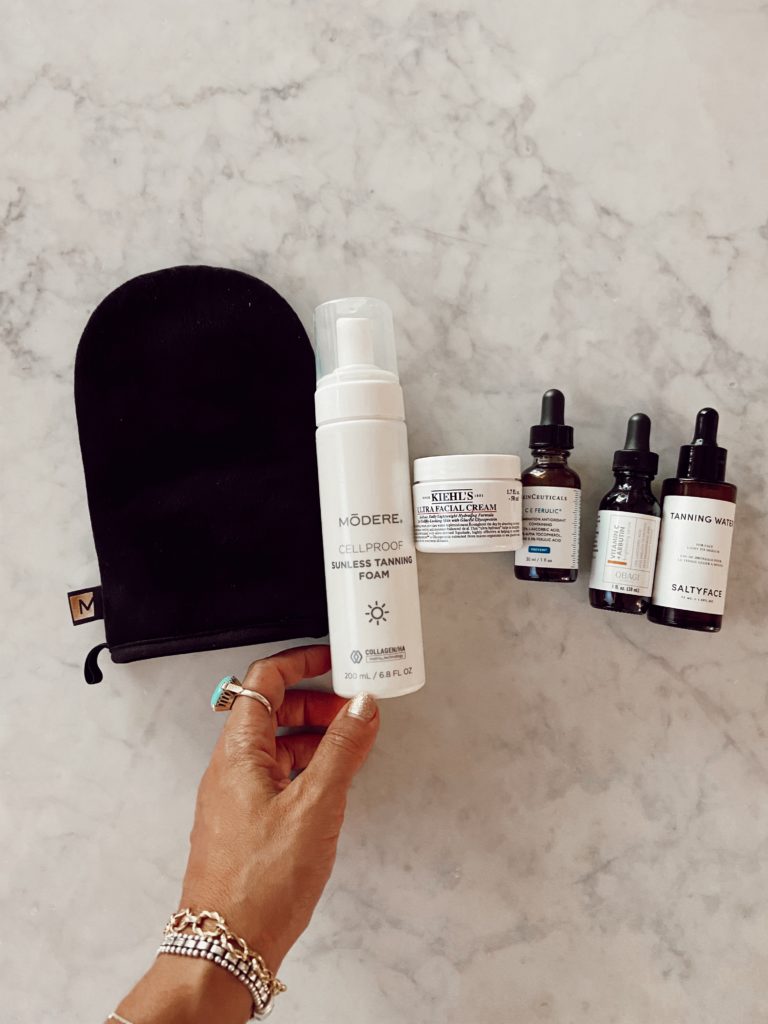 Do you drive around and see strip malls with 24hr tanning still operating? I always ask myself, how do these businesses stay open? I did the old spray tan, back in the day. Most likely college! I'm thankful that I have found a sunless tanner that works well, easy to apply and infused BioCell Collagen® CG for youthful-looking skin.
Here are 5 simple steps for Sunless Tanner application:
1) Bathe and exfoliate with body scrub. Recommended scrub here.
2) When skin is dry, apply 3 foam squirts into mit. Recommmended mit here.
3) Apply foam to each area of the body. I start from the neck and work my way down. I apply three squirts of foam to each extremity, typically.
4) Once covered, wash palm of hands with soap thoroughly.
5) Brush your teeth or do your hair while skin dries. Once dry, get dressed and show the world your tan.
I love the natural look of the tan. I'll typically reapply every 2-3 days, depending on the tone I desire. Reid also loves the Sunless Tanner, so share with your husband.
GOOD NEWS!
FREE CellProof Sunless Tanning Foam when you spend $99 ($34.99 value)!
Offer valid July 28 through July 29 at 11:59 PM MT, or while supplies last. Limit 1 free gift per account, subject to change. Order subtotal must be at least $99 before all discounts, tax and shipping. Excludes existing subscriptions.
Shalice Noel Tip.  You can use your anniversary credit to get towards 99$ purchase.  I recommend this for you shopping cart to automatically earn the free Cell Proof Sunless Tanning Foam.
Wait 4-6 hours for the glow to show up. One thing Reid and love about it is that it doesn't bleed onto our sheets. So I can apply the tanning foam after exfoliation in the shower and go to bed without worrying about staining the sheets.