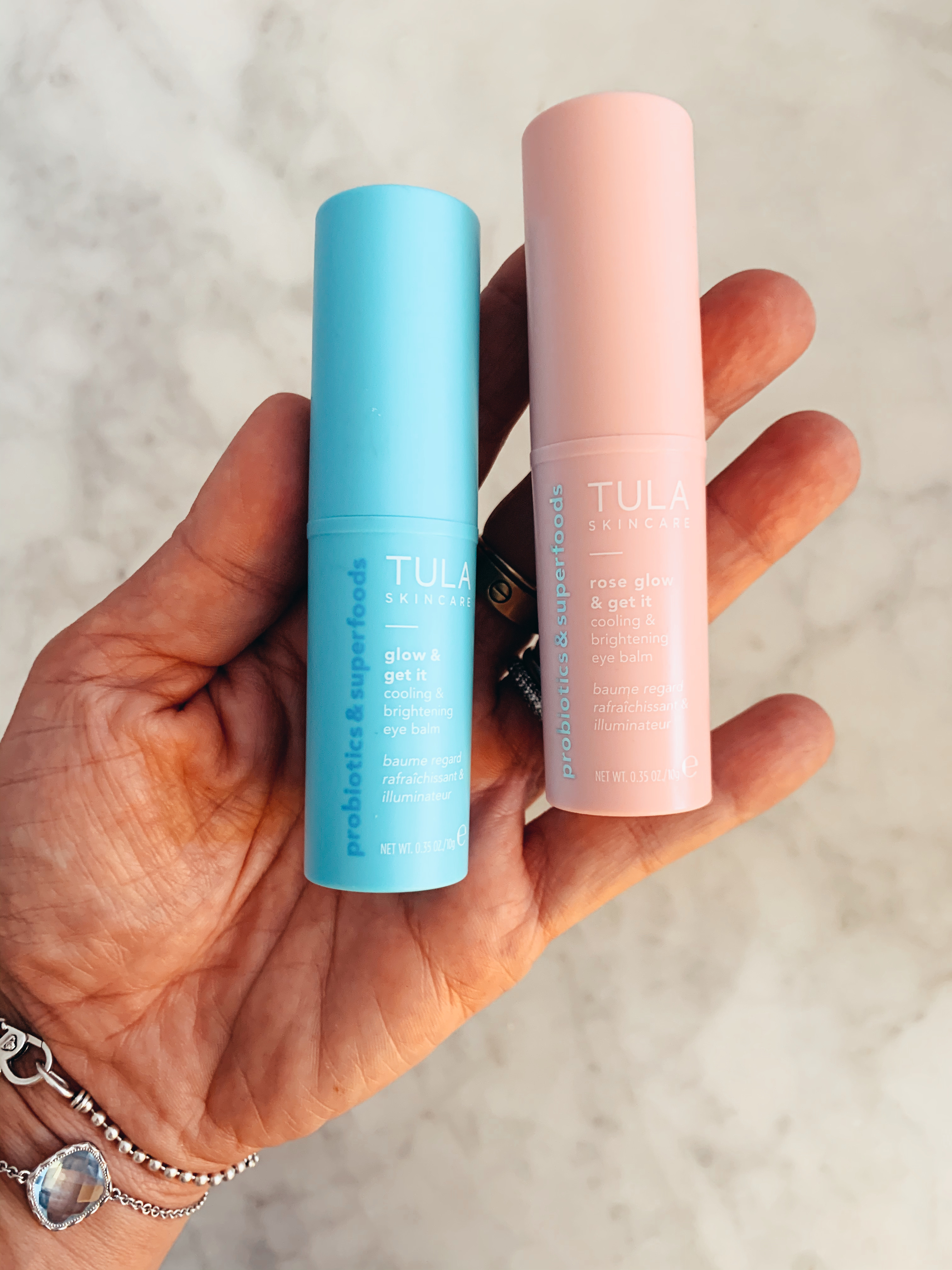 Tula Eye Balm Stick Review
If I'm honest, the eye area is my biggest concern with aging. I fear unwanted fine lines under my eyes and apply eye cream daily. I tried both the pink and blue Tula stick under my eyes a couple weeks ago because I saw some of my favorite bloggers using it. I was curious to see how I would like it. I want to note that it is a VERY convenient size for travel and my ever growing makeup bag. First off the bat, I love that it is clean beauty which means it is free from alcohol, fragrance, parabens, mineral oil, etc. Which gives me peace of mind. I have already used Tula moisturizer and cleanser, which I have really liked. I have since given both to my tween who is now in need of skincare. She was having breakouts and I plan to only give her clean skincare and eventually makeup. Why would I ruin her virgin skin with parabens, mineral oil, and alcohol? Girls, I'm feeling old, I have a tween!! Hence the need for good skincare, less stress and 8 glasses of water.

While these don't take away the need for eye cream, they add another step. But a welcome one that has benefits. After all, I'm still loyal to my bliss eye cream, here are some benefits to these convenient eye sticks:
The blue one: has a SUPER COOLING EFFECT and acts like a dewy highlighter. After a long day staring at my laptop, I like to keep it nearby for a pick-me-up. 1850 reviews with almost 5 perfect stars don't lie!
The pink one: has rosehip oil (a natural retinol alternative) and hydrating rosewater which SO many benefits one of which makes me look more "awake." The pink has a slight shimmer. I'm all about an "instant pick-me-up." The cool thing is, if I use it over my makeup, it appears like a highlighter. Score!
How do they work?
I applied it before concealer for a cooling effect and after makeup as a highlighter. I tried both ways as some days are a 5 min make-up job, and other days, maybe a 10 minute make-up day. Either way, I added this refreshing stick to my routine.
The Low Down
If I could get just one, I'd probably get the rose glow and get it for the rose hip oil and rosewater ingredients. If you're planning on traveling, it is a great pick me up for the plane ride both for convenient size and much needed hydration.
Have you tried either stick? I'd love to hear about your experience.
GIVEAWAY!!!!!
(this is not sponsored by Tula)
Comment below which one you would use and why you need it. I'll pick one winner Monday to send an eye stick of their choice!
Also, you can use my code SHALICE for 20% off!