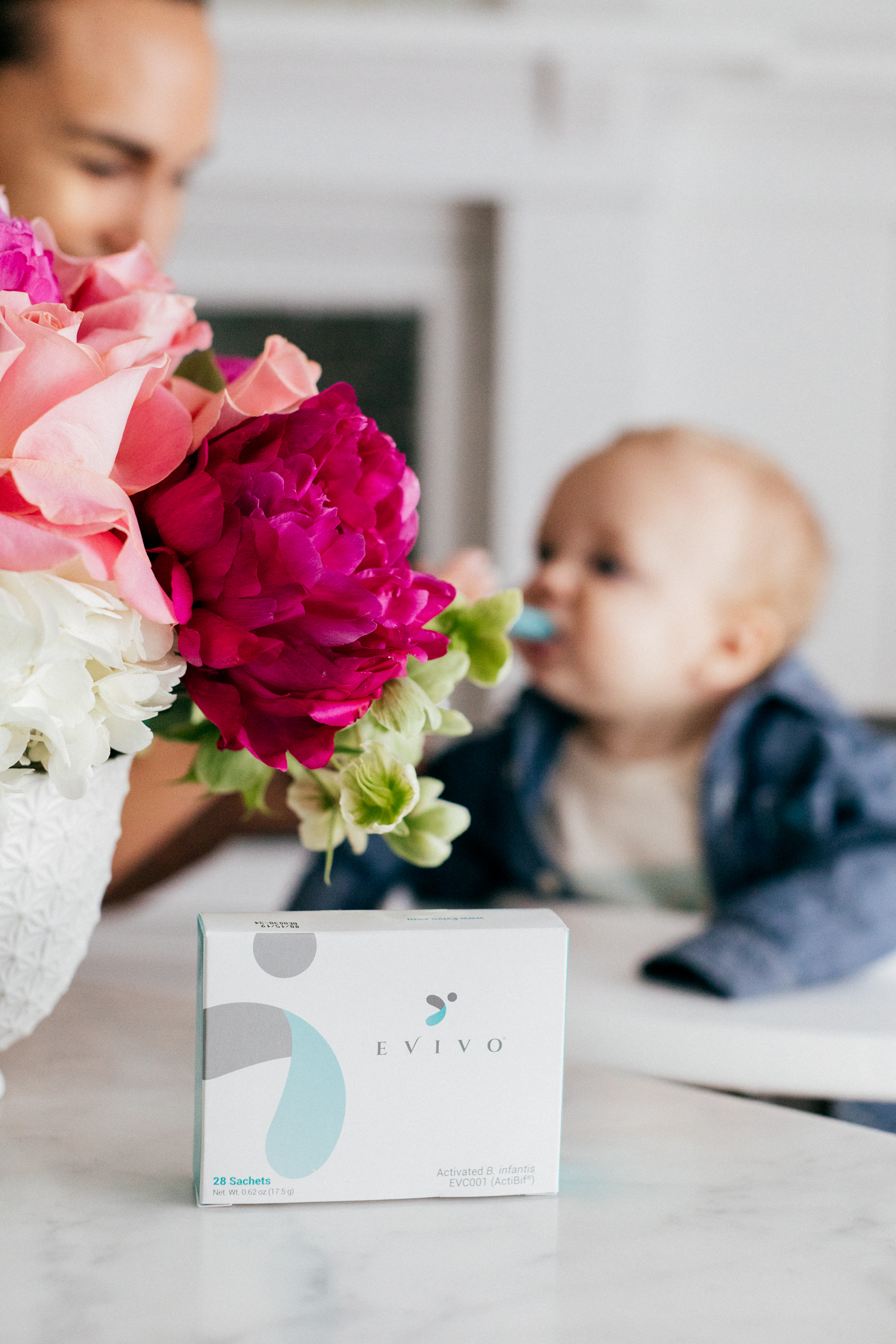 3 Reasons Why I'm Giving My Baby a Probiotic
1 THE FIRST 6 MOS OF BABY'S LIFE ARE MOST CRITICAL. So much critical growth happens during this time from autoimmune to metabolic development.
2 9/10 BABIES ARE MISSING B. INFANTIS
(THE KEY GOOD BACTERIA) THAT DIGESTS NUTRIENTS IN BREASTMILK AND PROTECTS BABY'S GUT
3 NOT ALL PROBIOTICS ARE THE SAME.
STRAIN DOES MATTER. EVIVO IS THE ONLY PROBIOTIC CLINICALLY PROVEN TO RESTORE THE GOOD BACTERIA (B. INFANTIS), REDUCING BAD BACTERIA IN BABY'S GUT BY 80%.
I'll preface this blog post by saying, I forgot SO much after I had my 4th child 6 years ago. So, when Levi arrived last October, I found myself trying to jog my memory about what to give a baby suffering from colic, how to cure mastitis, and what to do to keep up my nursing supply. I asked a couple friends, read up on some of the topics and educated myself as these issues have risen. Levi is newly 7 months. I'm taking one day at a time. A couple weeks into Levi's 6 month birthday, we began seeing bad diaper rash, eczema, and gas. Poor guy. I called my best friend, like I usually do and she urged me to give him a probiotic. And since I'm nursing, I should take one as well. We later found out, his ailments were signs of bad gut health. We started giving Levi Evivo and just waited. I put one sachet into a bowl mixed with 3-5ml breast milk. To my surprise, he started waving his arms, which meant he loved it! Well, that made everything easier. Within a week, the redness behind his ear from eczema lessened.
With increased usage of antibiotics during delivery, c-sections (while both good in their own right), have interrupted the transfer of good bacteria from mom to baby. The good bacteria, the fancy name for it is "B.infantis" is missing from baby. What do we do? Scientists developed this probiotic for babies as the solution to this problem. I want Levi to thrive in all areas including developing a strong gut to help him live a happy and healthy life.
What does it take? Without B. infantis, bad bacteria can thrive threatening him with diabetes, allergies, colic and what we already experienced with eczema. I had no idea probiotics were SO IMPORTANT. My only regret so not having this with all of my kids! Thank you Evivo for making this product that is so instrumental to a baby's health. Levi will thank me one day!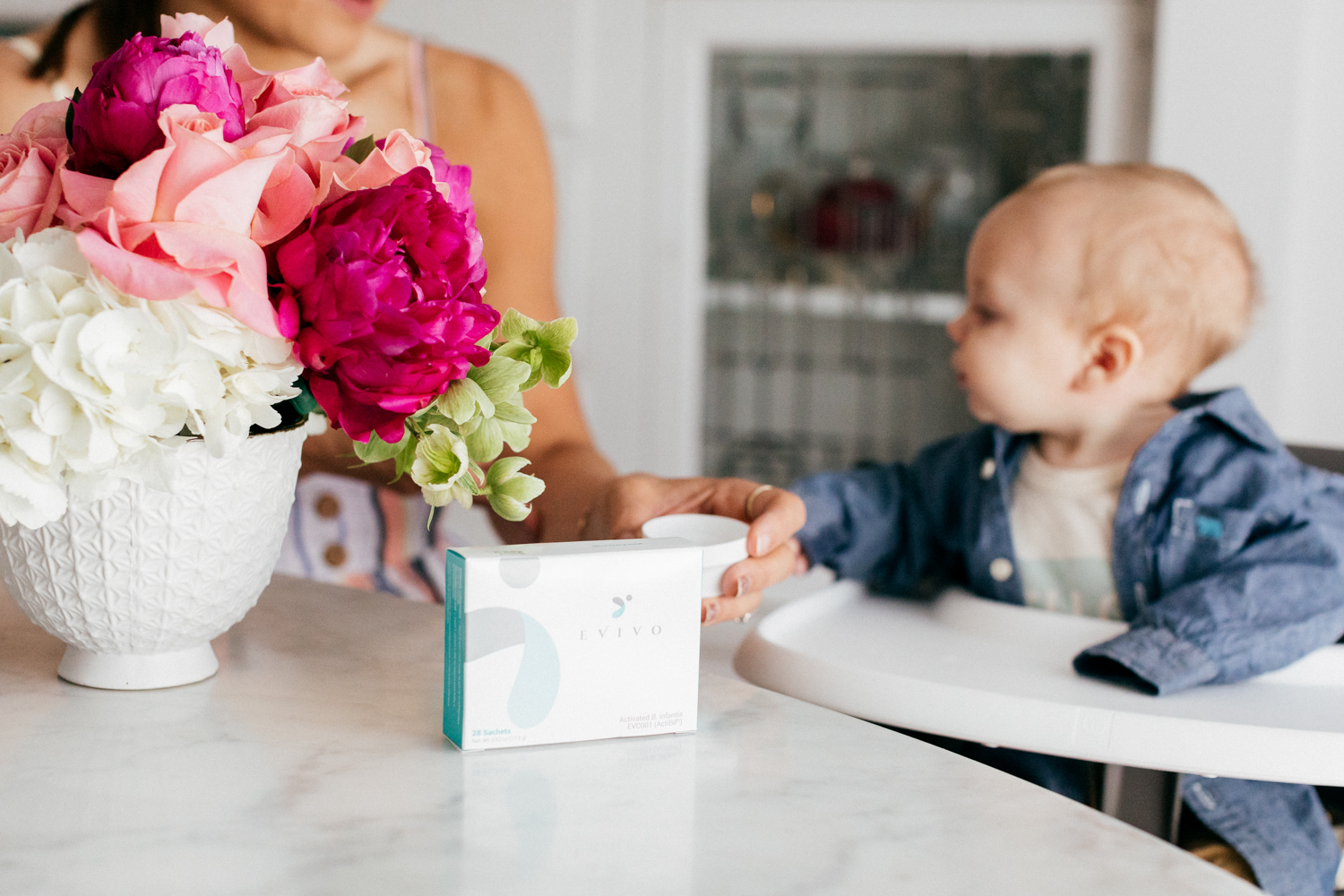 What are some of the benefits? Better sleep, improved digestion, happier baby. If you're a mother, you already know this. A fussy baby is such a challenge. I will have long days with a cranky baby at my hip and I feel like crying along with him. It is incredibly difficult to see your baby unhappy and not know how to help him. For that reason alone, give Evivo a try. Nothing is worse than a fussy baby suffering from one of the above ailments who cannot communicate with you what is wrong. All he or she can do is cry. If you're not a mom, a great gift idea is a gift card for Evivo. Believe me, a new or seasoned mom (like myself) would thank you many times over for such a gift to myself and baby. If you're pregnant, give yourself some brownie points, plan ahead and purchase a month starter kit which is less than $3 a day. Less than a latte. As for me, I plan to continue to give Levi Evivo. My sister-in-law is hoping to get pregnant soon with their second. Since their first had colic, I plan to introduce her to Evivo for baby #2. She will thank me later!

Frequently asked questions – FAQ
Is EVIVO gluten free?
Yes.
Does Evivo have any artificial flavors, preservatives, colors or dyes?
No.
Does Evivo contain any additives?
No.
Can I purchase a gift card for a friend?
Absolutely! More and more mom's are giving and receiving gifts beyond the swadles and onesies. Evivo deserves a place on the baby registry if you ask me! Click HERE for more gift card information.
To receive $10 off use coupon code: "BLOG36328" 
To receive $20 off use coupon code "BLOGSV55P"
Learn more about EVIVO here.
Thank you EVIVO for sponsoring this post!