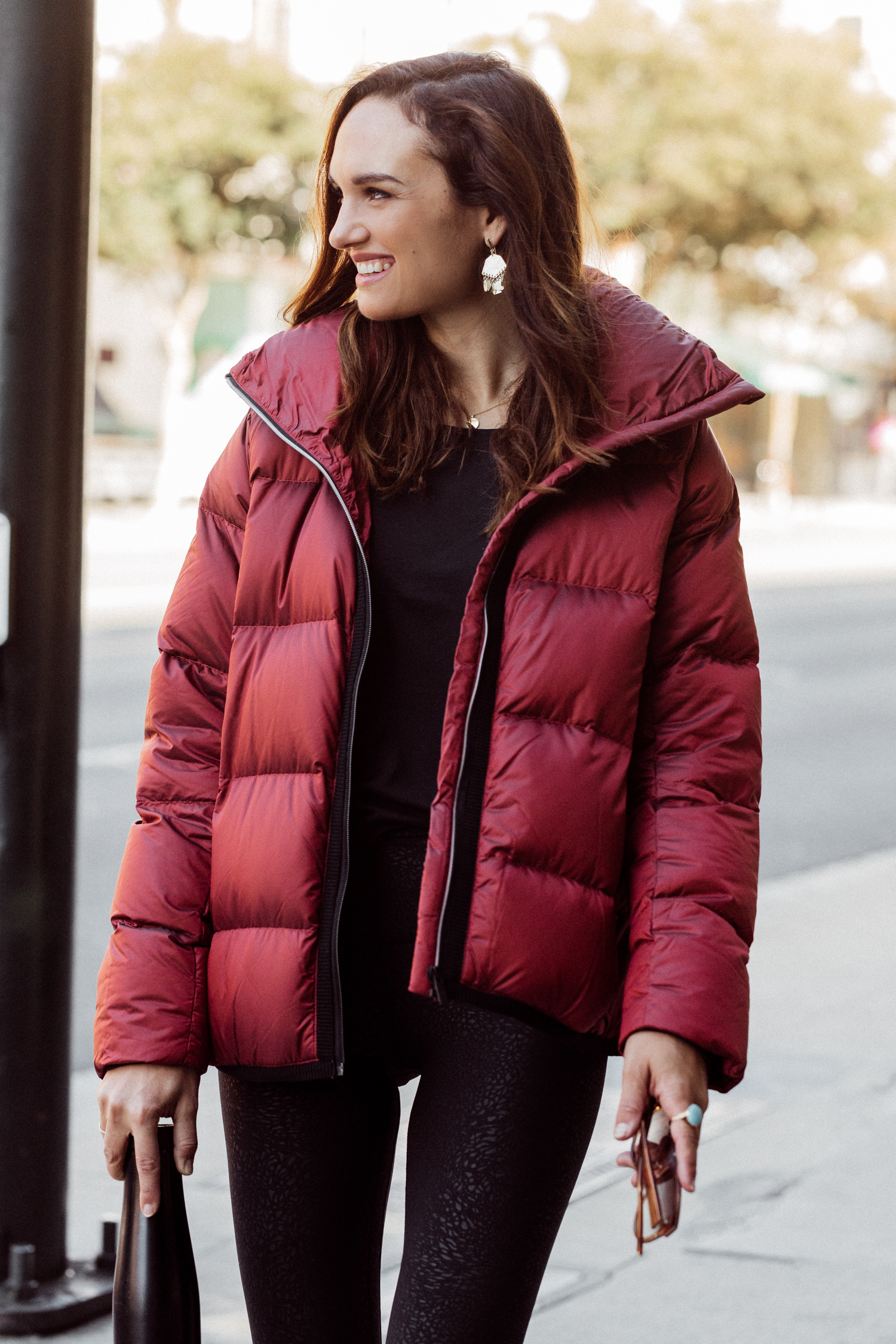 Cloudscape jacket in sz 8 in sunset orange // Align pants in polar shift emboss sz 6// Run times bra // Boyfriend tee in sz 4// Water bottle (this really keeps beverages cold and hot!)

Anyone else (I'm looking at you mamas) love the ease of stylish activewear? I for one, am obsessed. And who does activewear better than lululemon? My outfit here is all lululemon – from the jacket down to my bra. All the materials they use are amazing, so when they launched their Cloudscape Jacket, I knew it would be amazing! It's the perfect puffer for fall layering but is also warm enough to carry you into winter. Because I'm so obsessed (with everything lululemon, to be honest), here are three reasons why I love the new jacket and think it would be a great addition to your activewear!
I couldn't believe something so warm could be so lightweight! The jacket is perfect for travel and hiking and is under $250. I had a similar jacket last winter that was 4x the price, which is great quality, but this one is just as good!
I love how lululemon nails the details. For example, the two interior pockets and soft stretchy material at the wrist seam. It's things like this that take a purchase from good to great, in my opinion. If we go skiing this winter, I'll be sure to pack it – no snow is getting up my sleeves this time! 
It's FLATTERING. From a styling point of view, the large scale of the Cloudscape Jacket worn with leggings makes the legs look skinny – I'm a fan!
Have you checked out the summer/fall essentials at lululemon!? These leggings are a fave because of the texture, and the tee I'm wearing here is also a go-to of mine. I even found some gems like cute shorts for my girls on lululemon's "We Made too Much" page. They were under $20, and I love quality clothes that can be worn over and over again. My girls beg to wear them every day, which is another problem, and a future blog post. But in the meantime, I'm wearing these leggings over and over again – this time with a tank and camel coat. And I'm definitely packing my Cloudscape Jacket for a long weekend in Lake Arrowhead.
How would you wear your cloudscape jacket? Now, I can't wait to wear mine with a hoodie.

Thank you lululemon for sponsoring this post!