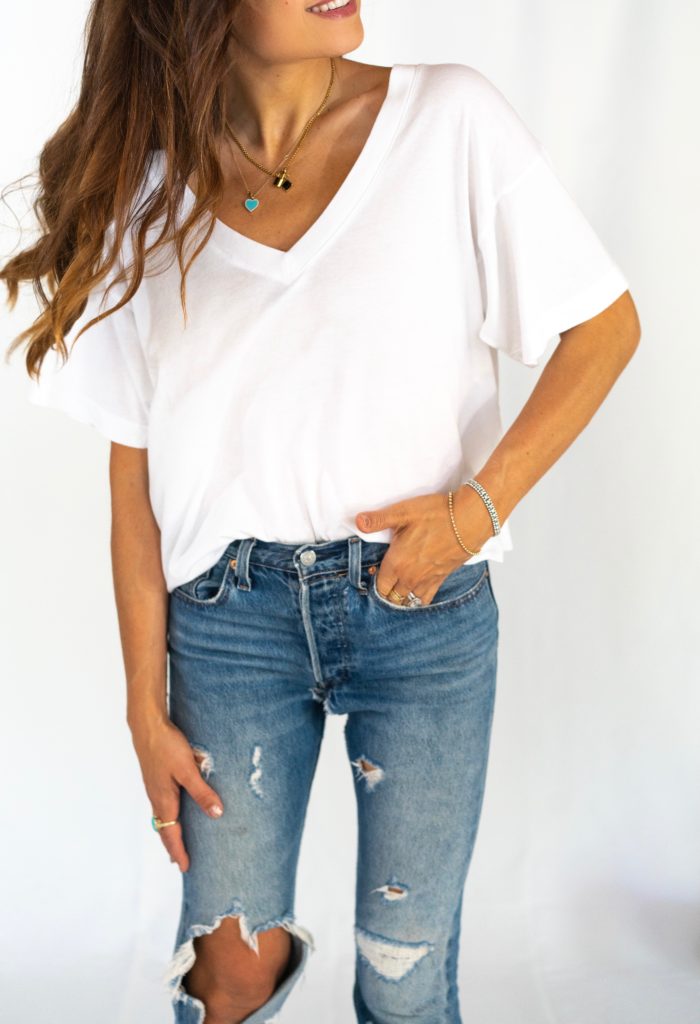 Why we made the Boyfriend T-shirt
Shalice Noel recently launched her newest casually chic T-shirt called The Boyfriend tee. You all loved the cropped Deep V we made last spring, and we sold out quickly! The excitement of the cropped shirt easily elevated with high waisted pants was a hit, but many requested a standard length version. We listened! Meet our newest item, The Boyfriend tee. This is the same soft modal fabric, but with thicker ribbing at the neckline and hangs just above your hips for a casual chic, front tuck look.
When designing the new Shalice Noel T-shirt, we made a spreadsheet of 5 big brand T-shirts in the market. We styled them, measured, washed, stretched, wrinkled, tore, and categorized each one. Some shirts were tight at the arms, neck lines were not flattering, shoulder seams were off, lengths were too long, fabric bunched up when tucked in, etc. We gathered these observations and hand sketched a new V-Neck shirt per Shalice's observations.
The Boyfriend tee fit is forgiving and flattering for everybody. Style it up and down, no matter the occasion. It is a perfect layering piece for early spring making you comfortable and chic. Wear it to work or the gym.
Our T-shirt is designed and made in the USA, supporting women owned businesses. We love supporting female founders and making something that is high quality for women and by women.
The shirt is stocked with sizes XXS thru XL. Make sure to subscribe to our newsletter for special discounts.
Orders yours before we sell out.
PS Use code NEWSLETTER10 for 10% off.
XO
Shalice