As a fashion mom, I've been dreaming of a walk-in closet for many years. One of the most important upgrades we made to our big move was closet potential. Out of 14 years of marriage and 7 houses, our homes have never had ideal closets. In fact, you would cry if you saw the closet of our first house. Our last home had great storage space, but the main closet was combined with the bathroom and I had to separate my clothing into multiple closets. With this move, a big closet was a must. Unfortunately, we compromised and still didn't get a house with my dream closet. Therefore, we are at the drawing board.
Have you noticed that master bedroom closets are the new kitchen? I've been on inspiration overload the last couple weeks, so I will share some of my closet design research and thoughts for your future closet renovation.
For inspiration, I researched closet organization, finishes, lighting and amenities. Can you believe closets have amenities? Some of the research findings are like resort closets.
First, as you envision the aesthetic, think practically and quantify storage needs. Such as, linear feet of long hangings & short hangings, drawers, purses, shoes, high boots, hats, belts, jewelry and maybe your husband's clothes. Also, make sure to measure the hanging length of your dresses, jeans and shirts. Therefore, you know where you can do a double rod and where you can hang your long items. Keep in mind the average reach height for a woman is 74" and a man is 79". Start with this dimension for you clothing rod height. Then compartmentalize your closet from there.
Material inspiration is similar to any home remodel and should coordinate with the style of your home. I found design inspiration while shopping at my favorite retail stores. Cuyana, in LA is one of my favorites. As you visit, take note of the finishes, lighting and how they display the clothing. Take photos if they allow you. Otherwise bring a pen and paper.
I felt inspired by this closet I found on Pinterest. The proportion of the space was similar to ours. I love the grey with brass accessories. The closet feels chic and reminds me of a retail space with the pivoting mirror and shoe display. We incorporated a similar layout for our closet however, I will be using a lighter grey with lacquer finish.
For lighting, I want some modern femininity. We found this chandelier at Restoration Hardware outlet and jumped on it. I love the square shape, crystals and black iron structure. It's both chic and modern. For general lighting we will be doing 4" recessed LED cans as well as LED tape lighting at the purse and shoes shelves. I'm anxious to see it all come together.
Closet amenities are ideas that you may or may not have space for. But think creatively and see what happens. The one amenity I really wanted was an island. Unfortunately, our closet doesn't have room, so as a compromise, we are going to use a bench or move our console table into the closet. I'll keep you posted. I have also seen writing desk, vanities, jewelry drawers and even library ladders. All in all, think of one thing you can do in your closet that is unexpected.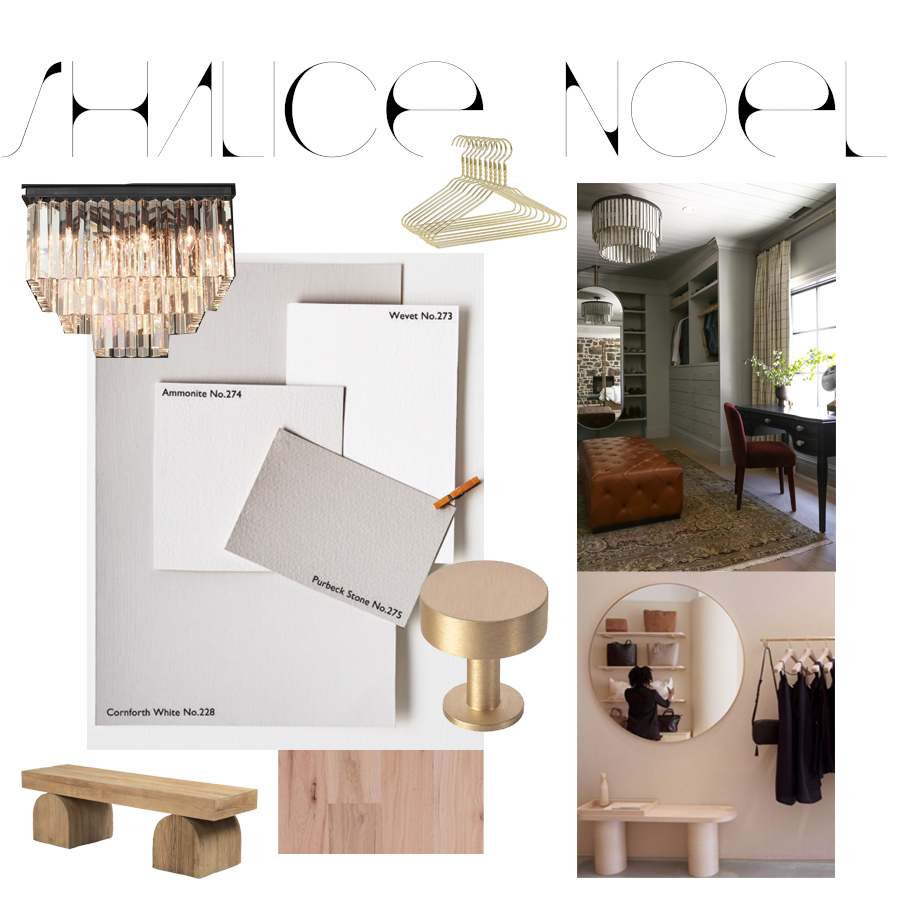 Paint: Ammonite no 274 // Light – I picked this chandelier but also liked this 24″ chandelier // Bench and this wood bench // "S" hooks I got to hang my jeans

I'll be showing you the final closet makeover in another post. Stay tuned.

I wanted to share some common questions I got about my closet reveal!
How did you find a contractor so fast?
Ask your realtor! I told our realtor right away the closet won't work. LOL. So he suggested we get a quote from a contractor he recommended before we closed on the house. So, I had an idea of scope of work, pricing and timing. Although with every renovation, it takes longer than you think.
Are those inset cabinets?
Yes! Good eye. They are inset cabinets. The cost was more, but it has a more custom look.
Which knobs are you going with? I'm just curious, lol.
Rejuvenation has them! They're brass with ridges.
Where are the gold brass rods from?
Our contractor got them at Richelieu Atlanta
Would it look weird with black hangers, which color hanger?
I got gold ones!
Ok, this may be a private question, but how much did it cost?
At first, we were were quoted 11,000 to do the renovation including demolishing the wall in the middle of the room. But after we did the inset cabinets, and some random upgrades, we ended up spending 15,000.