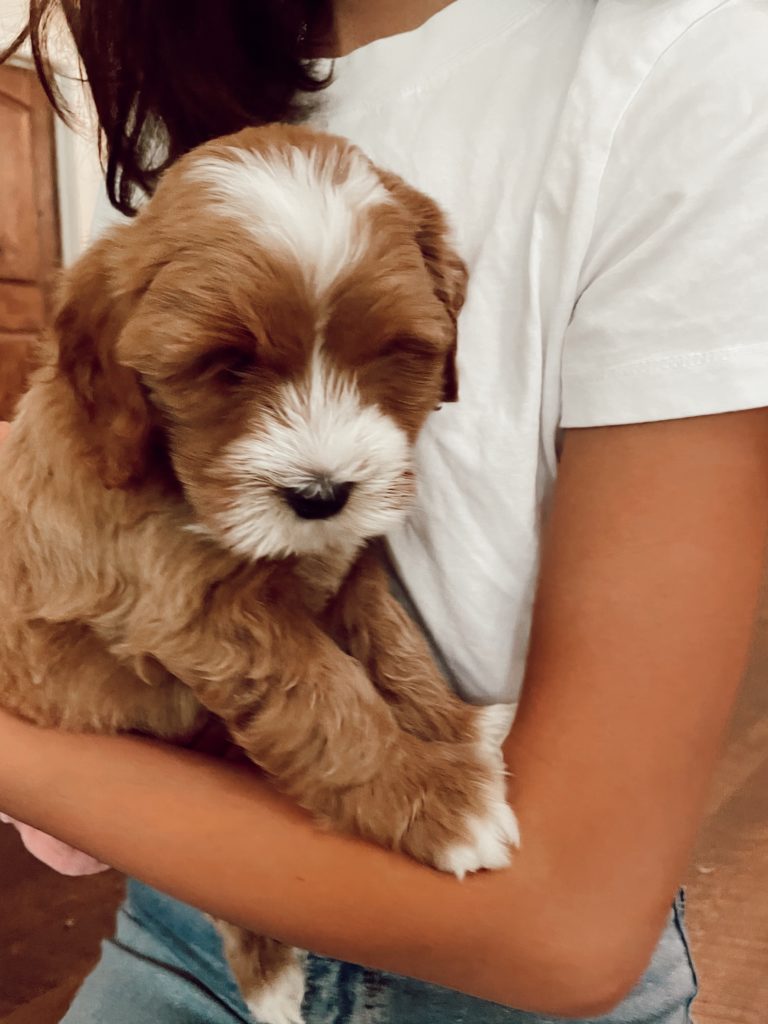 The kids have begged me for 6 years for a puppy and guess what??
Tomorrow we pick up our mini golden doodle puppy. He is 8 weeks old and the breeder named him Lukas. We cannot wait to pick him up tomorrow.
If you live in Atlanta, there is a breeder in Woodstock, that has both males and females called GLITZY GOLDENDOODLES. Check out her adorable Facebook page. Can't get over those pictures of tiny puppies. Honestly, it was hard to just pick one.
This week, we have been watching youtube videos on how to train our new puppy. We've also discussed with the kids their new responsibilities. It won't be perfect but I'm adjusting my expectations.
We've bought snacks, raw organic food and a travel crate for him to sleep in.
Next up, will be agree on a name?
Stay tuned 😉
Since we don't know what we're doing, please weigh in with any puppy training advice that you may have learned. Looking forward to sharing more of this new adventure!
5 TIPS TO GETTING A NEW PUPPY
1 Keep expectations low – be realistic, you won't be getting a lot of sleep with a new puppy. You and you puppy will be adjusting to a new life and schedule.
2 Give him/her a safe place to play and sleep. We bought this crate.
3 Roll up your nice rugs!
4 Buy bells to place at the doors. Train the puppy to ring the bell to go out to potty.
5 Buy Apple bitters and spray on the furniture legs and lamps (with wires) before you get the puppy. This is key. We wished we did this before we got Lucca.

Tee shirt // Jeans // Sunglasses // Puppy crate