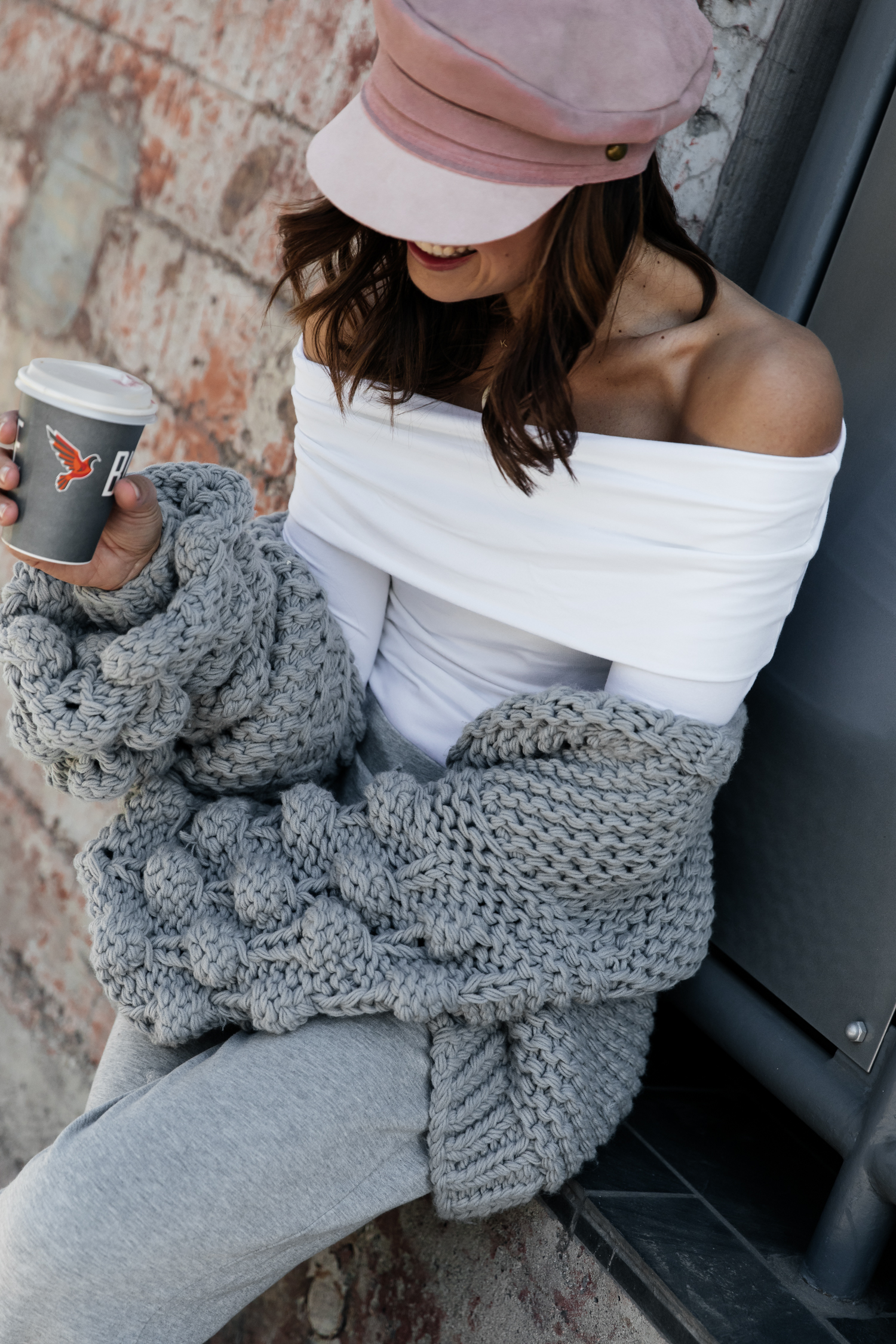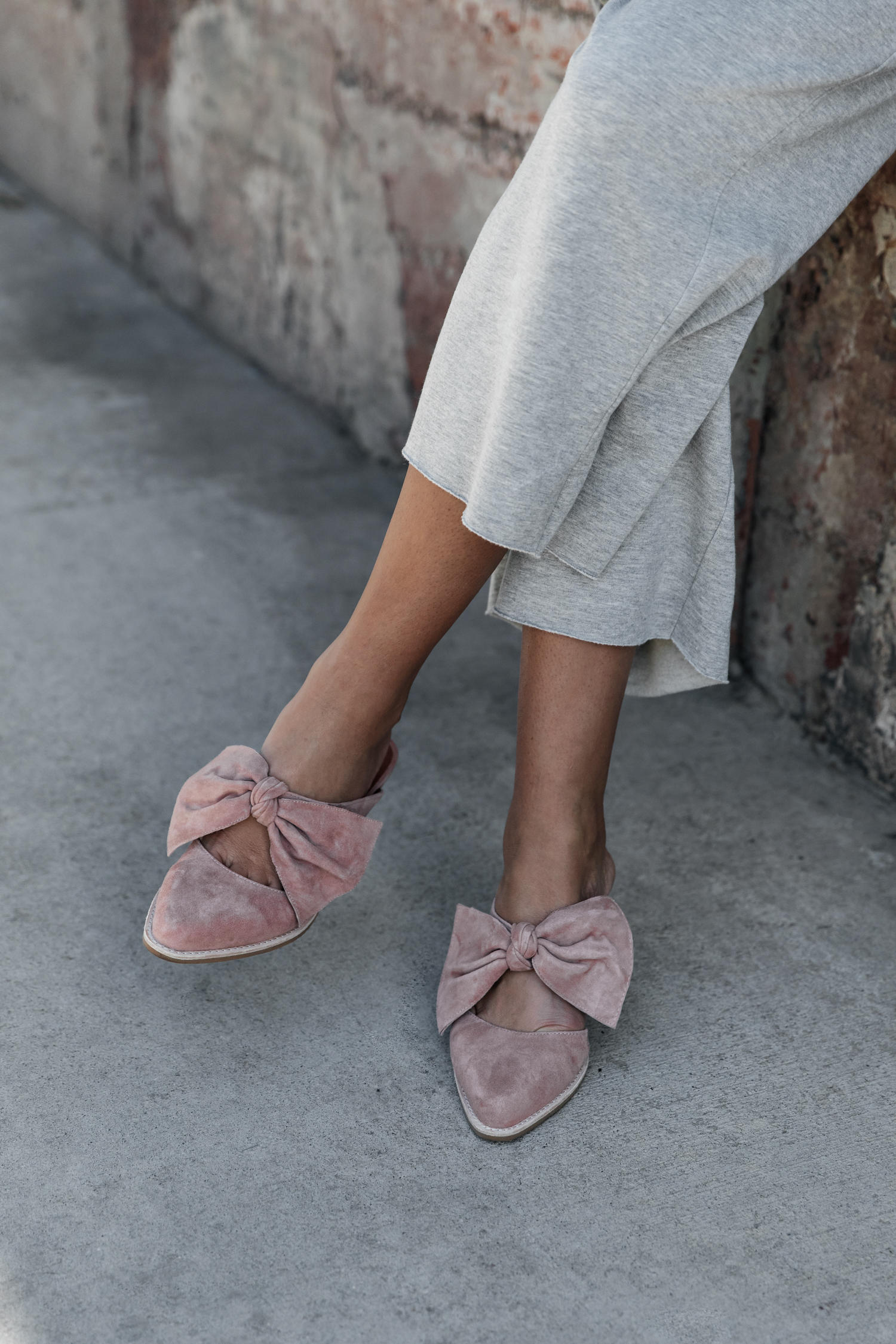 similar TOP // cardigan // crop sweatpants // bow mules // similar hat 
Using Accessories to Dress Up a Laid-Back Look
Who has tried the baker boy hat trend? I'm loving it for spring weather! Hats are one of my absolute favorite accessories. And speaking of accessories, I love using them to spice up a really laid back look.
With these cotton, cropped joggers and this completely adorable and super chunky sweater, I needed something to spice it up and make it feel a little less winter-cozy. Spring is almost here and pink moments like the baker boy hat and these amazing flats are necessary. If you're in the market for some cute slides with a statement bow, I highly recommend.
Grab a cup of tea and read some  FAQ this week some of you submitted. I love receiving them! 
What non TV activity do you like your kids to do?

Puzzles! One of our sitters got us hooked on them. The brand Ravensburger is my favorite. My sister got me into them and you can buy them on Amazon.
What is your nacho seasoning recipe I saw on IG Stories?
Good question! Here it is adapted from this site:
1/4 cup coconut oil
1/2 cup white popcorn (I prefer white over yellow popcorn for the taste)
1/4 cup nutritional yeast
1 tsp salt
1 tsp Ground Paprika
1/2 tsp Garlic powder
1/2 tsp Onion powder
1/2 tsp Chili powder 
1/4 tsp Ground Cumin
1/8 tsp Cayenne Pepper
Optional: I add brown sugar and grape seed oil to taste. So yummy, my kids love it!
When your kids are sick of protein pancakes, what do you make for breakfast?
Puffed Pancakes, click HERE for my foolproof recipe! Reid makes it on the weekends – he doesn't cook but he makes these, that's how easy it is!
Why are you not going to NYFW?
Honestly, if I had a for me to travel and leave the family, it takes a village! Like last year, I had more work here in LA than NYC, and frankly, it's hard to leave the LA weather.
What is your go-to daily moisturizer, I'm in the market! Also what was the retinol A cream your facialist recommended?

My daily moisturizer is TULA, use SHALICE for 20% off, and my facialist recommended this cream.  She also was happy that I use LED spa device! She said the results are great when you stay consistent with it. She asked how I made time to use the LED light and I said I do it while drinking coffee, brushing my teeth, making omelettes and let's be real, isn't every mom trained to do everything with one hand?? LOL.
Will you be showing more of the A Frame Cabin?
Yes, we are uploading a You Tube video now if the before pictures as well as our plans. Subscribe Here so you don't miss out!
Thanks for sending in your questions and reading this! We are spending half the weekend at the cabin putting cabinets together and girls night for me! Hope you have a lovely weekend!