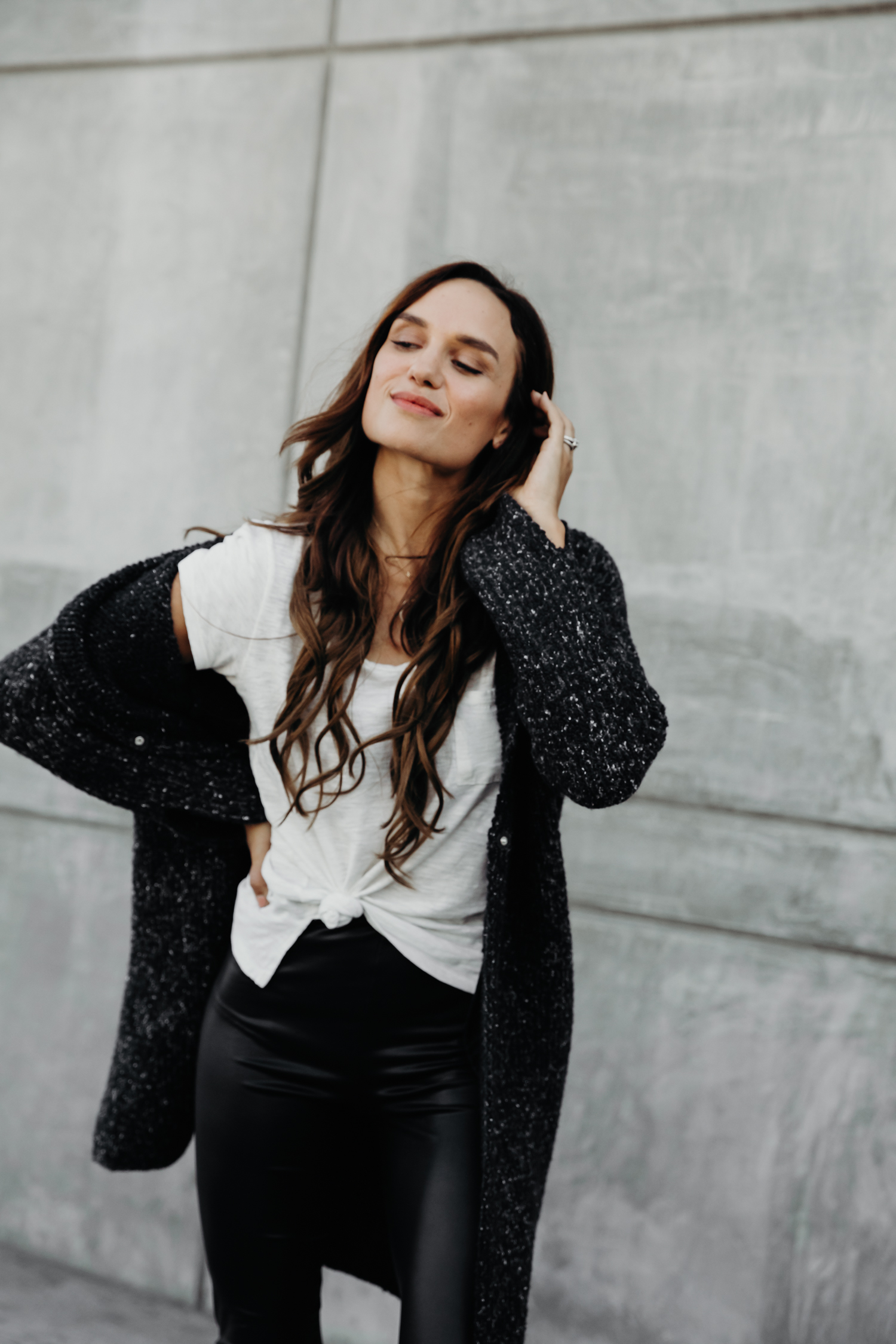 Similar cardigan // tee shirt  // faux leather leggings // 

How do you have so many clothes and how do you find time to wear them all?
Haha I don't actually. I try and wear as many as I can.
What blogs do you follow?
I love how Blair at Atlantic-Pacific pairs the unexpected, she's truly an artist.
Where do you go for fashion and style inspiration?
Streetstyle. Traveling and seeing new places and things help inspire. I love Audrey Hepburn's timeless style.
What do you do when you're in a funk or do you ever not feel inspired?
Yes! Definitely. Every artist or content creator feels pressure to create and not always inspired to do so. 1. Take time off if you can 2. Start Exercising 3. Begin journaling 4. Write down your goals and put them somewhere visible – like your bathroom mirror, the fridge 5. Have a friend keep you accountable. Dare I say 6. Get off Social Media! I hesitate since that is my job but there is nothing wrong with giving it a break. Don't watch stories if it gives you FOMO, go take a walk and do the above 5 things before you check your social media accounts. Easier said than done but you'll be much happier.
What are your top styling tips?
KISS Keep it simple. I have to tell myself this when I get thrown lots of trends at once. I like to pick out one item (often shoes if I'm honest!) that inspires me and style around it. Sometimes its a fringe bootie, a belt, or a fuzzy bag.
If there's one thing I should invest in for my closet this winter it's a . . .
Camel Coat! Don't hesitate. Some of my favorite looks are when I've worn a camel coat. It's crazy versatile.

What do you eat for breakfast and what do you feed your kids?
I eat steel cut oatmeal, the kids like protein pancakes but all that to say, we go in spurts. Sometimes egg white omelet since I took the Pinnertest and it showed I was allergic to egg yolk!
Who do you use to take your pictures?
I have a couple girls here in LA I love to hire, Felicia Lasala, Jordan Kinghorn, and hubby takes them when I ask him nicely.
What are your top two snacks you make for your kids?
Kale chips (I recently added parmesan and I love it!), apple chips, bean chips, do you notice a theme?
What are you most looking forward to when renovating the cabin?
The kitchen! I love how open it will be to be able to hear the kids playing in the loft, see the fireplace and walk out to the deck. Talk about cozy kitchen. More to come!
How do you run the blog and have so many kids?
Ha! probably one of my MOST asked questions. I'll tell you a story. When I had my first corporate jobs at a bank, at the end of the day, I would take the elevator down and listen to some of the moms who happened to be executives also and share that they didn't want to be home and that their kids were closer to the nanny. Because of that, the nanny would travel with them and overall she seemed ok that her kids preferred the nanny to herself. While part of me wanted their corner office one day, I inwardly decided to always have a relationship with my kids, even when I'm in business. So, what does that look like? Since I have four, it's important to take one at a time out for a date, sometimes hot cocoa, sometimes it's target. Just to check in and see how they are. When I have deadlines, I get a sitter and go to the coffee shop and write, I stay up past my bedtime (hence the need for eye patches for puffy eyes), I delegate jobs, etc. I often say, if it's something you want badly enough, it will happen. That is true for many and it's true for me. I work when I can where I can, and is that always balanced no, I'm human and I'm still learning. But my relationships with my kids always are first priority.
Want to read more Q & A's? There is one here and here.
Feel free to comment on whatever question I may have left out. Thanks for reading!