Foodie Friday
Free of Tyranny, and Dairy
Mason jars are fantastic – they make adorable glassware, vases, and storage containers. And this Fourth of July, they are the perfect vessel for a red white and blue treat. There are a lot of versions of these layered fruit parfaits but most include dairy, which excludes my lactose intolerant kiddo, and cake or pudding which tend to have a lot of artificial ingredients. So I'm creating my own parfait without dairy, artificial ingredients or even gluten. This really is the land of the free. 
Independence Day Jar Parfait
This one is particularly fun as a build-your-own dessert once all the pieces are prepped. And any leftover coconut cream can double as a fruit dip!
What You'll Need
6 8oz Mason Jars
1 14oz Can Extra Thick Coconut Cream (chilled)
1-2 Teaspoons Vanilla
1 Tablespoon Agave Nectar or Honey
1lb Strawberries, sliced
2 pints Blueberries
1 cup pomegranate seeds
12 Fat Free Vanilla Meringue Cookies 
How You'll Do It
1 – The coconut cream layer can be a little tricky on a hot day. It can easily melt and lose its texture. I recommend keeping the can in the fridge until you're ready to use it. First, you'll need to drain any water left in the can so you're only dealing with the thick cream. Then whip it in a steel bowl using an electric mixer so it's nice and fluffy. Add the agave nectar and vanilla to taste and mix until it's incorporated and totally spoon-licking delicious. Now pop that bowl back in the fridge to keep it cool.
2 – Place the meringue cookies in a large zip lock back and smash them up with a meat pounder or the bottom of a heavy spoon handle until it's crumbly, but not powdered. This is a great way to let off any steam or holiday prep stress. You can also snack on a few cookies as you go – I know I did.
3 – Get Layering. If you're doing a make-your-own-dessert station, place each ingredient in it's own bowl with a serving spoon. I like to start with a spoonful of coconut cream on the bottom, then alternate layers of strawberries, blueberries, pomegranate and meringue crumbles and top it all off with some more coconut cream. The only rule is to always separate the cream and the meringue crumbles by fruit – otherwise that meringue can get a little soggy.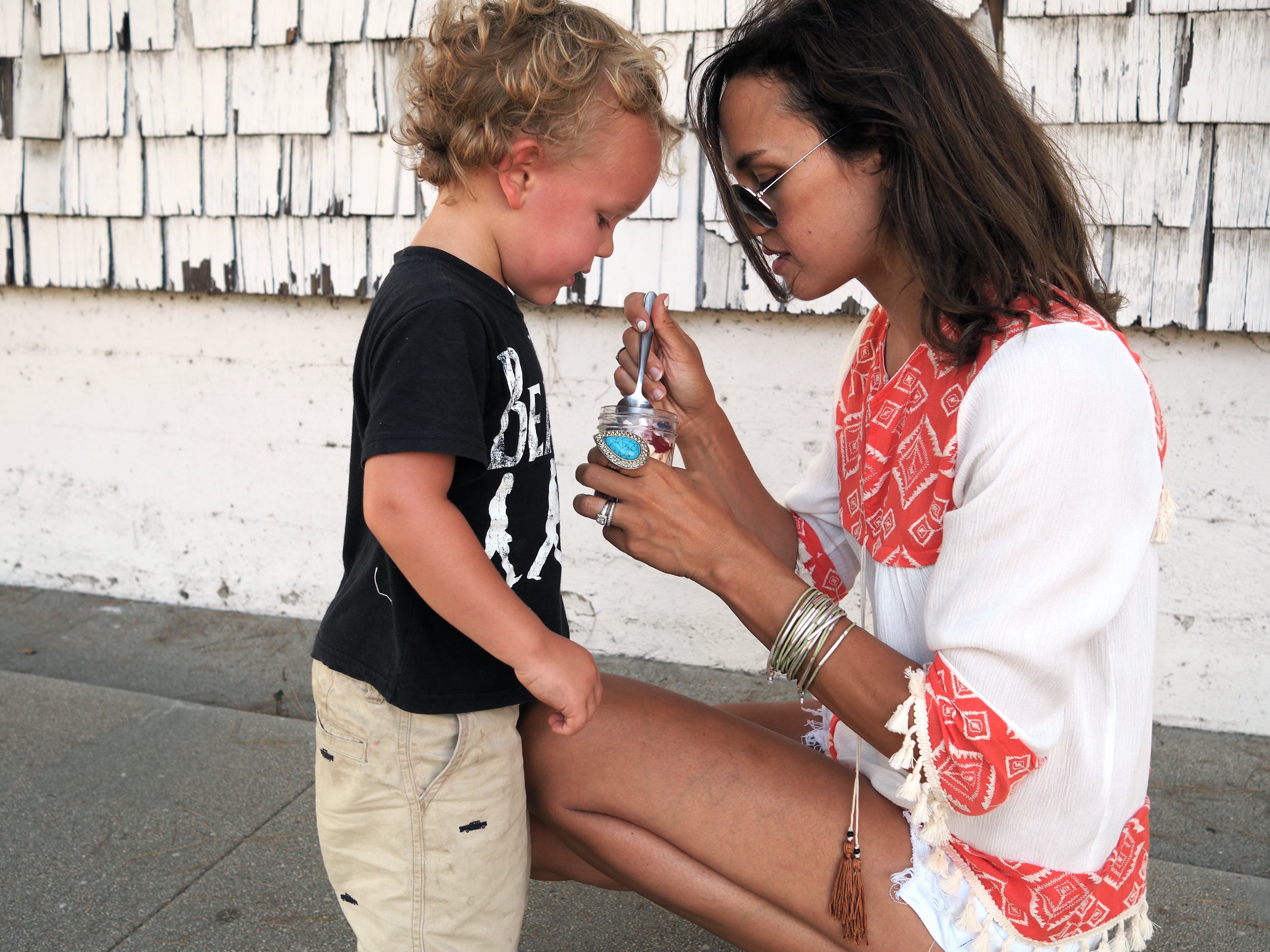 my top MISA LOS ANGELES  / cutoffs TOPSHOP