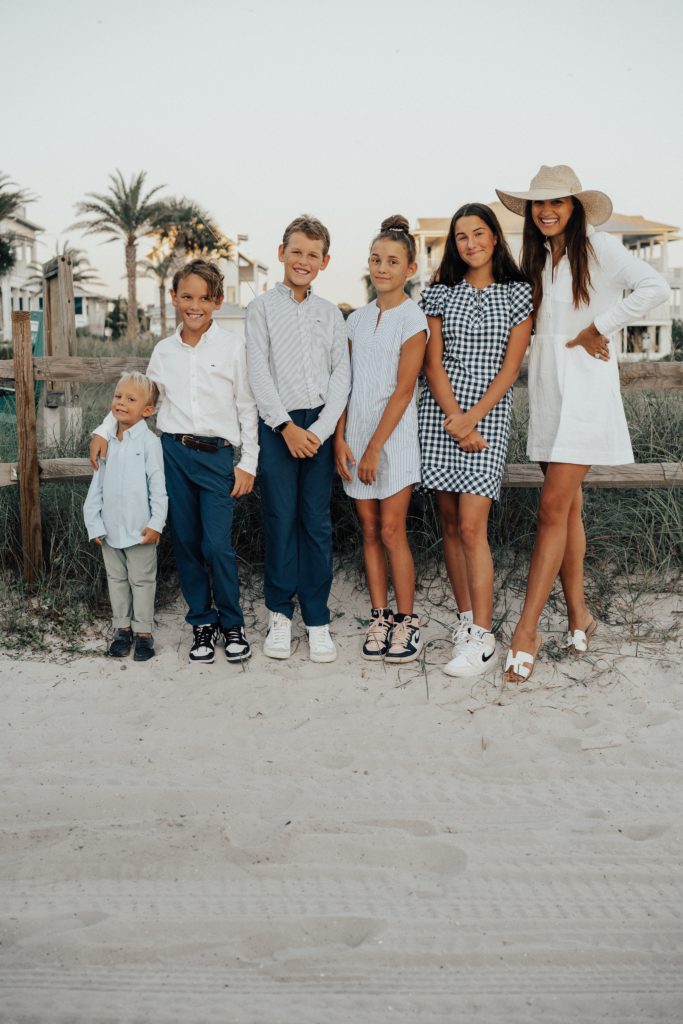 It's beginning to look a lot like Christmas card season all around the beach. The families are dressed in their perfectly matching shades of white. It's a hustle to get those Christmas card pictures just right, so I recommend getting started now. The weather is still warm, the kids are happy, and you will be the first card in everyone's mailboxes for sure like that superstar mom you prove to be daily. Just kidding.
But in all seriousness, here are my Christmas card strategies to help you enjoy some calm in the crazy.
First, save money and don't use hire out photography.  We purchased a tripod and use the self-timer function on the camera.  It reduces a lot of stress hiring someone and then you can work with your own schedule.

We timed our photo just before sunset and was fortunate to have amazing light. Make sure to face the sunset when taking your picture just at the right time. Right after sunset is perfect even light and then the kids won't be squinting. We then use Light Room to filter the image and brighten it up if needed.
Secondly, we order our cards through Minted. They can easily be personalized, are quality and I like their designs.
Thirdly, match your outfits however you like. Our family has been loving Vineyard Vines lately, so we all wore our favorite Vineyard Vines outfits. The colors all coordinate nicely. We let the kids pick out what they wanted, and a touch of gingham really adds to the style of the scene. What do you think? Don't sit on this idea, schedule your family photo this weekend, order your cards and give yourself a big pat on the back. Now, only if ordering the bay leaf wreathes, my dad's gift, and decorating was this easy.
Maybe next year.
Click to shop our outfits below:
Boys Bleeker pants // Boys White Oxford shirt // Boys Stripe Shirt // Toddler Canvas Pants // Toddler Oxford Shirt

Shalice's White Dress sz 4 // Shalice's Stripe button down in Medium // Reid's canvas pants in gray // Reid's gingham shirt // Straw hat // "H" Sandals

Girls Stripe Tunic Dress (she wore medium age 12) // Girls teen gingham dress (age 14, xxs)