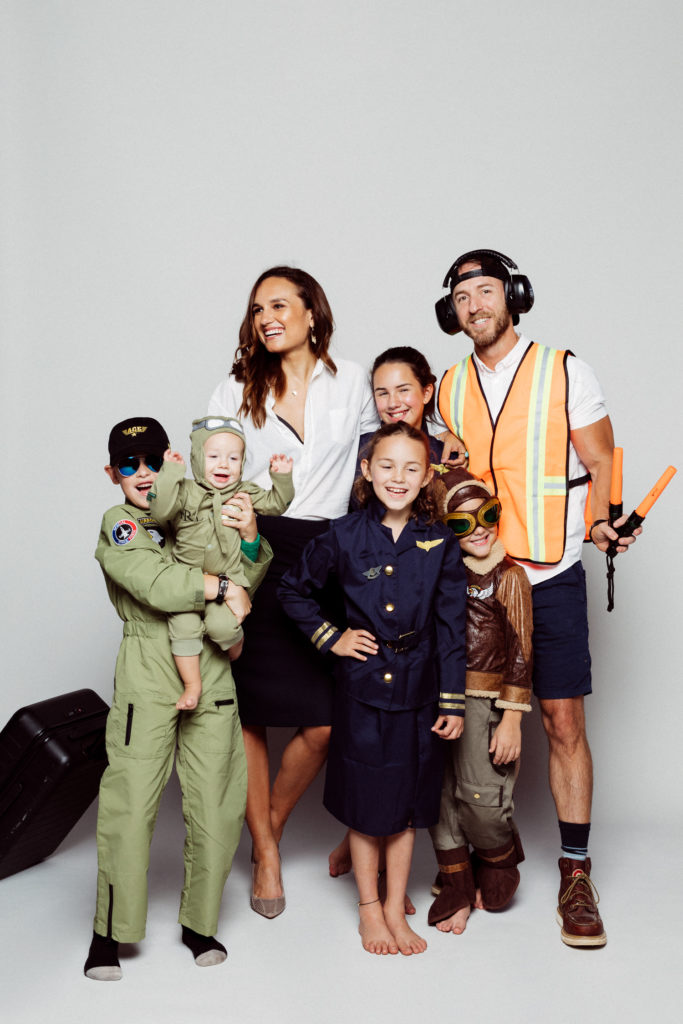 Baby Outfit // Older Boys Outfit with Cap // Girls Stewardess Costume // Reid's Ear Muffs // Reid's Safety Vest // His dad's old boots // Traffic Wand
My shirt // My pencil skirt // My pumps // Brook's costume from Costco.

Every September we rack our brains over WHAT to be for Halloween. It's a big deal around here and with a group of seven, the pressure is on to keep everyone happy. Getting it all together is much harder than it looks but the real complexity is keeping it simple.
This year, like most, we went back and forth—should we be a family of bees, a box of illegal plastic straws or just give up and go in our pajamas? As we brainstorm and talk ourselves out of any costumes that involve sewing we usually hit the enlightenment.
Then, Brooks—my 6-year-old—came back from a Costco run with daddy and announced he REALLY WANTED the pilot uniform at Costco. So much so that he would use his own money. Wow. So, the next day I brought the fam to Costco to see what the hype was. He was right on, it was a cool uniform with a semi-real looking leather aviator jacket. SOLD. I whipped out the Visa, threw some berries in the cart to snack on for the painfully long line and just like that, we started creating our Halloween family theme on the way home.
So thanks to Brooks' find, we found ourselves an aviation theme. That my friends is how it's done. No rhyme or reason or far-out planning… it was really just impulse. I went on to order stewardess uniforms for the girls, another fighter jet costume for the boys and Reid pulled together a baggage handler costume thanks to Amazon. Hilarious. My dad, a retired pilot, I think would be proud.
Which is your favorite look?