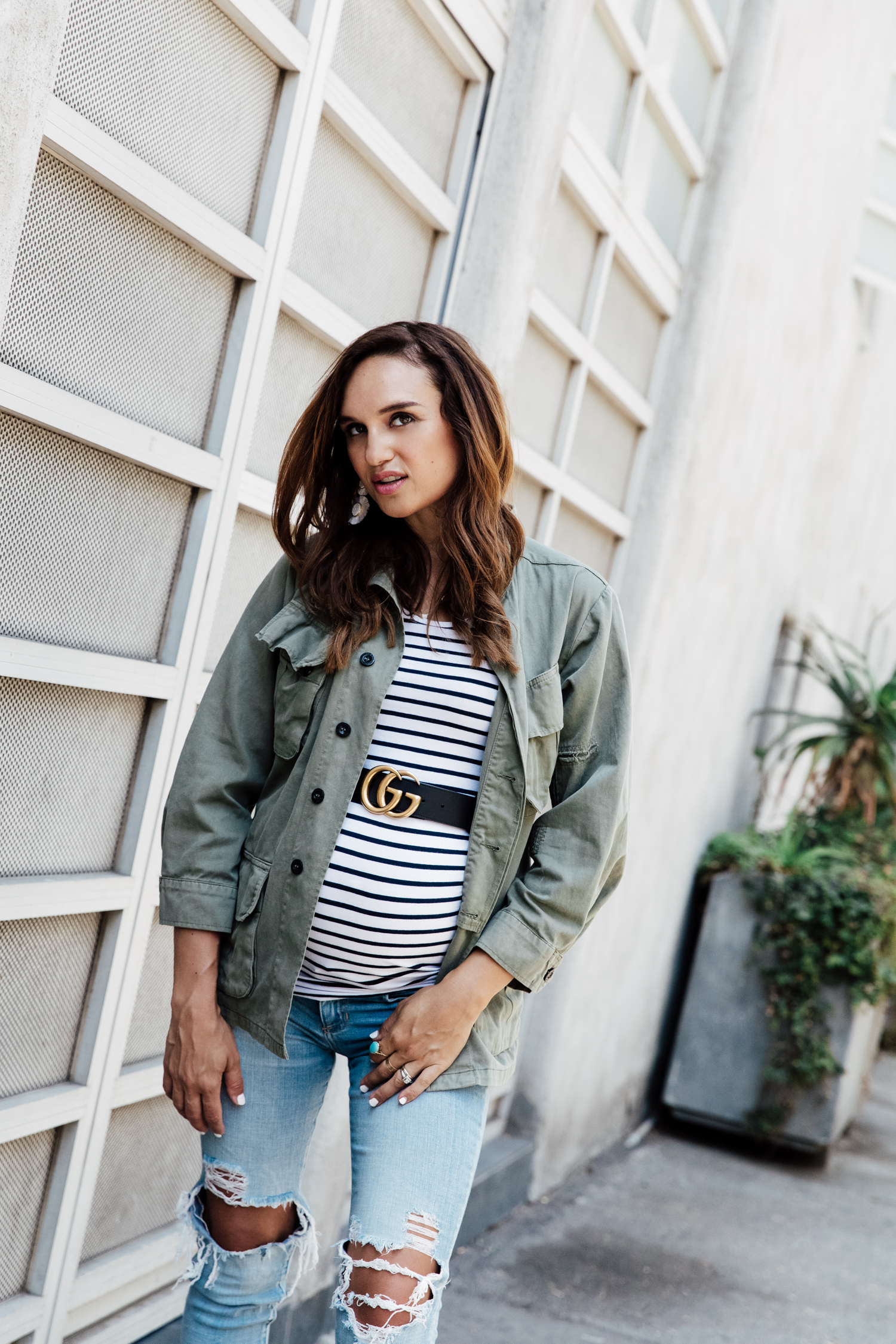 Jeans // Top // Belt // Jacket // Heels

I still can't believe we will be welcoming another kiddo this fall, I mean, I can barely say 5 kids, when I'm so used to saying 4. I'm sure I will be that forgetful mom, that after 4, i forget to bring the extra diapers, wipes, change of clothes, etc, because I haven't done this in 5 years!
Currently, I am 26 weeks and baby is weighing in at 2 lbs and I have lately been grabbing for the same items: stripe top, black top, bella band over jeans and denim shorts. Add to that a black maxi. Even my 8 year-old makes fun saying, "oh that dress again mommy?"
I'm a believer that if its good, its good, why shelf it? Wear it daily, ha! I've also worn the same couple things around the house because I'm extra tired this time around. Everything is an extra effort from making dinner to even walking up and down the stairs, ha! Throbbing legs, sore back and 5 am kicks are just a little burden I bear carrying this GIFT!
Sure I'd love to be traveling, but I'm walking (or waddling) into this holiday extra grateful and okay with doing less, saying no, and staying put (on the couch) growing a human and enjoying my cuties.
Happy ALMOST long weekend!
NORDSTROM style steals under $100! Stay Tuned for a 4th of July giveaway!

JCREW use code ALLSTAR for 30% off!

WEST ELM use code JULY4 for 20% off entire purchase

LOFT 50% off sale styles

SSENSE golden goose sneakers on sale!
SOLE SOCIETY select styles up to 60% off and free shipping for orders over $50