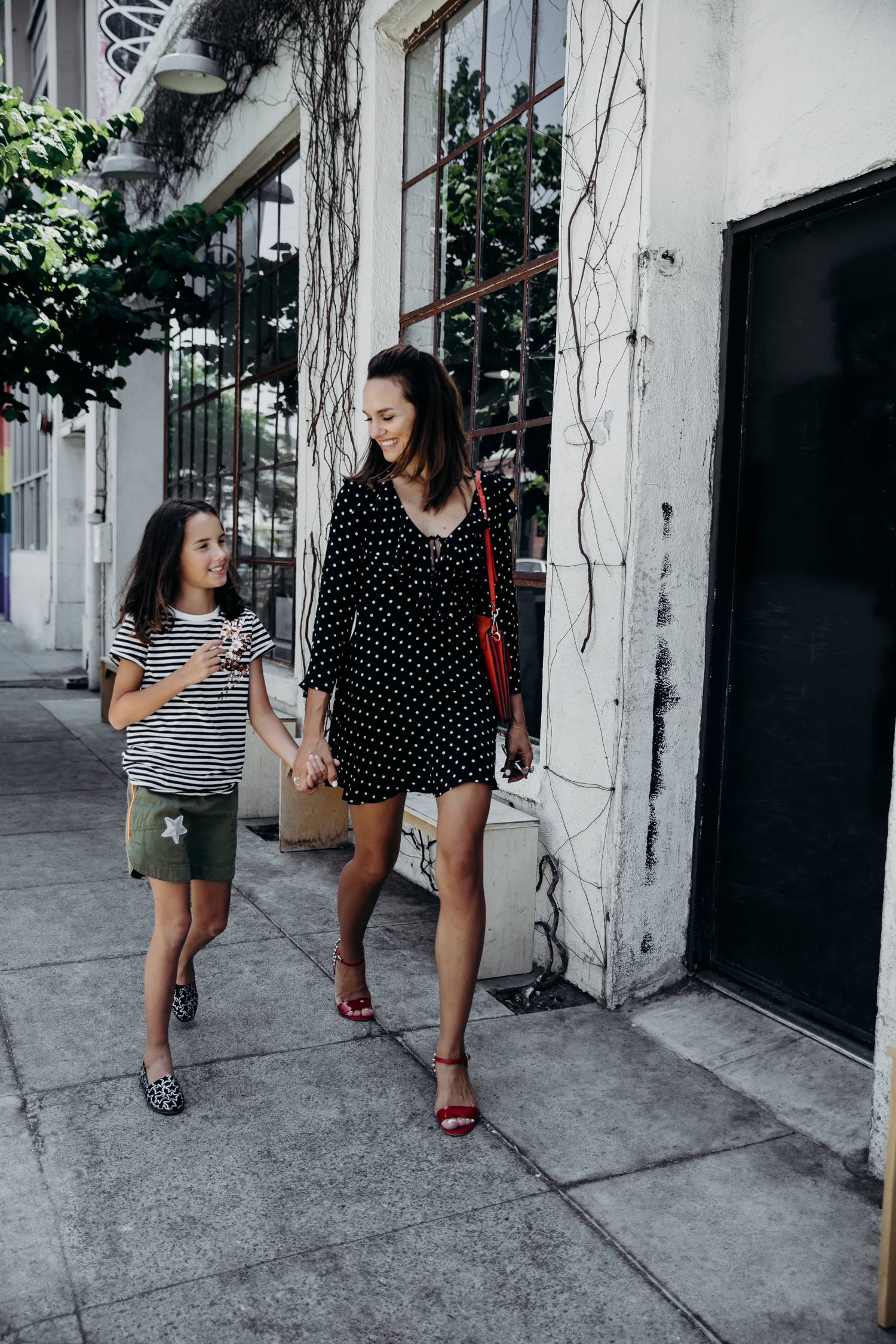 We have a busy season coming up with summer ending and school right around the corning.  So this is the time to put on our favorite OOTD and hit the Art's District for a leisurely walk around one of the most inspiring areas of Los Angeles.  The area is thriving with old warehouses, murals and creative/fashionable people everywhere.  I can't help but leave with fresh new ideas I can't wait to explore in my own closet.  Fully inspired, I headed to Nordstrom looking for that pre labor day dress that was cute, but edgy.  Polka dots are unapologetically bold and cute any season.  The dress I'm wearing can be dressed up with heels for a meeting DTLA or dressed down with sneakers for an ice cream date in Pasadena. I also found this polka dot skirt (under $100!).
As for Nordstrom, well, who doesn't love Nordstrom? Their customer service is five-star, and I seriously think that (along with their amazing merchandise selection) is what sets them apart from most retailers. I often go to Nordstrom with kids and a tight schedule and I'm always given the best service and the most options while my kids love getting balloons in the shoe department every. single. time. Whether I make it to the store or shop online, Nordstrom is my go-to for daily fashion and really should be for any busy mom on the go. I mean, I prefer dot com just to avoid the dressing room tantrums and constant "can we go" requests, but curb side service also works. All in all, Nordstrom makes it easy to get what you want, when you want it. So go find you some polka dots!

polka dot mini dress TOPSHOP NORDSTROM :: Faye Bag CHLOE :: sandals AGL :: sunnies CHLOE
More Polka Dot Favorites:

More dress picks from Nordstrom: 

Thank you Nordstrom for partnering on this post!