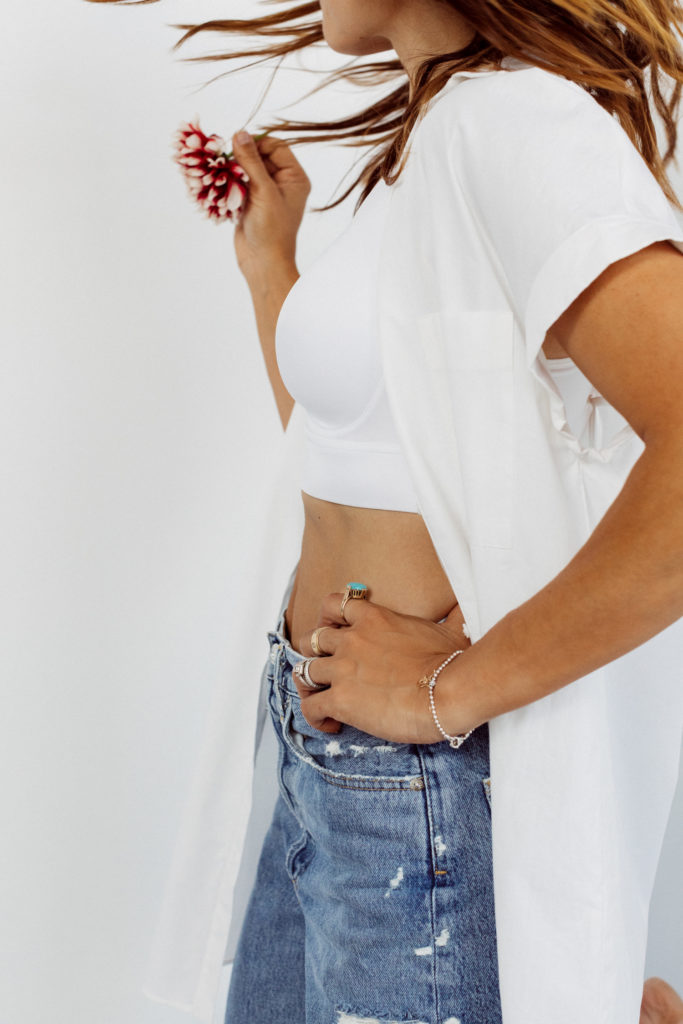 Want to know something I'm really bad at? Buying myself bras. Reid can attest. I may be oversharing, he is better at buying himself new underwear than I am at buying new bras. I tend to stick to my favorite nude and black bras even though they may or may not fit. It's crazy to think that our breasts change so much over time – from births to pregnancy and back. We can all agree the women's bodies undergo lots of change, so even more reason to opt for comfort.
I must say, I was a little apprehensive at first. I'm a harsh critic when it comes to bras and I have worn underwire bras for ages, both for the structure and support. I was curious to try the Jockey Forever fit bra, especially after reading almost all the 39 reviews. I ordered both the medium and small sizes. I ended up fitting both, oddly enough and wore it for all day comfort and coverage.
A couple facts: It's designed by women and for women, it is wire free, has flexible and breathable molded cups, and soft and smooth fabric (I can attest to this!)
Drumroll…. Do you want to know which one I LOVED and have on as I write? The T-shirt molded cup was my favorite for overall, comfort, fit and look. I ordered it in black and now I need it in nude. Try it for yourself!

Forever Fit T-Shirt Bra // V-neck Molded Cup Bra // V Neck Unlined Cup
Thank you Jockey for sponsoring this post!