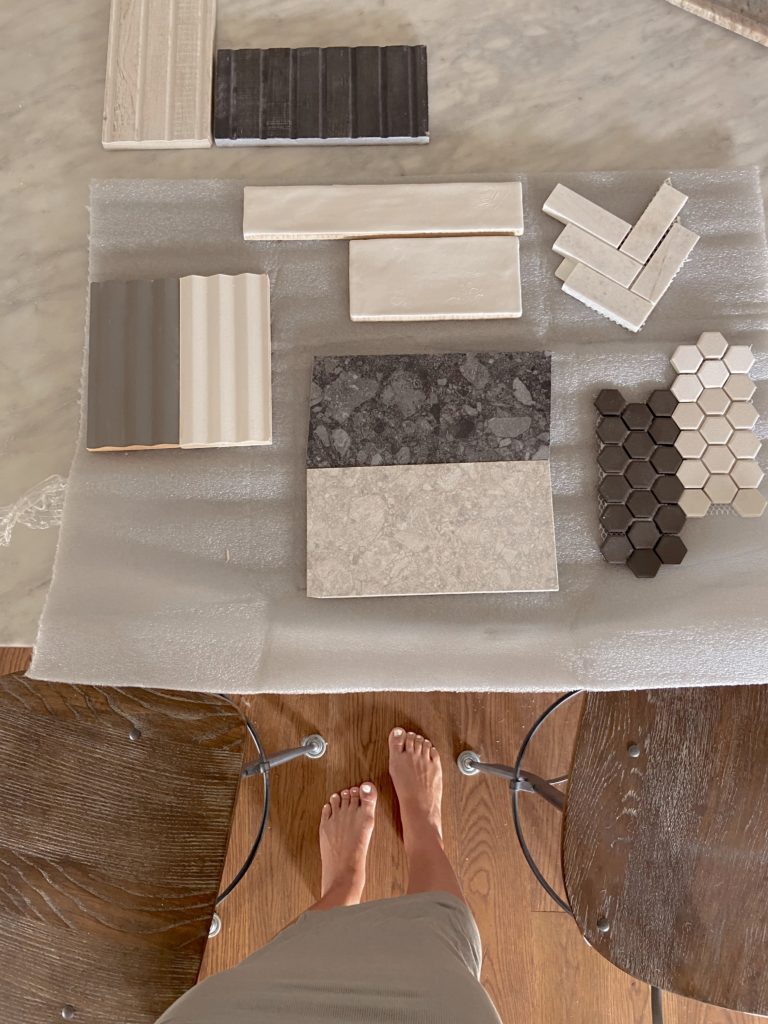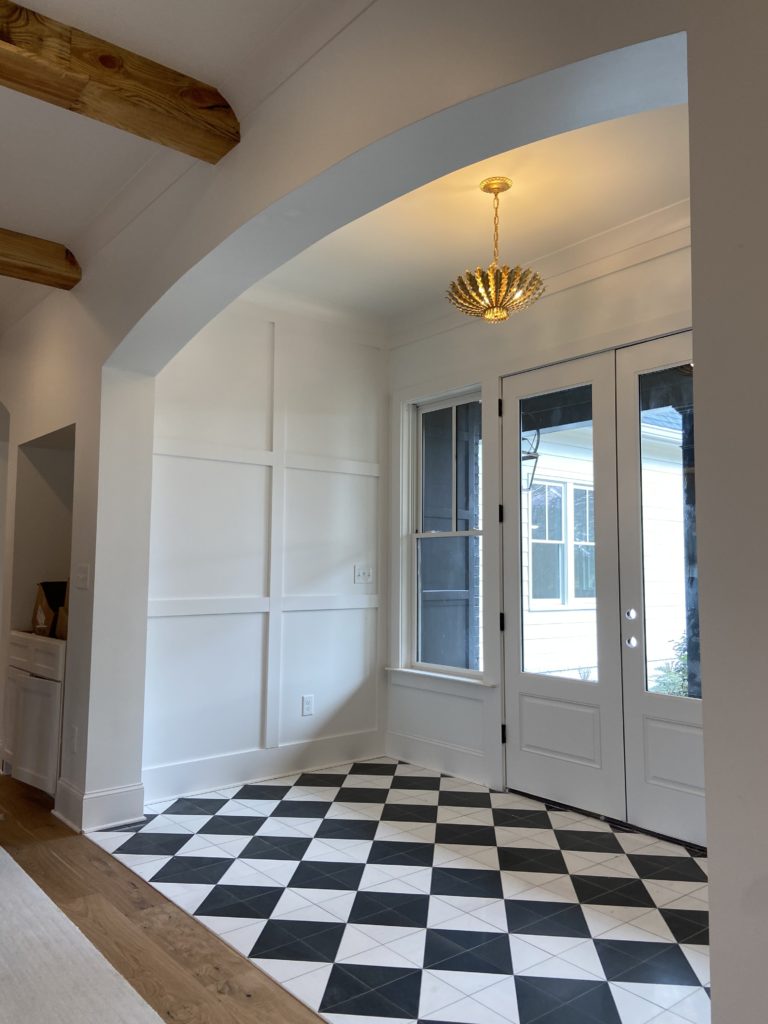 With all the variety of tile choices nowadays, there is no surprise that picking one is overwhelming. I mean, where do you start? First, make a list of what you want. For example, I knew that I wanted black and white checkerboard in a diamond pattern, herringbone, and a master bath inspired by Alys Beach. Keeping these images in mind, we scoured the internet for tile. Read on for our tips and tricks to make it easier for you!
What's the style you are looking for? How much do you spend?
Black and white tile is no easy find.
Like I mentioned, I've been envious of all black and white checkerboard spaces for some time now. It's a classic look when done right, but finding the right tile is harder than it looks. Be cautious. Some blogs make it look simple, but they end up laboriously custom cutting each tile or using fake peal and stick (that looks great in photos but awful in real life). Our limitation was our tile had to be a certain thickness to avoid a silly floor transition. This voided the options for marble and other natural stone tile. We finally found this black and white tile from Floor and Décor. Boom! The triangle cut tile wasn't my first choice, but using grey grout tied it all together and I absolutely love it, and it wasn't a budget killer. It reminds me of The Great Gatsby!
For the master bathroom, we loved the interior design of homes in Alys Beach, Florida. We wanted neutral and natural looking tile. The tile we found has specks of white fossils embedded in the surface much like the Alys Beach homes showcase. The tiles come in large sizes and this makes for easier installation. We liked the design potential to offset the large-scale tile with an accent wall of mosaic tile. As for budget, the mosaic white marble tile was a budget buster, so we limited it and paired it with the large scale on budget tile to balance out the cost. I joke that I like to "rob Peter to pay Paul." This is Reid and my favorite room in the house.
The powder room is tiny so I splurged on a wall mounted custom marble sink, I found on Etsy. The sink came and we were inspired by the multi tones of the natural marble. We happened upon a tile called Country Beige Tumbled Travertine Tile and it was on clearance at Floor and Décor. I was hesitant because the name "country" threw me off, but we bought a sample to bring home anyway. The beige tone matched the sink perfectly. The tile edges are tumbled so we juxtaposed the irregular edge with a modern vertical stack pattern on the shower walls and an old-world herringbone pattern on the floor. I love it!
The kid's bathrooms were a simple strategy. Go way under budget yet timeless style. Subway tile is the way to go. We splurged with marble hexagon on the shower floor, but did a basic white hexagon on the bathroom floor. It was all fun and fresh!
The boy's bathroom is small so we used black hexagon flooring and white subway tile shower walls. We used remnant vanity counters in both bathrooms to reduce cost.
The laundry room, aka the hardest working room in the house, has the tile same checkerboard pattern as the foyer for a lux look. Lots of modern splash for what could've been a very utilitarian space. We ended up using the same countertop as the girl's bathroom. I love that it has a window to the street and lots of natural light. This is a major upgrade from my last house which had a tiny dark room to do 7 people's laundry.
Here are some tips below that we learned in the process of picking tile.
#1 Tip: Do play with tile patterns in unexpected ways.
#2 Tip: We played it safe with grout choices and went with what the retailer recommended. Also, when mixing different tiles in a room, use the same grout color throughout.
#3 Tip: Budget buy doesn't mean short on style. Use subway tile in a vertical pattern, or better yet, use a pearl liner trim! (images via Pinterest)
#4 Tip: Don't overspend on tile. You can get very stylish tiles between $5-$10 SF.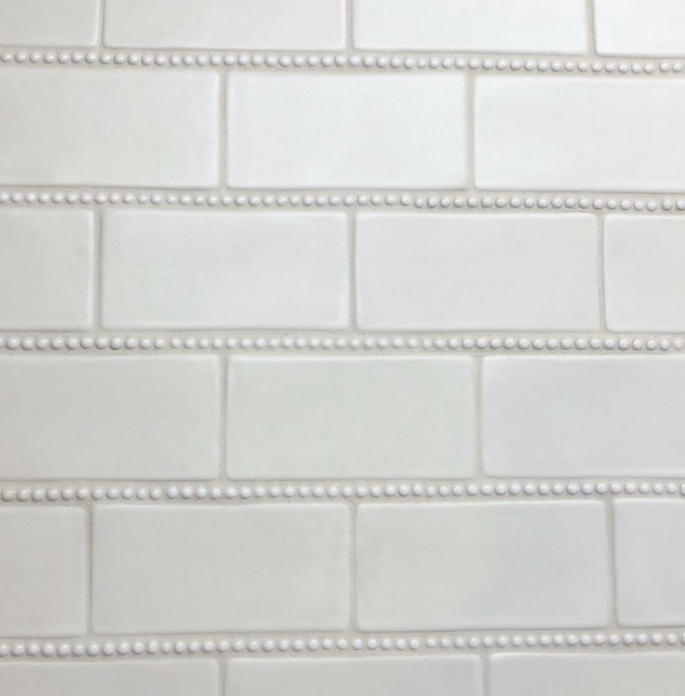 Tile we chose
Foyer Black and white tile
Boys bathroom hexagon floor tile
Boys subway tile for the wall
Girls bathroom shower floor marble hexagon
Girls bathroom white hexagon floor
Master bathroom floor tile in running board
Master bathroom shower floor
Laundry room tile