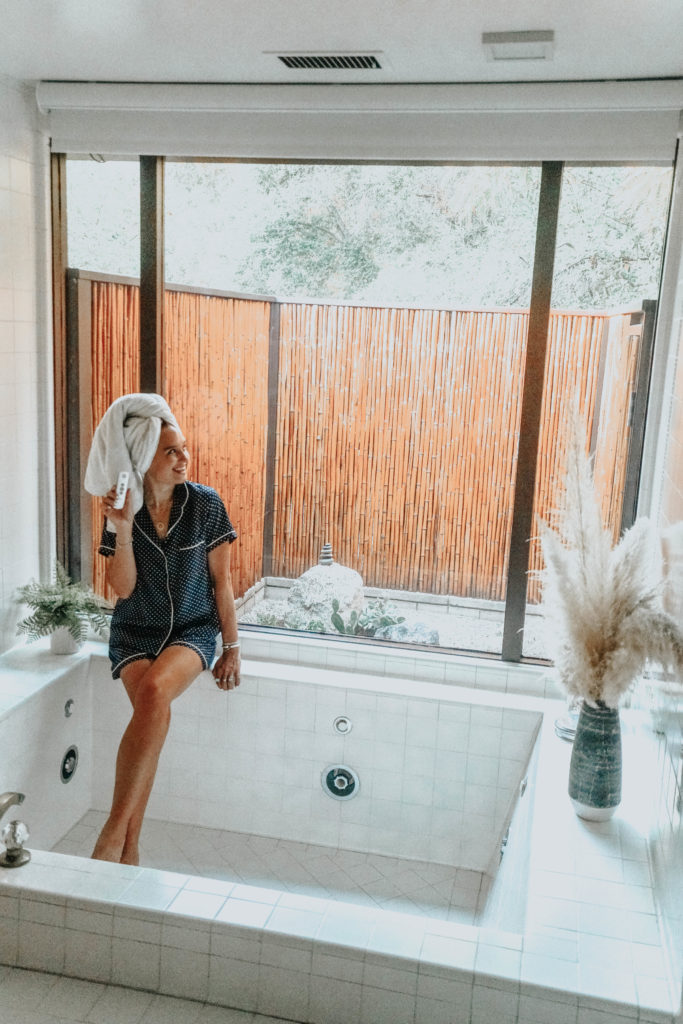 I'm almost afraid of installing blackout shades. There's a probability I may never wake up!! LOL.
Window treatments are a tough design element to get right. Especially when your design aesthetic is minimal and modern. The key to minimal design is to reduce the busy appearance of lines as much as possible. Therefore, I do not recommend mini-blinds, vertical blinds or roman shades. To modernize our windows and maintain the modern look of our bedroom and master bathroom, we chose black-out shades. However, these are not the old roller shades you grew up with. We chose remote controlled motorized shades.
1)  Access hard to reach windows.
2)  No ugly or dangerous hanging cords.
3)  Preset shade lowering settings enable all your shades to perfectly align throughout a room for a seamless look inside and outside.
4)  When you wake up in the morning all just push a button for your favorite shade setting.  Great way to tuck yourself in at night or rise to the sunrise.
5)  The motor is quiet and comes with a 5 year warranty.
6)  The powered shades also can work with your phone, Alexa, Google Home or a sun sensor.
7)  The dependable motor within the e-Bopp shades are powered by Somfy motors.  Somfy is the world leader in automated control.
When ordering your shades, go to e-Bopp. Study the type of shade you need, black out/light diffuser or solar shade. You will also select the fabric and mounting colors. You may order samples as well. Depending on the type of window you have, you will then select an inside mount which installs the shade inside the existing window frame or an outside mount which will be installed on the wall or ceiling. The measurement will be different, so make this decision before ordering. Fortunately, the customer service at e-Bopp is personal and you can send them a picture and they will identify the exact measurements needed for the window, for you. We really recommend reaching out to them before you finalize your order. They always say measure twice!
Our experience with e-Bopp was beyond helpful. They answered our questions as needed and now that we have the shades installed we can sleep much better! They are made in the USA as well! Think of it as a great present for your home. See the below discount code for my readers.
XO
Shalice
e-BOPP is giving my followers a discount! Use code Shalicenoel for 10% off