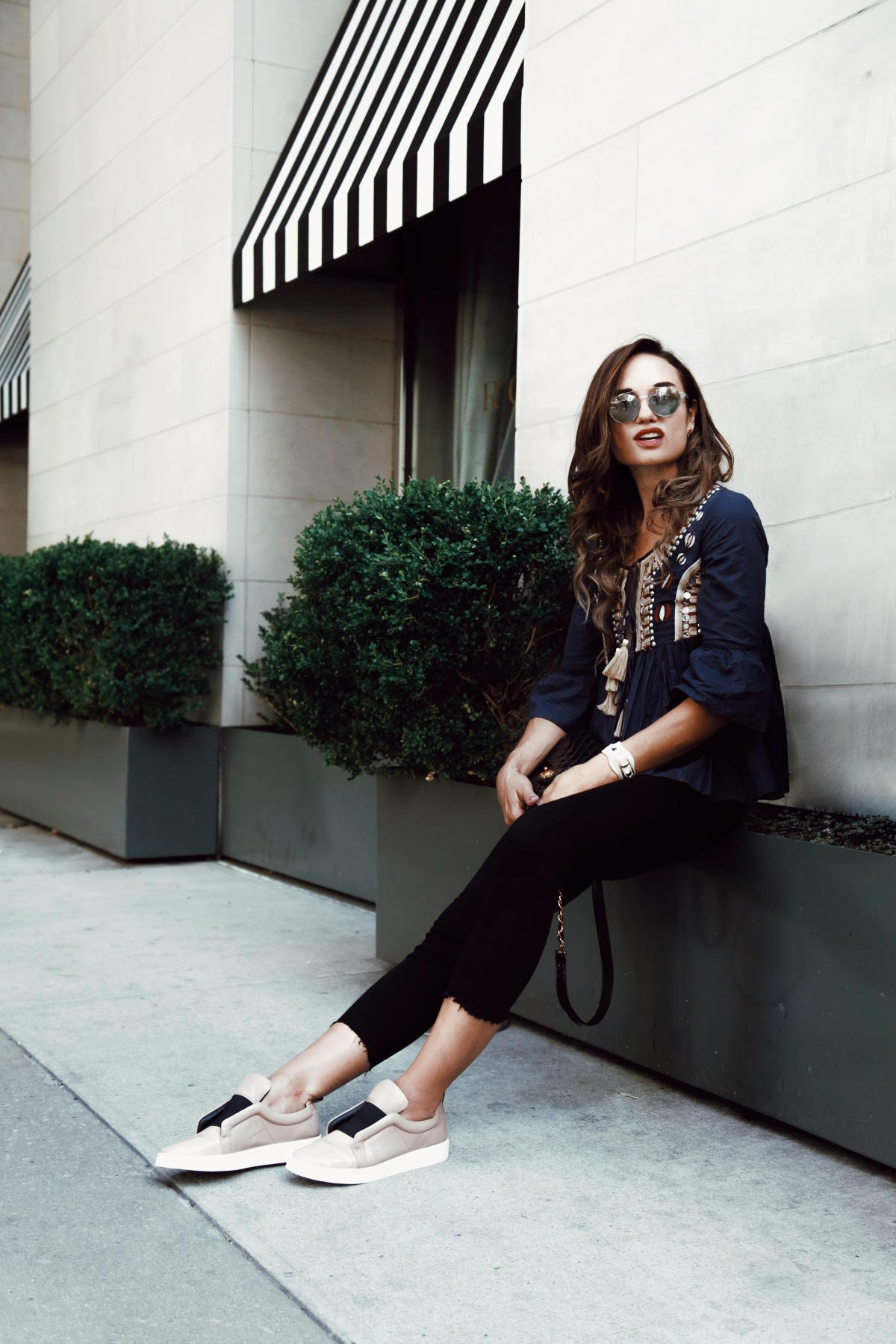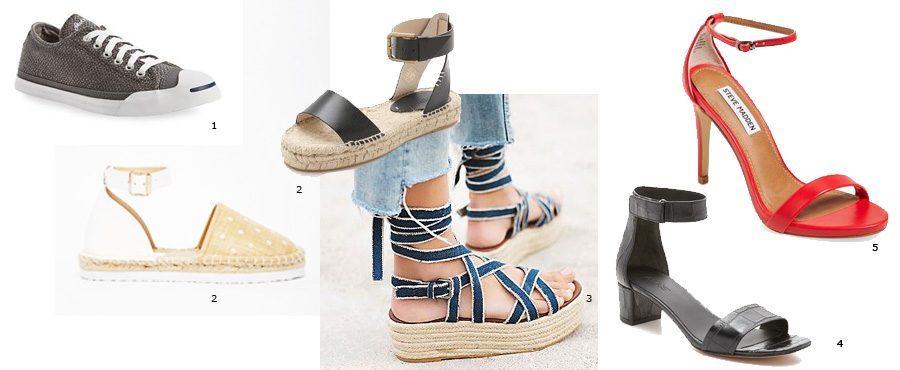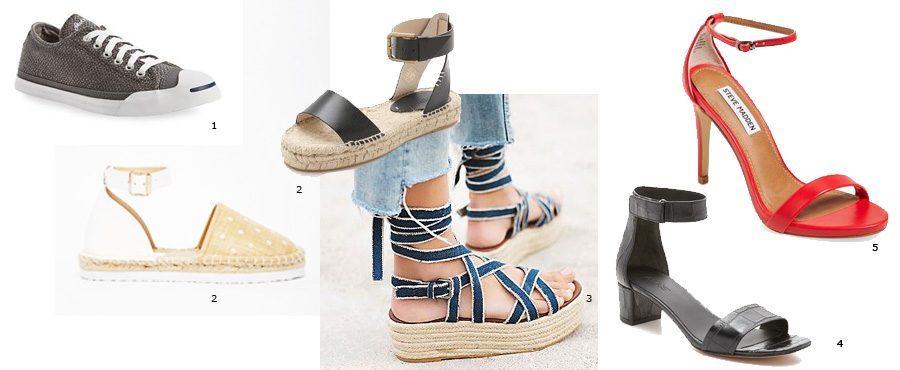 My sister asked me recently what pairs of shoes she needs for Spring? While I could easily chose at least 10, I narrowed it down to just 5 of my go-to pairs below.
CONVERSE I wear chucks up and down. Laid back chic at it's best. Get them in every color.
2. Espadrille from ASOS (I also love these platforms!) So cute and casual.
3. Platform from FARYLROBIN
4. Black sandal by VINCE
5. A slinky red sandal is a must have – and this one by STEVE MADDEN is no exception. It's almost embarrassing how much I wear these, but nothing beats that pop of red.
Versatility is key.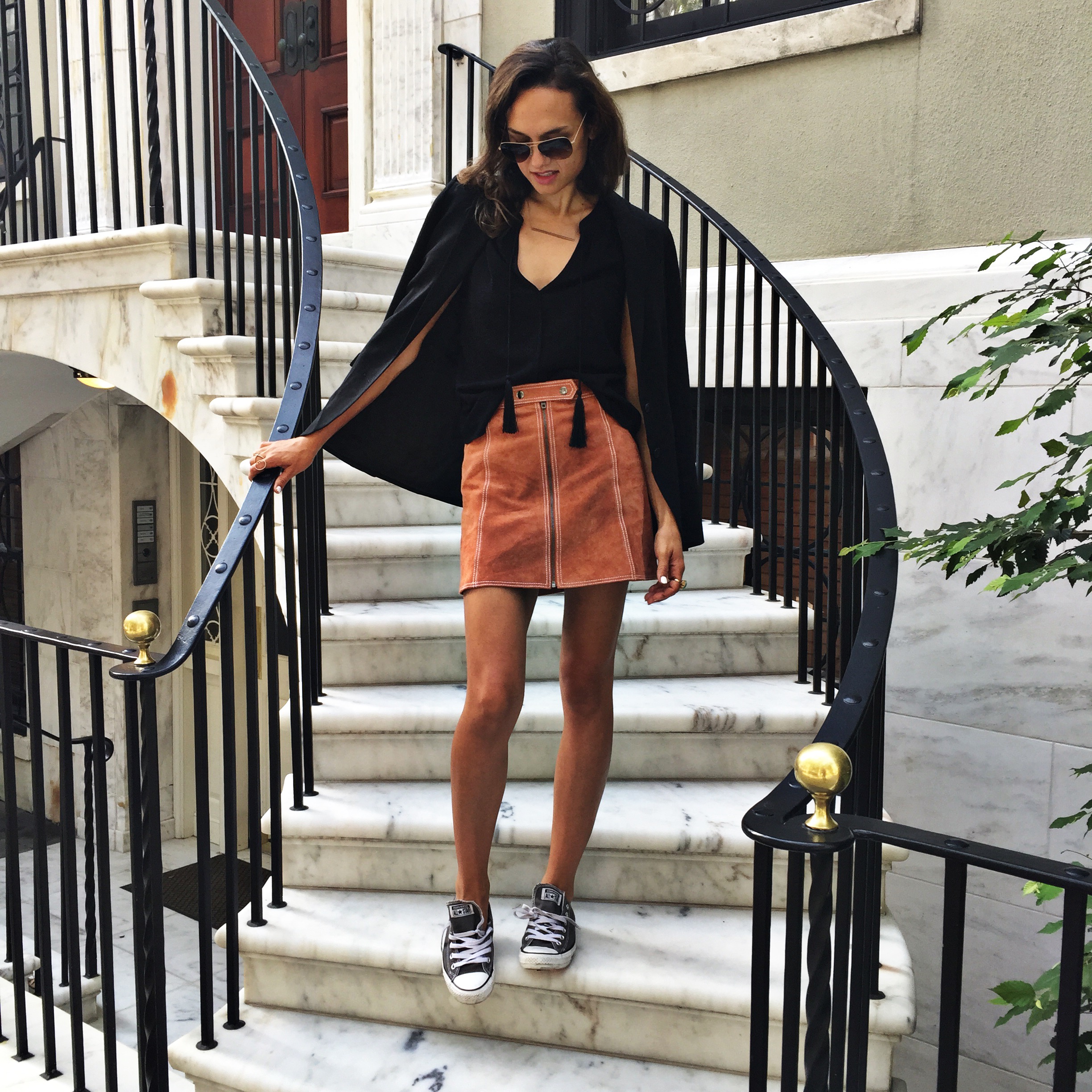 skirt TOPSHOP / chucks CONVERSE /
blazer SIMILAR / tank COOPER & ELLA
jeans TOPSHOP / faux fur vest TOPSHOP
dress TOPSHOP / leather trench VINTAGE
.
NYFW 2015 had a bit of a rocky start. Due to a Tiffany and Co. event in Chicago, we ended up changing our flight last minute, which left us stranded in stormy Raleigh-Durham. A couple Cliff bars and ten iced coffees later, we pulled into the Boro Hotel. Oh, the Boro. Between the unconventional check in (at a long dining table!), European vibes (cool lighting, danish furniture, breakfast included), and large airy room, I was ready to hit the ground running. Even the rain, and there was lots and lots of rain, was no damper on the excitement. We didn't stay long in our room, since I was off to brunch at the Soho House for Shopburu, fittings at Rebekah Minkoff, and the NYFW cruise. The Statue of Liberty was so beautiful that I almost didn't notice the major rocking of the boat … almost. I'm pretty sure NY has only one speed, and that is fast-forward! Between the shows I was able to meet with key brands I work with on a regular basis, and it was amazing to see the faces behind the names and talk shop. Among them were Faryl Robin, Rebekah Minkoff, Shoshanna, and Eliza J. I was honored to have been dressed head to toe by Rebekah Minkoff's team who pulled looks at their studio two days prior to the show where I got to try on everything. Such a dream! And I can't stop thinking about the bohemian rhapsody at Rachel Zoe. Spring is going to be a great time to be pregnant with all of the flowing dresses and oversize blouses. Not an announcement. Just an fyi. 🙂
.