With the influx of new products and new devices that promise everything from tighter lips to tighter tummies to tighter everything, it gets a little confusing in the marketplace.
I was originally introduced to NuFACE products from my mom who gave me my first NuFACE mini device. Already familiar with the toning and lifting my NuFACE mini device did, I researched the body device. I'm always crazy about new beauty gadgets. Just ask Reid!
After I had Levi, I knew I needed to do something about my stomach especially, as it had stretched out for the fifth time! I must say, women's bodies are amazing!
Instead of getting down on myself for having a less than desirable stomach, aka wrinkly with weird lines (Thanks Levi!), I decided I needed to do something about it. Without surgery, I knew that to get the stomach I wanted, required a good diet and exercise as well.
How do you use the NuBODY?
I use it at night before bed. I even walk around with it because I'm a busy mom. It takes about five minutes after the application of the gel. I use it on my stomach in circular motions just as I do to tone and lift my face with the NuFACE mini or trinity device.
What are some tips for using my NuBODY device?
Results you FEEL instantly and SEE over time.
NuFACE is known for the instant lift you get with their facial devices. The same is not true for your booty, unfortunately! But after just 1 NuBODY treatment your skin will feel more firm and more energized, and with continued use, you'll see the improvements over time.
You have to use NuBODY to see the results.
Like exercise, you have to do the crunches to reap the benefits. And with NuBODY, you have to do your 5-minute treatment 5 days per week to see the results in your target area. (1 stomach = 5 min treatment; 2 arms = 10 minute treatment.)
Quick and easy treatment.
Don't target your whole body or you'll be spending 30-minutes a day with NuBODY and that's not reasonable for most. Target your arms, stomach, thighs, or butt; not all! If you're targeting dimples, you can just hold the device in place while you binge watch your favorite show or multi-task. Add some glides when it feels good, but it doesn't need to be 10-minutes of movement.
What results have I seen personally?
I have seen my stomach more toned after I use the NuBODY device. See these before/after pictures. I love that I'm actually doing something for myself in the midst of busy mom life. Even if it is 5 minutes a day. Who doesn't have 5 minutes? If you don't, there's a problem! It feels good to get a spa treatment AT HOME. So many times I have scheduling conflicts but would love a much-needed spa treatment. The founders of NuFACE are mothers and I'm grateful for a device that tones my stomach and smoothes the lines right in the comfort of my home.
FYI, there is a promo going on right now. No code needed, 2 free 10 oz gel primers with a NuBODY purchase, a $96 value. No code needed! Get your NuBODY here.

NuBODY // Prep-N-Glow sheets (great for cleansing while traveling) Gel Primer (leave on and hydrating)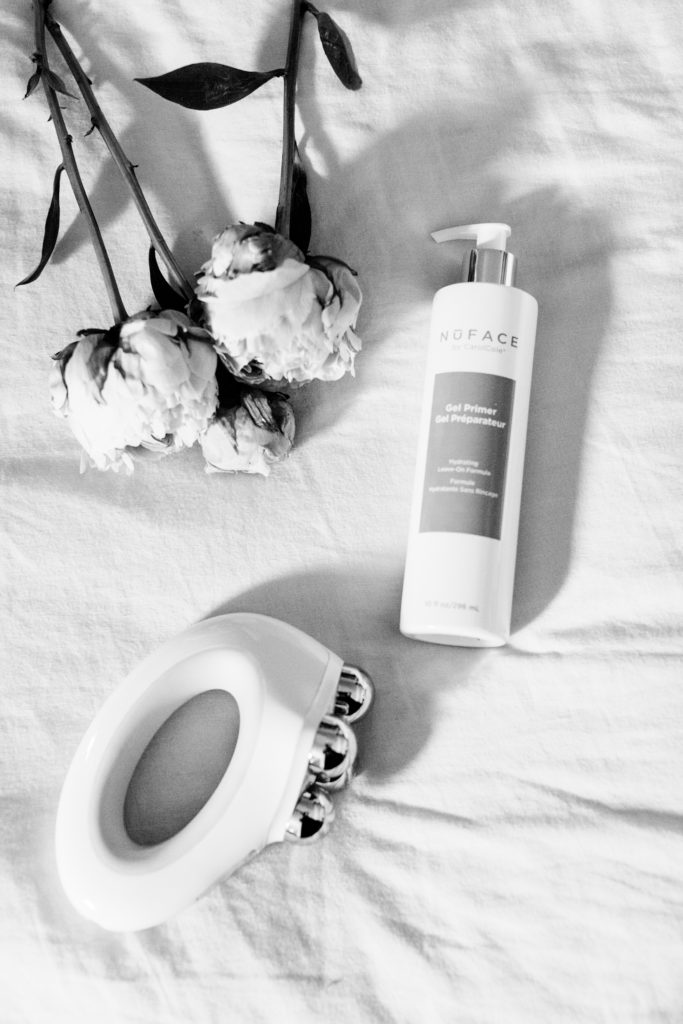 The "before" picture

At the hospital after I had Levi with my belly!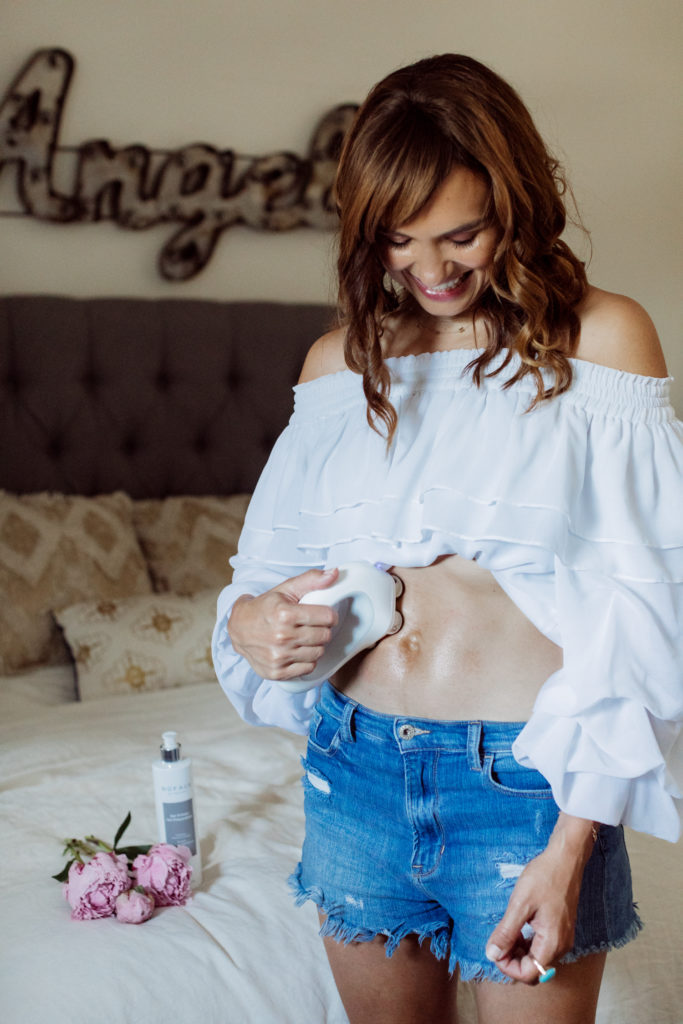 Thank you NuFACE for sponsoring this post. All opinions my own!