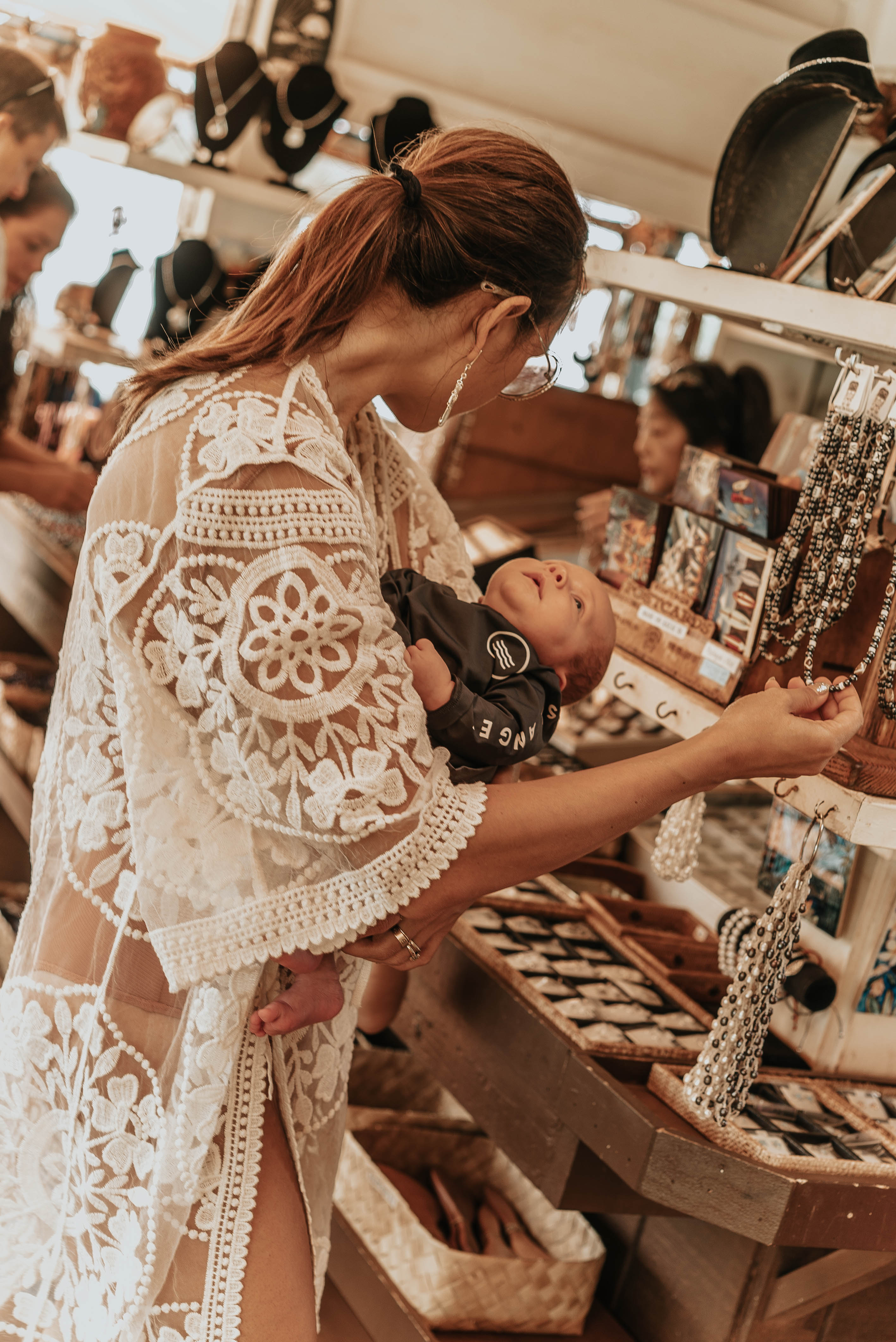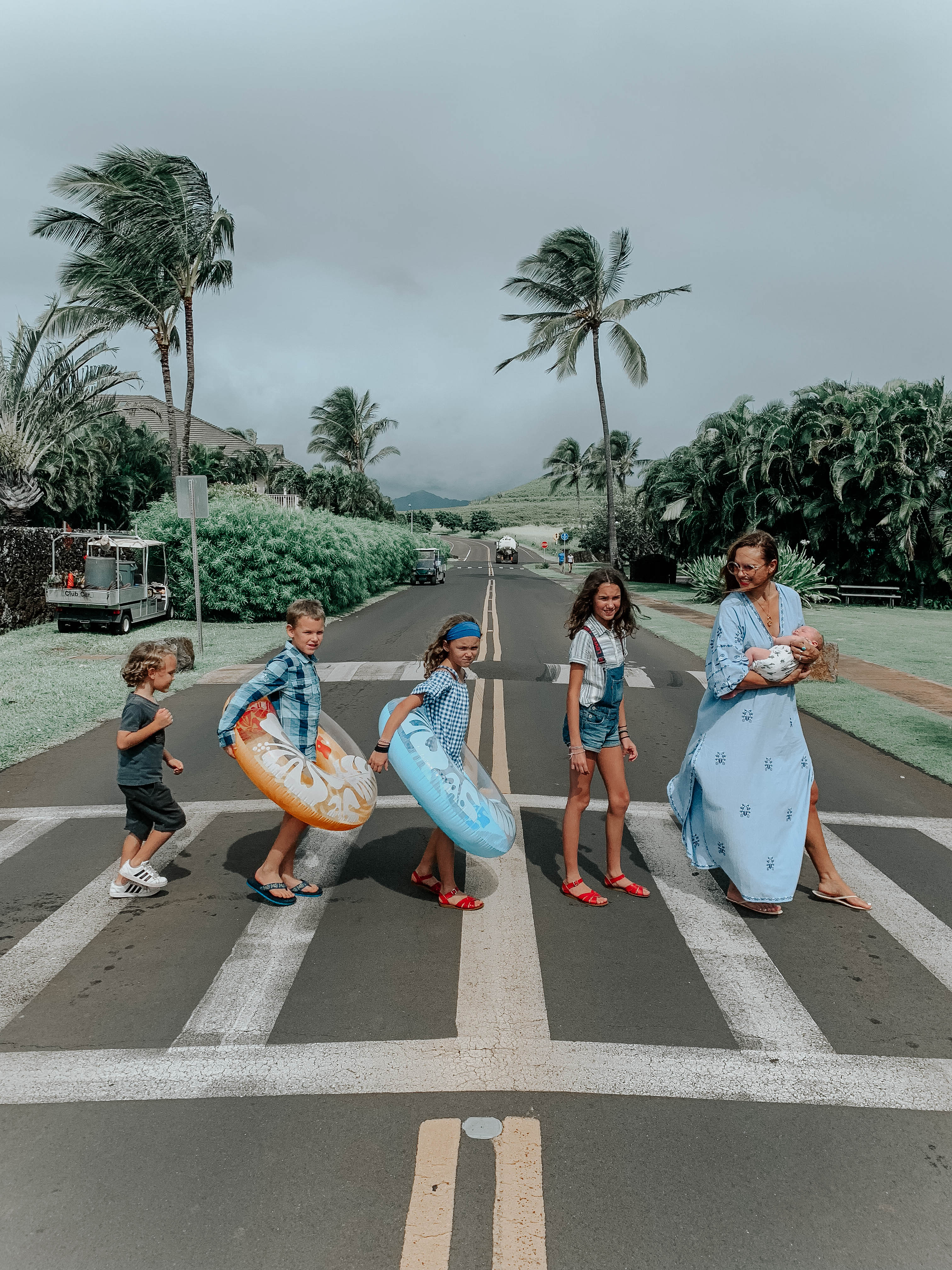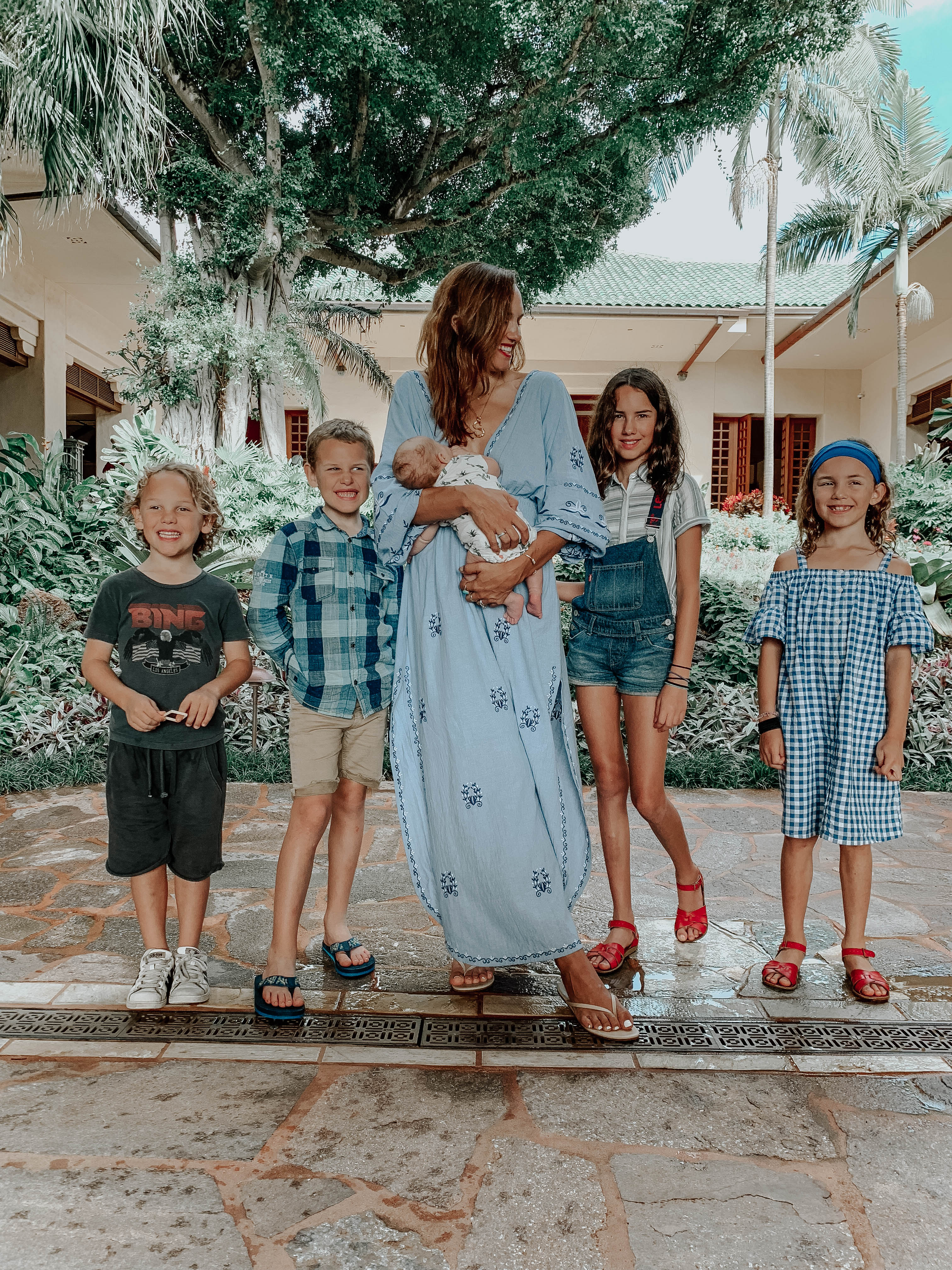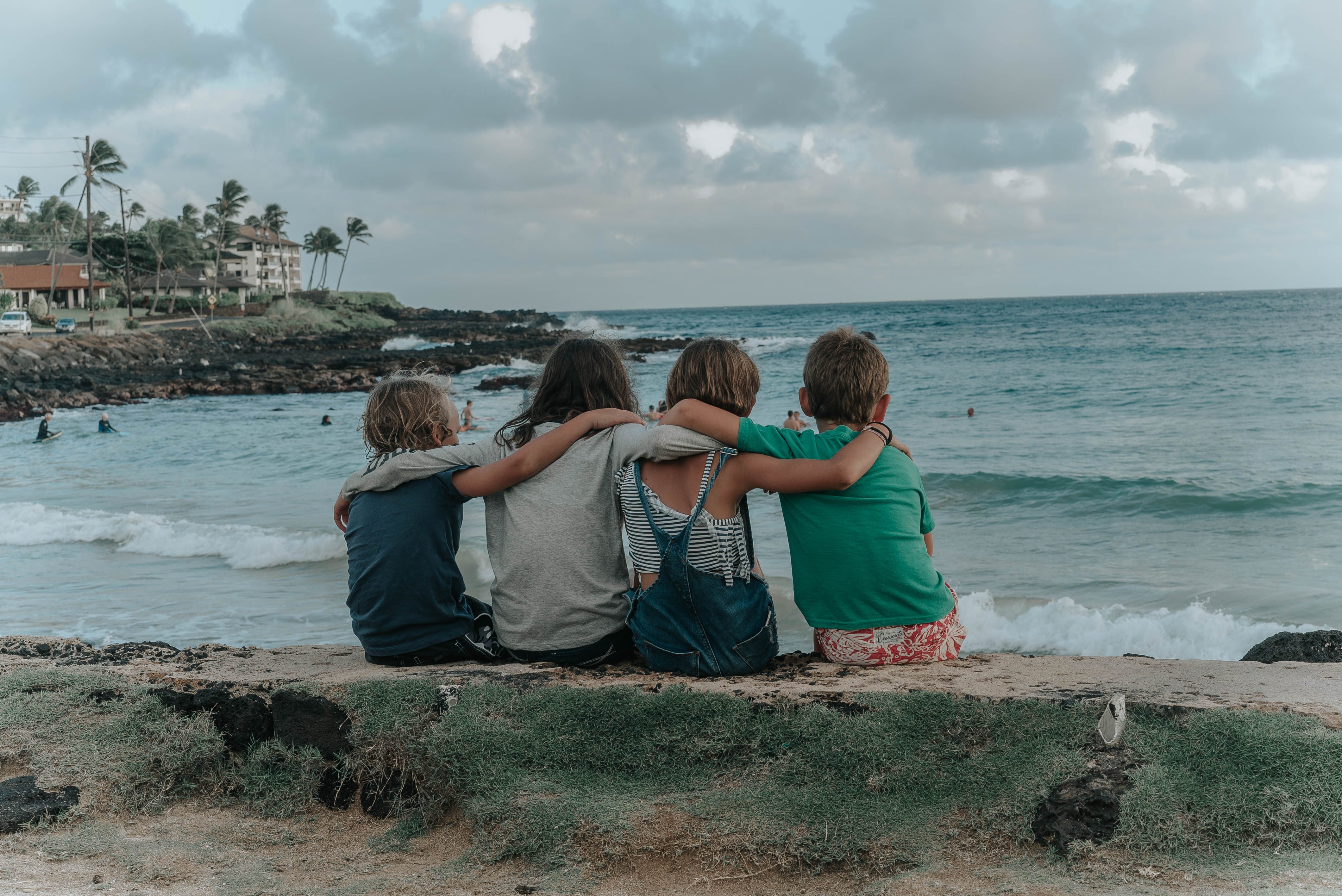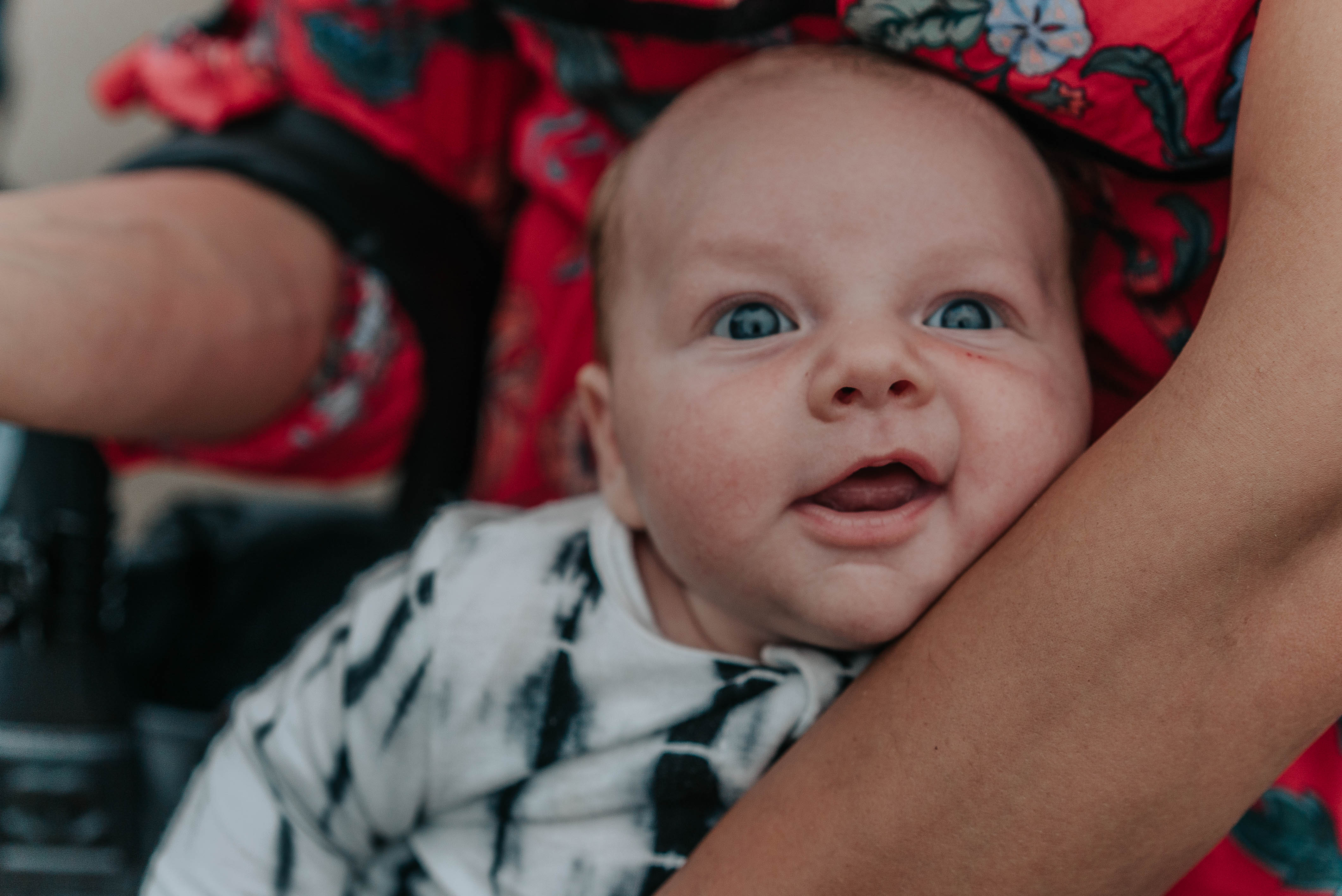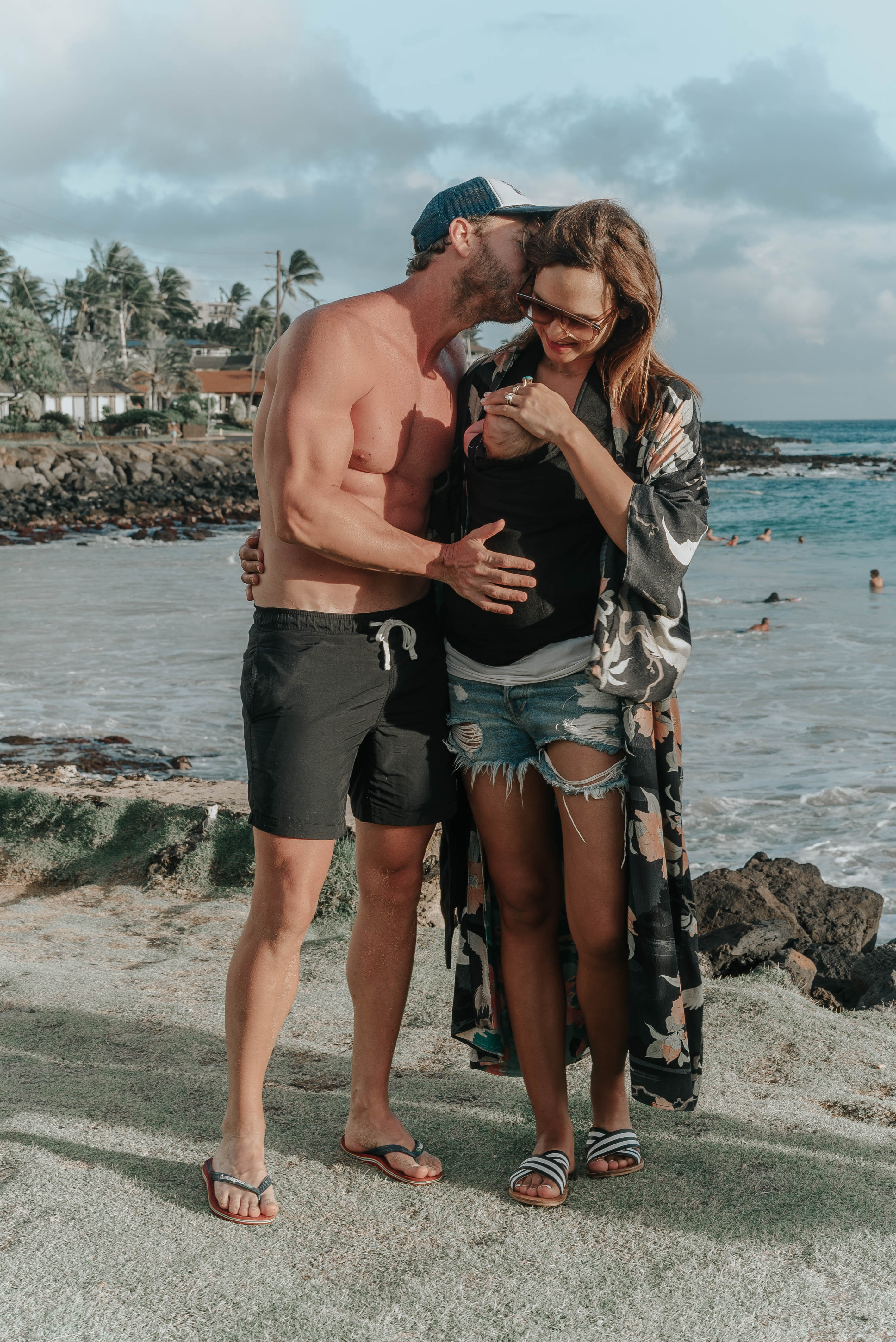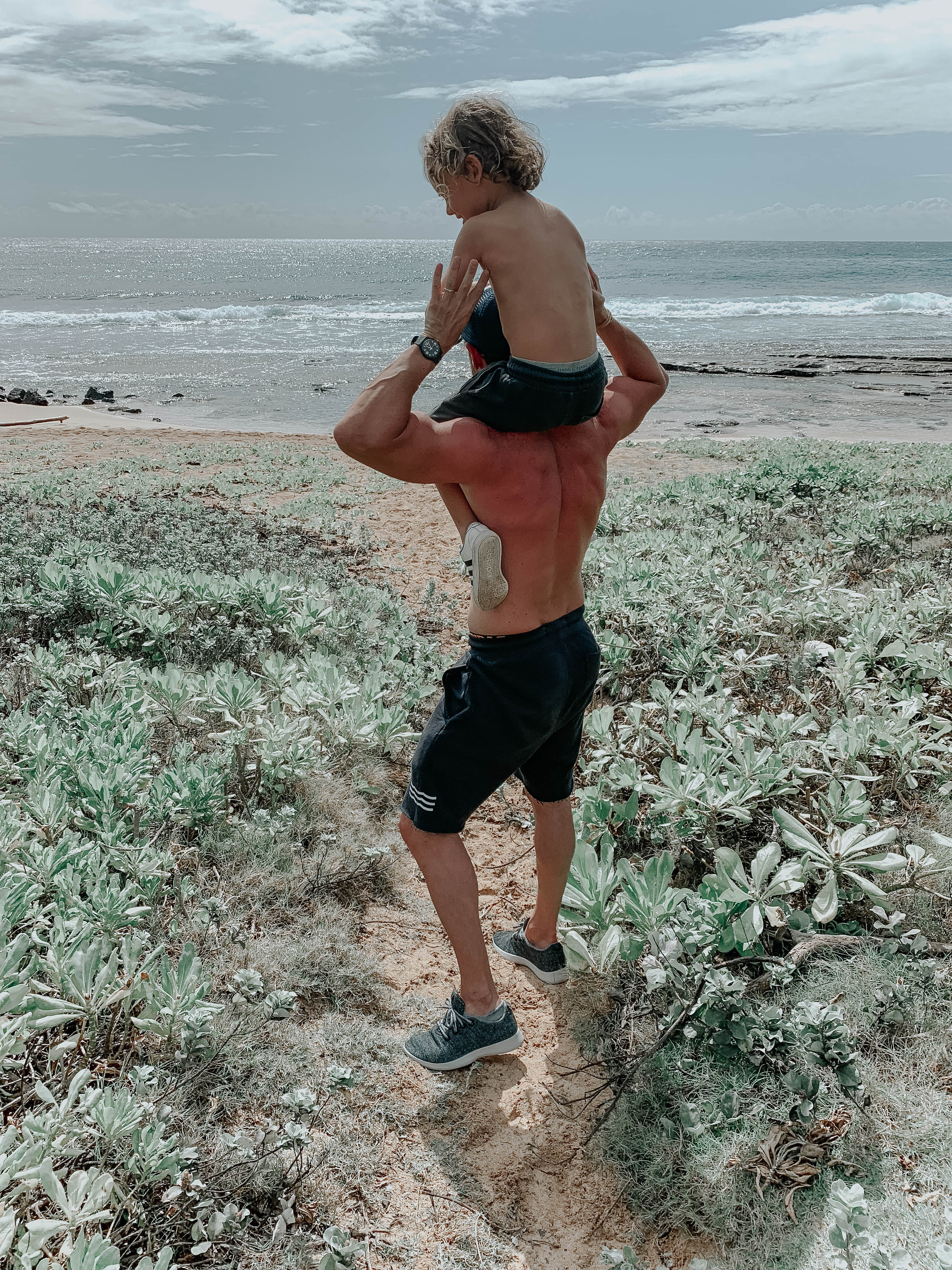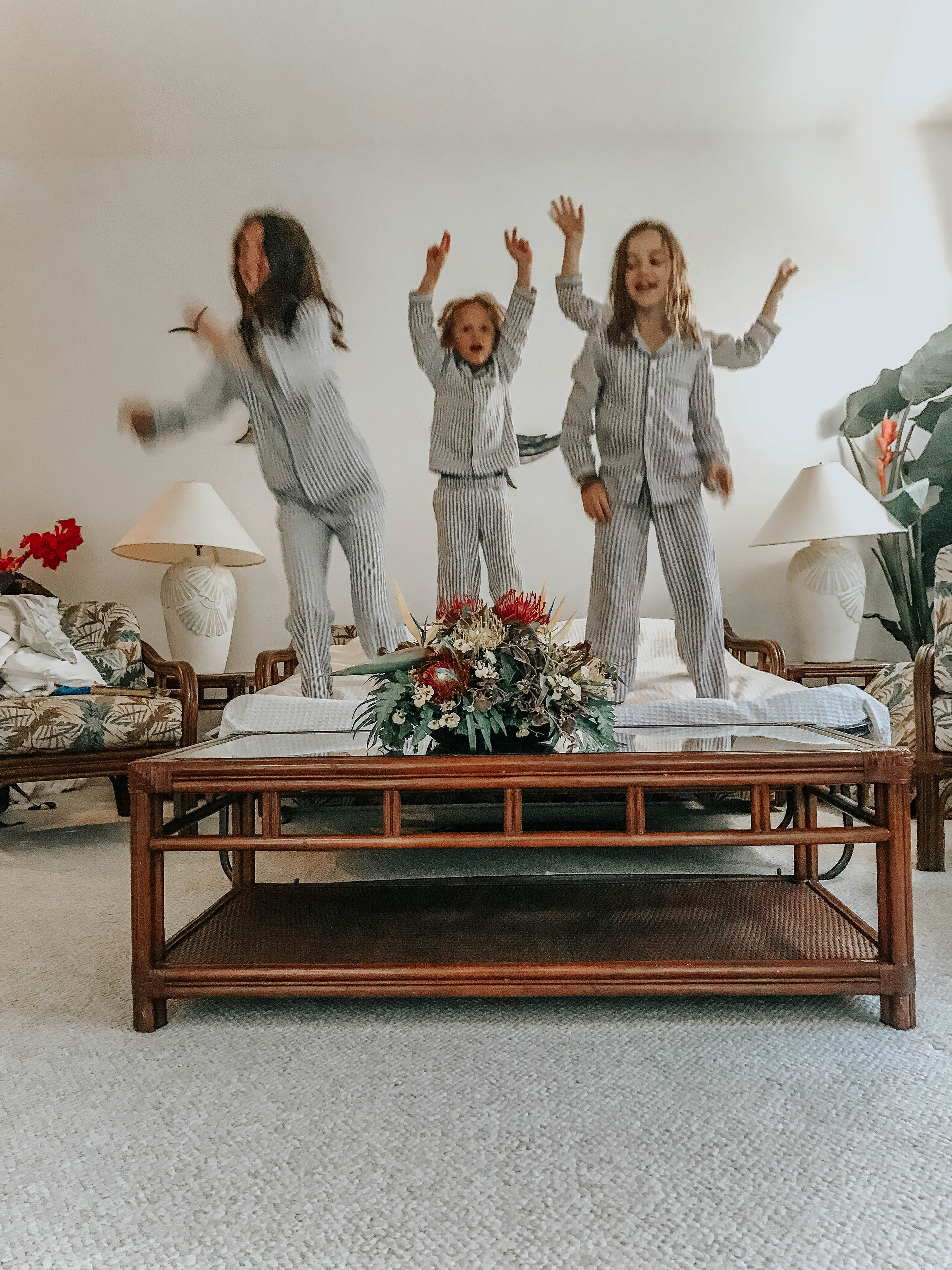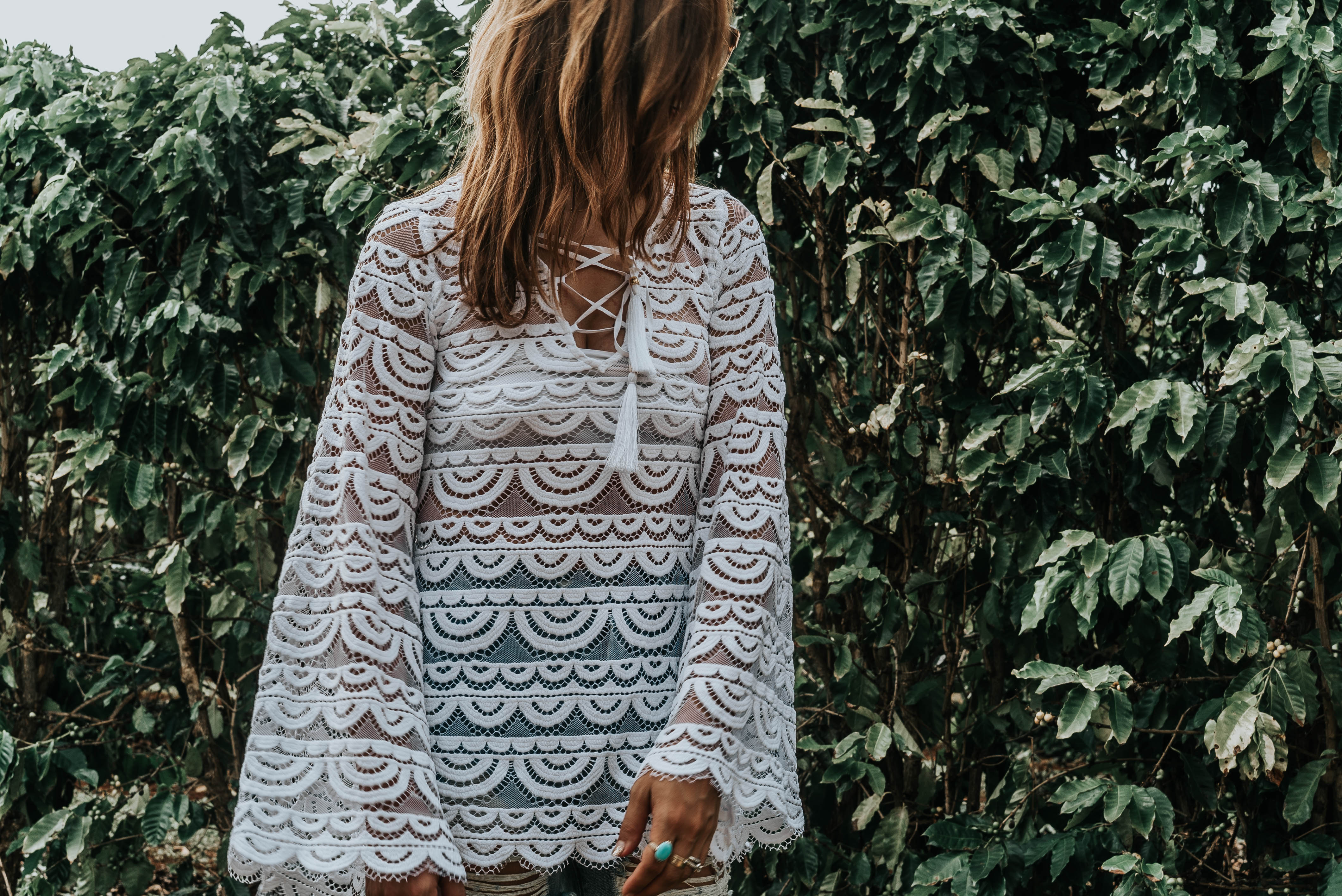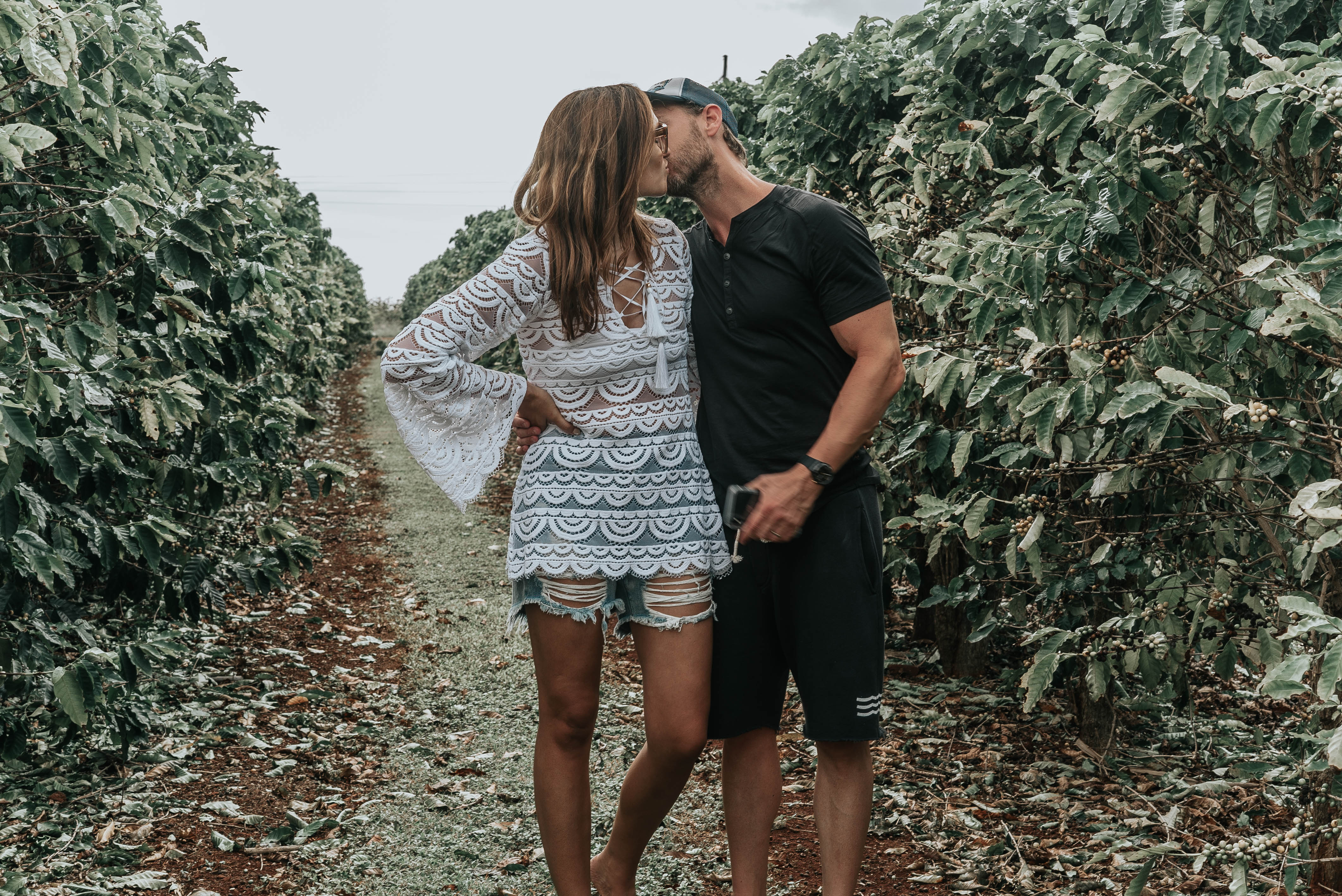 swim tunic cover up // denim short one teaspoon // sunglasses // blue dress Misa Los Angeles similar  // kimono and similar cute one // one-shoulder red dress // stripe flip flops

Reid was off 6 weeks for paternity leave and the doctors recommended traveling with a newborn after 5 weeks, so we jumped right through that 5-week window and decided to take a trip to Kauai. I know, crazy sounding, but it actually worked out great. Flying with a newborn is much easier than traveling with a 1-year-old. Levi pretty much nursed and slept the entire flight. 
Why Kauai?
We chose Kauai because Reid and I went there for our honeymoon and the island is familiar to us. We felt we didn't need the added stress of flying somewhere totally new. We'll do that when he's a little older.  Also, the Lihue airport is chill and not big-city crowded. It's the Garden Isle after all. For LA urban dwellers like ourselves who battle sirens, smog and traffic, the country is a breath of fresh air. Literally. I'll substitute sirens for rooster crowing any day. Yes, wild chickens roam the island of Kauai!
Kauai Family Trip Roundup
Here's a list of our faves to help you plan your next trip:
Where we stayed
Suite Paradise. We stayed in a condo which had a kitchen and plenty of room for the 7 of us. We had a garden view and can't complain because the price was right. Suite Paradise has a variety of units available at various price ranges. All reservations include a resort fee with access to the Poipu Athletic Club. The kids loved the pool with slide and Reid loved the gym. They also have tennis and basketball courts for the real athletes.
Favorite Beaches
Our favorite beach was Polihale Beach. It's totally remote but not kid friendly. So our favorite kid-friendly beaches are:
Beach at Sheraton – Kiahuna Beach
Best for a quick family swim, boogie boarding and lots of surf lessons going on if you want to give it a shot.
Baby Beach or Poipu Beach
Great snorkeling, but you will need water shoes because of the rocky bottom. We saw incredible fish, eels, sea turtles and sea lions. There is also an island you can swim to.
Best Coffee
This is a big deal because everywhere we go we look for GOOD COFFEE. This is hard to master because good coffee is really hard to find IMO.
Little Fish Coffee. Reid rated that a 5 since it tasted a little burnt for the drip version. Maybe the custom pour over would have been better, but Reid didn't give them a second chance. The place was packed for breakfast with outdoor seating and a total surfer vibe.
Living Foods Market had the best coffee. I ordered the almond milk latte and he ordered one large regular coffee. No burnt taste and we're going back next time.
Eden Coffee is a cute little food truck with smoothies and coffee. We got to know the owner and he has a family very similar to ours so we immediately bonded and instantly followed them on Instagram because I feel like we are old family friends now.
Best Nature Seeing
Spouting Horn
It's a quick little stop off from the main highway along the coast. It's a cave that spouts water up to 30 feet in the air as the waves come in. It was pretty impressive and fun to watch. The kids really dug it and loved hearing the funny sound it makes.
Waimea Canyon 
The drive to Waimea Canyon was amazing as you go from sea level up to 3,000 feet above. There is a lookout point to view the canyon which is considered The Grand Canyon of the Islands. You can see a waterfall in the distance. We suggest picking up food in the city of Waimea and having a picnic in the Waimea National Park. We also grabbed shaved ice at Jo Jos on the way back. A local favorite.
Best Shaved Ice
Shave Ice TegeTege
Shaved ice is a known dessert for Kauai. We suggest Shave Ice Tege Tege, in Kappa. A local friend Reid made in the Poipu Gym recommended it. For those who hate food coloring, this food truck offers the only 100% organic Japanese-style shaved ice. The kids picked grapefruit and Meyer Lemon flavors. Bring cash though, it's cash only and Reid and I only had enough cash for the kids.
Best Ice Cream
            Lappert's Hawaii
While the kids hunted after the best-shaved ice, Reid and I sought after ice cream. Lappert's in Hanapepe was our favorite. Rich and creamy and made right in the back of the store. It's been around since 1983 (that's not old is it?).
The kids are asking us to book our next return trip ASAP and I actually agree with them. Comment below on your favorite Hawaii experiences. I'd love to get more ideas for our next trip!