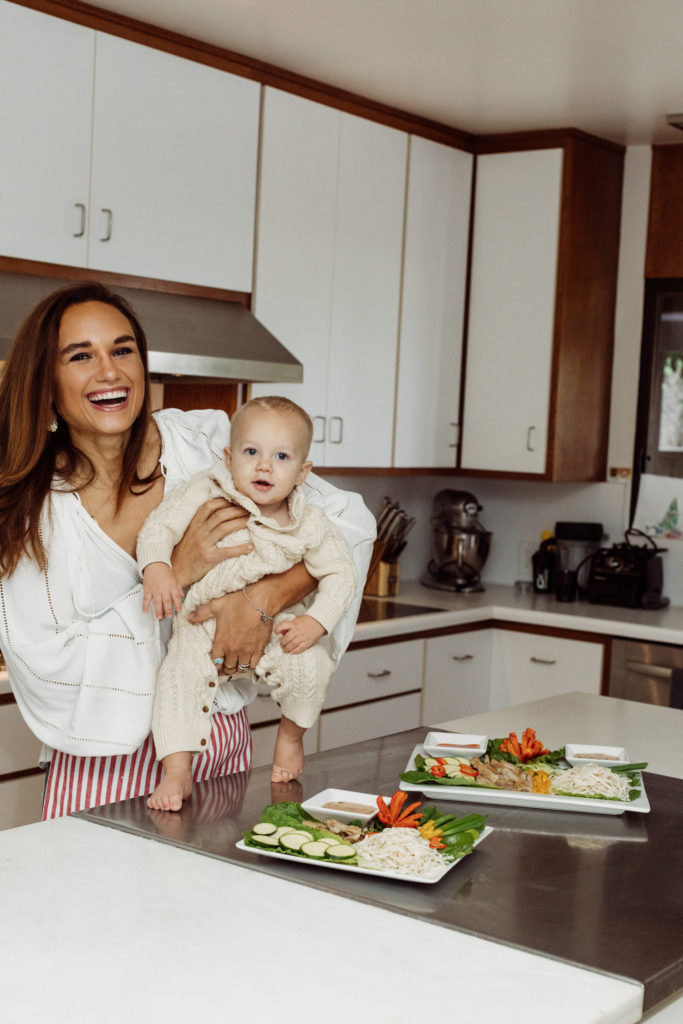 Things change but I wanted to give you an update of what I eat regularly. I tend to go in cycles. Just ask Reid, as he rolls his eyes. Ha! Sometimes I omit the toast and go for a fab4 smoothie. Lunch is basically a soup and salad and dinner is chicken and rice. As a general rule, I try and stay away from refined sugars and bread simply because I don't feel great when I eat them. I also believe "everything in moderation," so an occasional sweet treat is totally game! Additionally I try to drink 8 glasses of water.
Getting personal
I hesitated sharing this story here, but here it is! I hope it can serve as an encouragement to a reader who may have suffered similarly.
I had an eating disorder in college. I felt pressure to be "perfect." Perfect grades, perfect body. While I was only an average student, I felt pressured to control what I ate. I deprived myself and deep down wasn't happy. While I'm grateful this disorder didn't last long for me, I learned a lot about myself and what real health looks like. It isn't the seemingly happy skinny 4.0 GPA sophomore but accepting oneself as you are, as God intended you to be. I did a lot of research at the library (before laptops were everywhere!) and studied how our body works with food and how it can affect how you look and feel. From there, I started a healthy relationship with food and I discovered how much I enjoyed researching food and diet. I never shied away from a healthy food just because it didn't taste good. If it was good for me, I'd learn to like it. I'm here to report that deprivation doesn't work. When I feed my body healthy food, am active, giving myself grace in my imperfection and being grateful for the body God has given me, I FEEL MY BEST.
"Deny your weakness, and you will never realize God's strength in you."
― Joni Eareckson Tada (the kids and I studied more about Joni's journey with quadraplegia and I encourage you too!)
A note about fats which is contrary to what you've believed or been told. And the opposite of the food pyramid.
Healthy fats (i.e. avocado oil, almond butter, organic peanut butter, avocados)
1. These fats keep you fuller, for a longer period of time. Studies have found that healthy unsaturated fats (like monounsaturated or polyunsaturated omega-3 or omega-6 fats) have a positive effect on satiety and help to regulate your appetite by controlling the release of appetite hormones. More on this discussion HERE.
With that in mind, I try and sneak good fats into my diet. Like breakfast! Many of you AREN'T getting the amount of fat you need in your diet. I know I wasn't, and it left me craving more SWEETS and SNACKS.
Breakfast

16oz or more of celery juice. Here is the recipe for the celery juice. Our juicer broke, so I've been using my Vitamix. I let the celery juice settle for 30min to 1 hr.
coffee – almond milk latte –
Ezekial bread toasted with almond butter or coconut oil or gr8nola with almond milk
OR

#FAB4Smoothie: Protein (20g minimum) + Fiber (10g minimum) + 1 Tbsp. Fat + Handful Greens + 1/4 Cup Fruit + Superfoods + Liquid
1 TB almond butter// 1 frozen banana // 1 cup frozen pineapple // 2 cups frozen organic spinach // 1 TB chia seeds // unsweetened almond milk // 2 meyer lemons (add at the end) //
Directions: blend till smooth in a vitamix or blender. I add the lemons at the end and drink immediately.
I explain more in this post about how I am changing the way our family eats.
Lunch
Protein salad – whatever veggies I have on hand blended with butter lettuce, sunflower seeds, feta cheese, olives. Coupled with 2 almond flour blueberry muffins, or a (no corn) veggie burger.
Also, for lunch, I usually have bean chips and a smashed avocado. Depending on how busy I am!


Dinner
Sample dinner: Stir Fried Veggies, bok choy soup (always use this chicken broth)
I had coffee ice cream as dessert yesterday and I had the worst stomach ache. The night before that, Reid made me a glass of celery juice after dinner and I slept amazing, no stomach aches. I think it's important to listen to your body, see what agrees with it and go from there. I eat healthy because I want to feel good. After so many years of trial and error, I've figured out what foods make me feel horrible. It's not worth it to me to not feel great after enjoying 10min of consuming sugar.
Let food be thy medicine and medicine be thy food.
—Hippocrates
Dessert

Here's a recipe for Vegan Coconut ice cream I'm trying today. It has two cans of full-fat coconut milk in it. We ate it right out of the container last night. AMAZING. Making it again today.
2 14-ounce cans coconut cream* or full-fat coconut milk
1/2 cup organic cane sugar (sub up to half with agave nectar or maple syrup)
1 pinch sea salt
1 vanilla bean pod (split and scraped // or 1/4 – 1/2 tsp vanilla powder per 1 pod)
2 tsp pure vanilla extract
Instructions
The day or night before, place your ice cream churning bowl in the freezer to properly chill (see notes if you don't have an ice cream maker).
The following day, add coconut milk, organic cane sugar (sub up to half with natural sweetener), sea salt, scraped vanilla bean and vanilla extract to a high-speed blender and blend on high until completely creamy and smooth for 1-2 minutes to fully dissolve the sugar. Add more cane sugar or agave if it needs more sweetness, or more vanilla if it needs more vanilla flavor.
Add mixture directly to chilled ice cream maker and churn according to manufacturer's instructions – about 45 minutes. It should look like soft serve.
Once churned, transfer the ice cream to a large freezer-safe container (such as a loaf pan) and use a spoon to smooth the top.
Cover securely and freeze for at least 4-6 hours or until firm. Set out for 5-10 minutes before serving to soften – a hot ice cream scoop also eases scooping.
Will keep in the freezer for up to 10 days, though best when fresh.
Thank you for reading and coming to my blog!
For more food items that we buy, see what our family buys from Amazon HERE