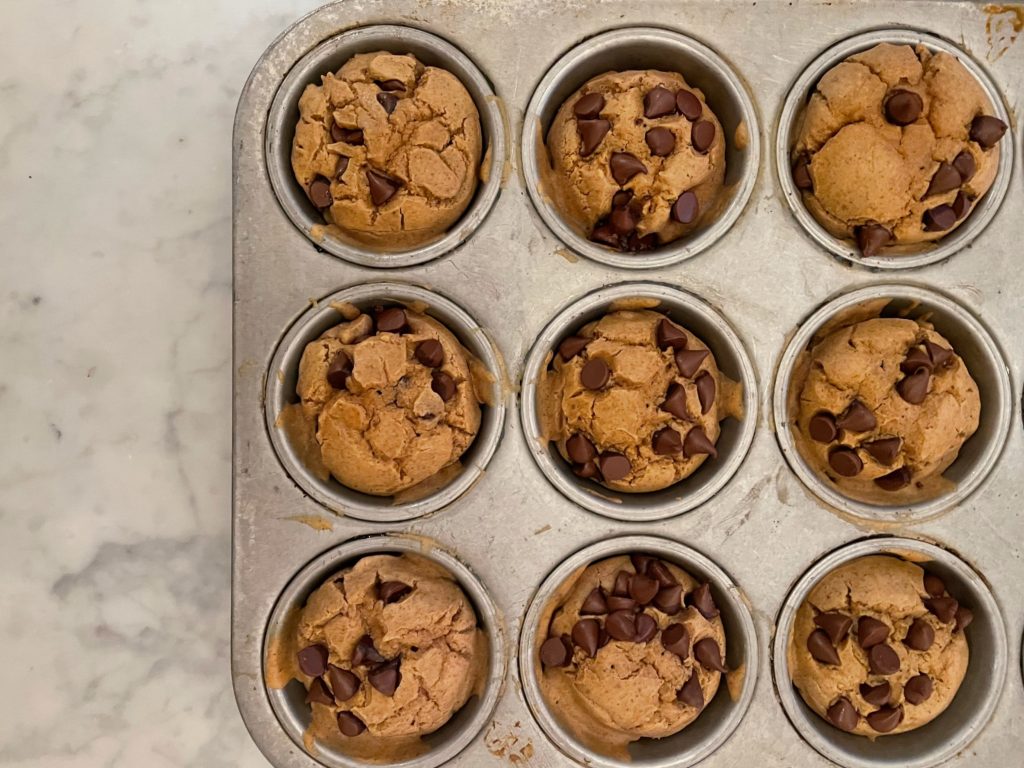 1 (15 ounce) can Organic Garbanzo Beans, rinsed and drained (chickpeas)
3 large eggs
1/2 cup creamy almond butter (just almonds + salt)
1/2 cup pure maple syrup (or sub honey)
1 teaspoon vanilla extract
1 teaspoon baking powder
¼ teaspoon salt
1 cup small wild frozen blueberries OR 1/3 cup dark chocolate chips, plus 2 tablespoons for sprinkling on top (dairy-free, if desired)
Step 1
Preheat the oven to 350 degrees F. Line a 12 cup muffin tin with 10 muffin liners (we're only making 10 muffins) and spray the inside of each liner with nonstick cooking spray so that the liners do not stick to the muffins — this is important.

Step 2
Place chickpeas and 1 egg in the bowl of a food processor or high powered blender and process until beans are well blended. Add two other eggs, peanut butter, maple syrup, vanilla, baking powder and salt and process again until smooth. Fold in ⅓ cup chocolate chips.
Step 3
Divide batter evenly among muffin cups. Sprinkle remaining chocolate chips evenly among the tops of each muffin batter. Bake for 25 minutes or until a toothpick inserted into the middle of the muffins comes out clean. Place on a wire rack to cool for 10 minutes, then remove muffins from tin and transfer to a wire rack to cool completely.
Let me know what you think! Don't miss my reel featuring this recipe.
Adapted from Ambitious Kitchen