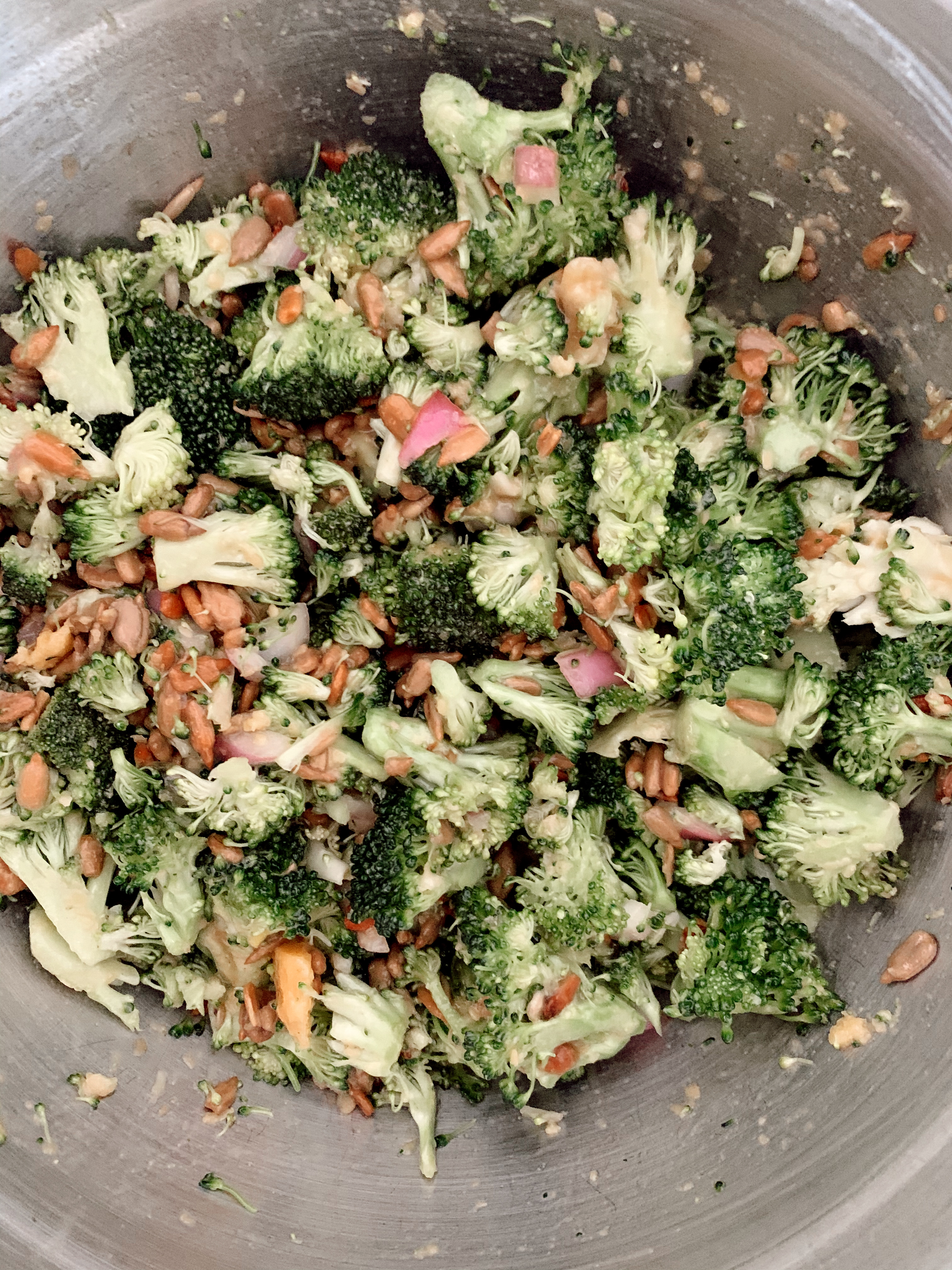 I was searching the internet for a MAYO FREE broccoli salad. . .
My dad hates mayonnaise after getting sick about 20 years ago. Honestly, after he told me how he got sick, I started to hate mayonnaise too. The story goes, he ate a fast food burger and apparently the mayonnaise they used was not fresh. He was sick for days after and hasn't had mayo since. I'm pretty excited that my search for the BEST mayo-free broccoli salad has ended. This recipe is adapted from this site. Here's to trying new things. Hope you enjoy!
Note: I tripled this recipe for 9 people.
1 pound of broccoli (I like it chopped as small as you can chop it)
1/2 cup (salted) sunflower seeds
1/2 cup finely chopped red onion

1/2 cup grated sharp cheddar cheese

1/3 cup dried cranberries (optional) I left this out, but it is a pretty pop of color!
For the dressing
1/3 cup avocado oil or extra virgin olive oil
2 tablespoons apple cider vinegar
1 tablespoon Dijon mustard
1 tablespoon honey
one medium clove of garlic minced
1/4 teaspoon fine sea salt
Get two bowls out, one large bowl and one small one. In the large bowl, add sunflowers, chopped broccoli, onion, cheese and cranberries. In a smaller bowl, combine the dressing ingredients: oil, vinegar, mustard, honey, garlic and salt. Whisk until the mixture is well blended. Pour the dressing over the salad and stir until all the broccoli is lightly covered in dressing. If you have any self-control, marinate 20 minutes or even overnight in the fridge.
5. Divide salad into individual bowls and serve. Leftovers will keep up to for 3 to 4 days in fridge, covered.
Cookie + kate suggests:
MAKE IT VEGAN: omit the cheese,
MAKE IT DAIRY FREE: omit the cheese, use maple syrup instead of honey
MAKE IT NUT FREE: use sunflower seeds instead of almonds
Let me know what you think? I think this will be a new favorite recipe in our house. Is it addictive? You betcha! The whole bowl was gone tonight! Bonus, it travels well if you need a yummy picnic food. Check out more of my recipes like blueberry muffins and puffed pancakes or search "foodie friday" on the blog.
Thanks for stopping by!
xx Shalice