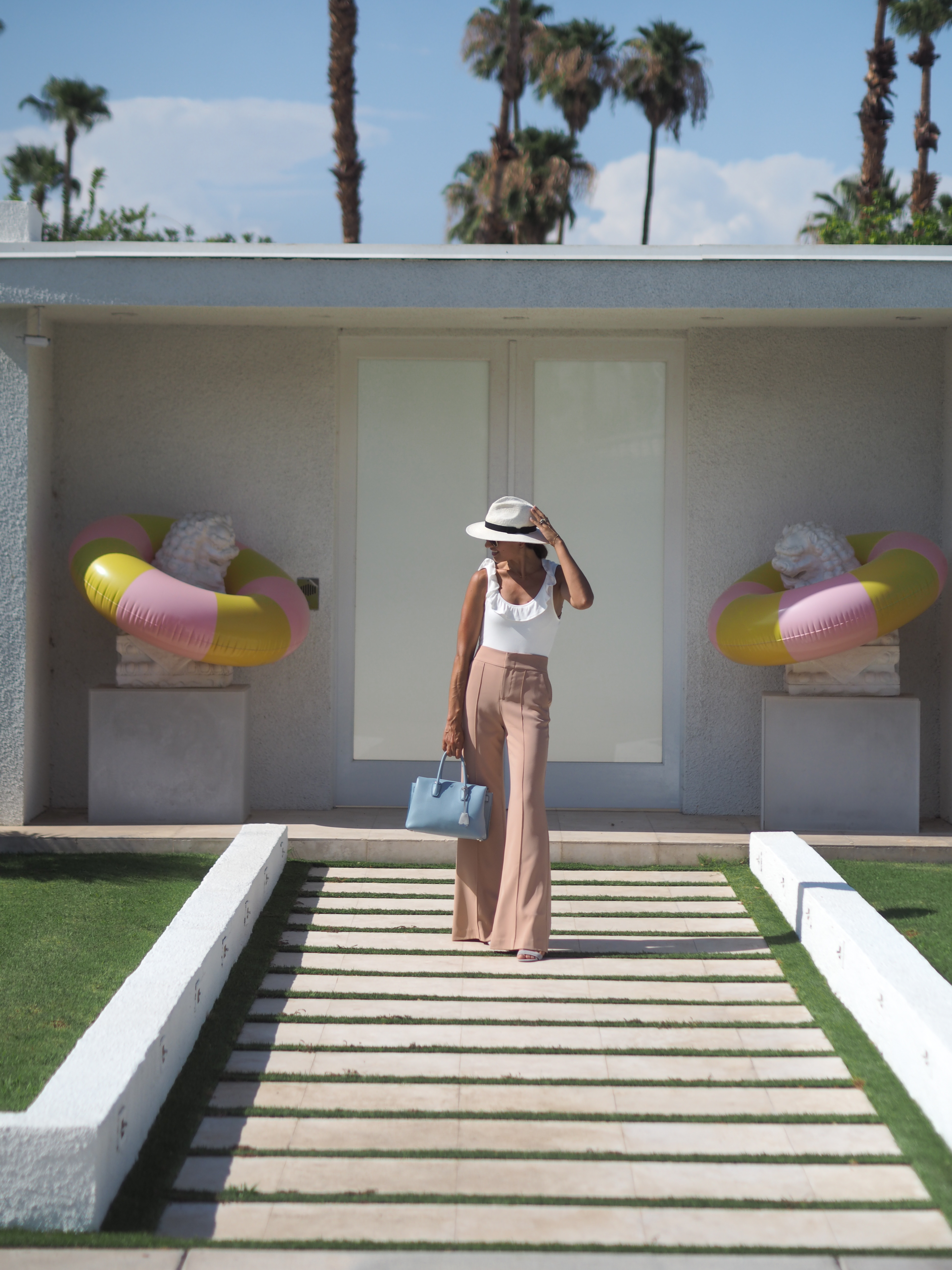 Q & A
What was your last Amazon prime order?
Bento lunch boxes for the kids peppermint oil, because I get really stiff neck and headaches, and tea.
What is the last tip your make-up artist, Lexi has given you.
Use highlighter on the bridge of your nose, center of your top lip, on your cheekbones, over the inner corners of your eyes, onto your brow bone, and center of your forehead. Lexi started using this highlighter on me.
What is the best and last diet tip you've shared?
Dandelion tea. It helps with water retention and I drink at least one cup a day.
Will you be sharing your workout routine?
Yes, Hubby and I will be sharing one soon, stay tuned! If you missed it, see a video on how I workout at the park!
Where do you like to go in Palm Springs?
The King's Highway  for breakfast (I get their granola and yogurt), the Ace pool to cool down, pink door house and I'm open to hearing my readers favorites?
What's the address of the pink door house and this house with the lions?
Good question! 1100 E Sierra Way, Palm Springs, CA 92264
What did you have for breakfast at home?
Steel cut oatmeal, almond milk, raw honey, coffee and dandelion tea. 
What's a sample diet?
Click this Q & A HERE 😉
Did you always want a big family?
I always wanted 6 children, Reid wanted 3, and God gave us 4. I feel like I've won the lottery with them. We have some really long days, but they are a constant blessing.
What's your best parenting advice, or what have you learned lately that has made momlife easier?
It's threefold: a lot of affection, some outside time whether its scooters at the park, a ride around the block, and lots of good snacks sometimes makes or breaks a day.
With 4 kids you must have a lot of mess in your house?
Haha well, we have a chore chart they have to follow, I give rewards for cleaning and when in doubt, I ask them to take something upstairs and I count how long it takes – they love it, they're really competitive and I get things done, lol.
How do you juggle your days as a busy mom and business owner?
Not every day is the same, some days I have a sitter all day for meetings and appointments or a photo shoot, some days like today, I'm home, we make breakfast, do chores, read and I catch up on emails and write my blog posts. With that said, its not without the cries, the troubles with sharing and the struggle to fit in a workout, but I wouldn't trade it for the world. I was just telling Felicia my photographer how much I love working from home – from kissing the boo-boos, applying the 5th band aid, brewing my own coffee, writing, and sending emails and styling outfits. The latter is often done around midnight but hey it works.
Anything I missed or you'd like to ask? Comment below!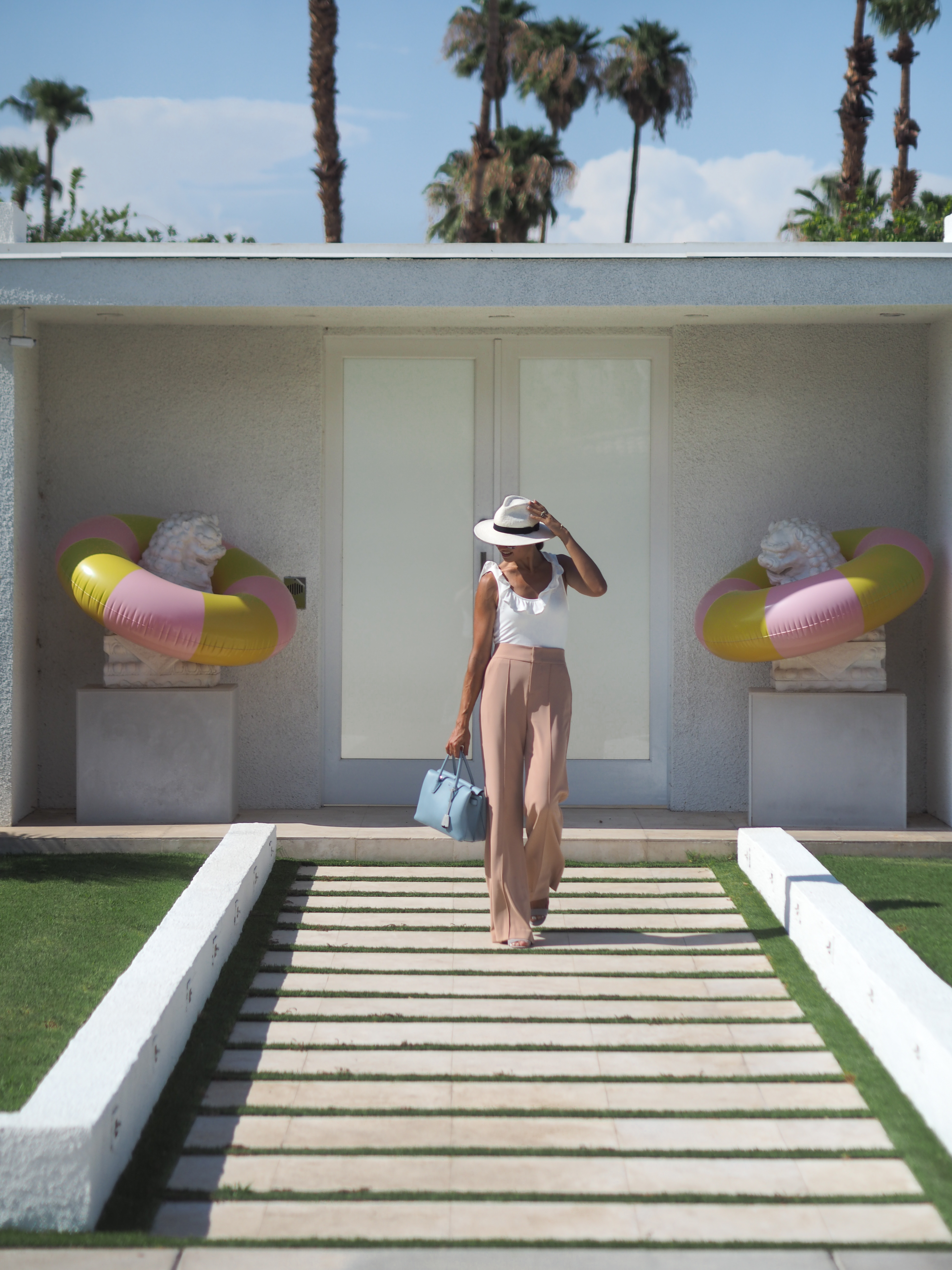 What I'm Wearing
pink pants ALICE and OLIVIA :: ruffle bodysuit LEITH :: hat NORDSTROM :: sunnies CHLOE :: heels (only $32!)  WHOWHATWEAR :: bag MCM