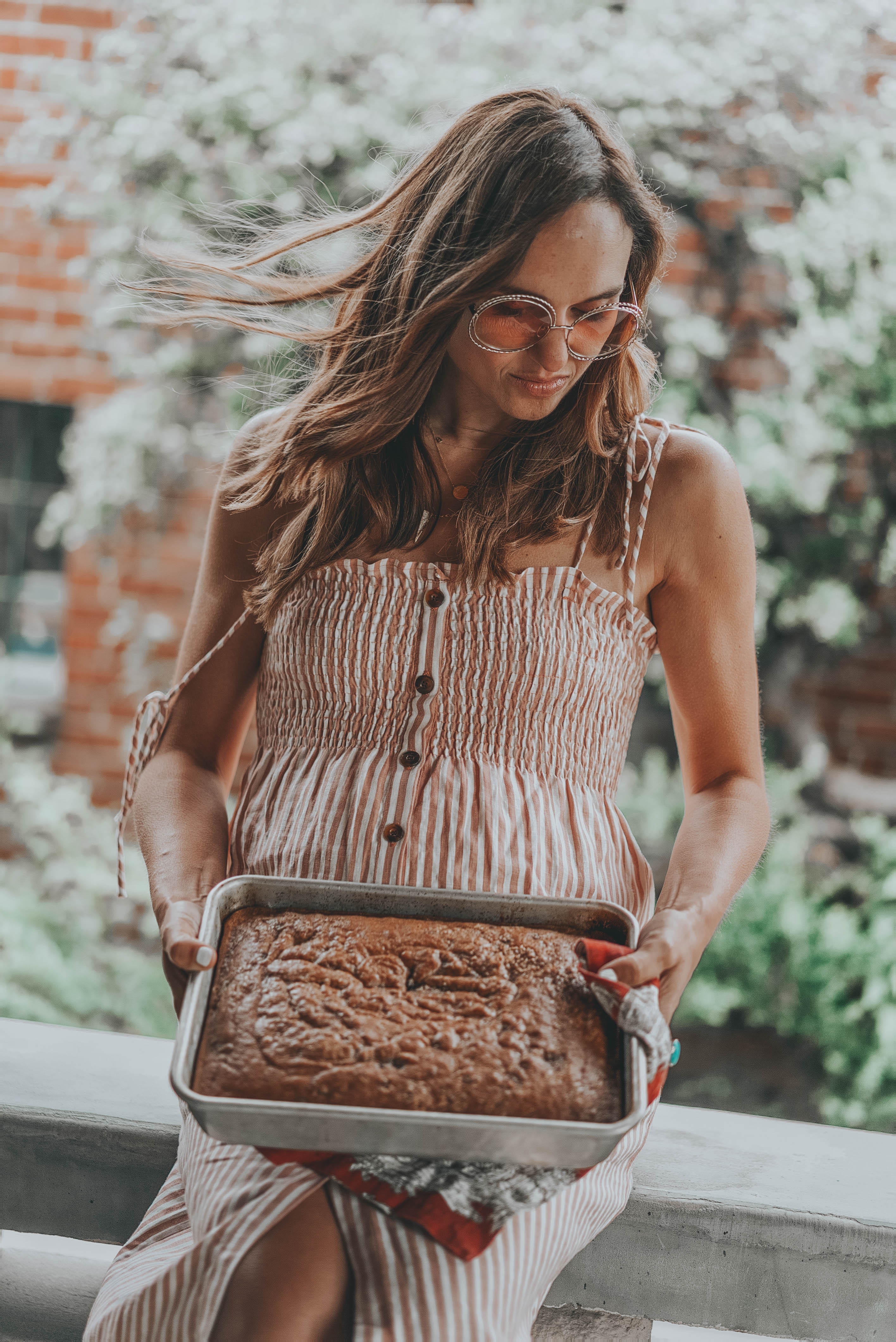 linen dress // sunglasses // bucket bag

I'm on a pumpkin bread kick. If baby wants it, baby gets it, right? I found a recipe that is super easy, makes moist bread, and my kids love it. Funny tip, if you want to sleep in tomorrow, make this tonight, cut it up, lay out paper plates and tell your kids to enjoy the pumpkin bread downstairs and give you 30 more minutes of sleep in the morning. It worked for me this morning. Phew! Note: I like to substitute spelt flour for all purpose flour since it has fiber and protein and no one in my house is gluten free. I've been told, this recipe substitutes gluten free flour nicely. How cute is this dress?
Pumpkin Bread adapted from here
1 cup chocolate chips (optional)
Directions:
Preheat oven to 350 degrees F (175 degrees C). Grease and flour three 7×3 inch loaf pans.

In a large bowl, mix together pumpkin puree, eggs, oil, water and sugar until well blended. In a separate bowl, whisk together the flour, baking soda, salt, cinnamon, nutmeg, cloves and ginger. Stir the dry ingredients into the pumpkin mixture until just blended. Pour into the prepared pans.

Bake for about 50 minutes in the preheated oven. Loaves are done when toothpick inserted in center comes out clean.
Do you like when I share recipes? Do you want to see more? Let me know. Your comment short or long is really helpful as I plan future content!
Thank you,
xx
Shalice