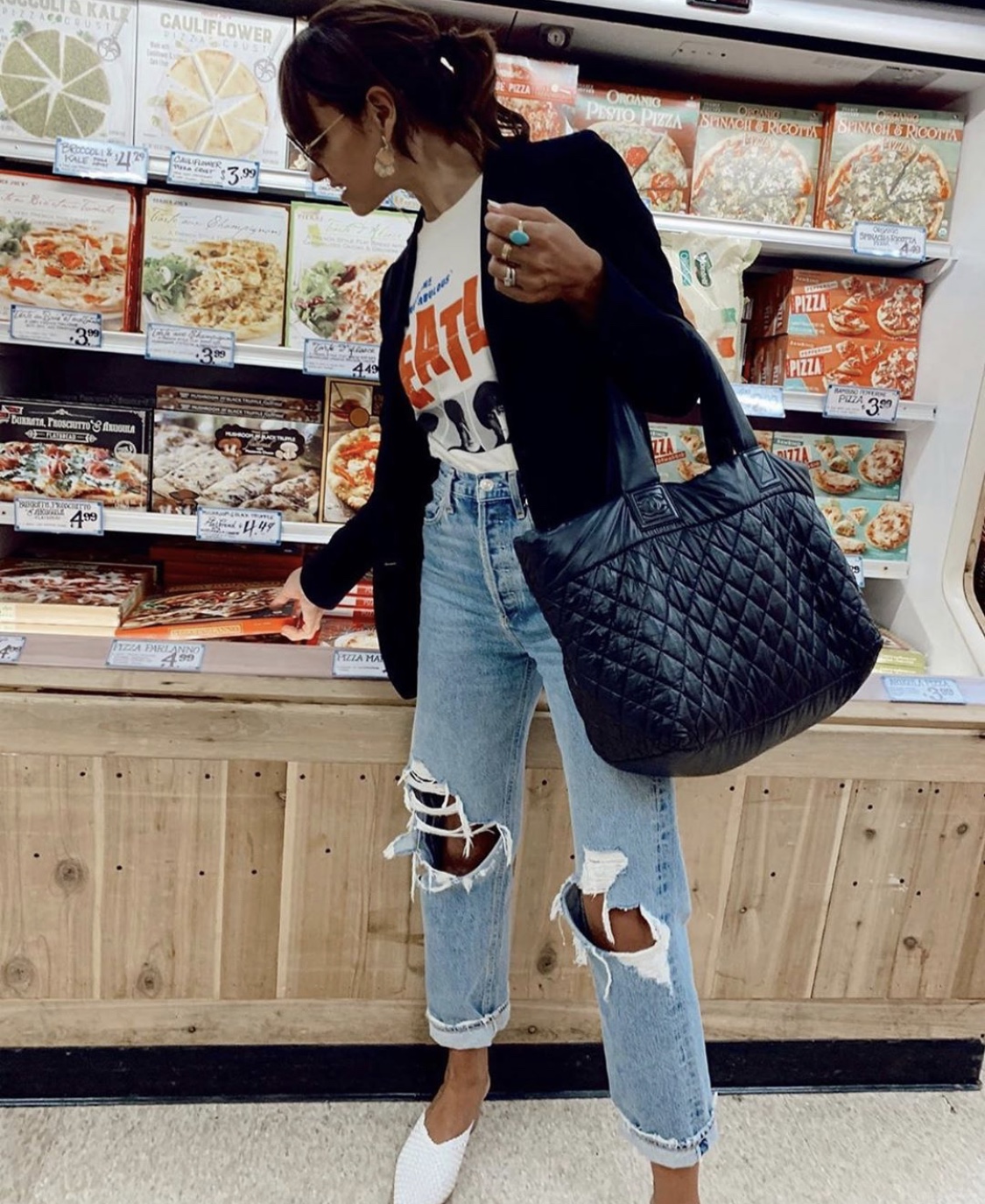 jeans fit TTS // Beatles tee // Chanel cocoon tote bag similar // blazer similar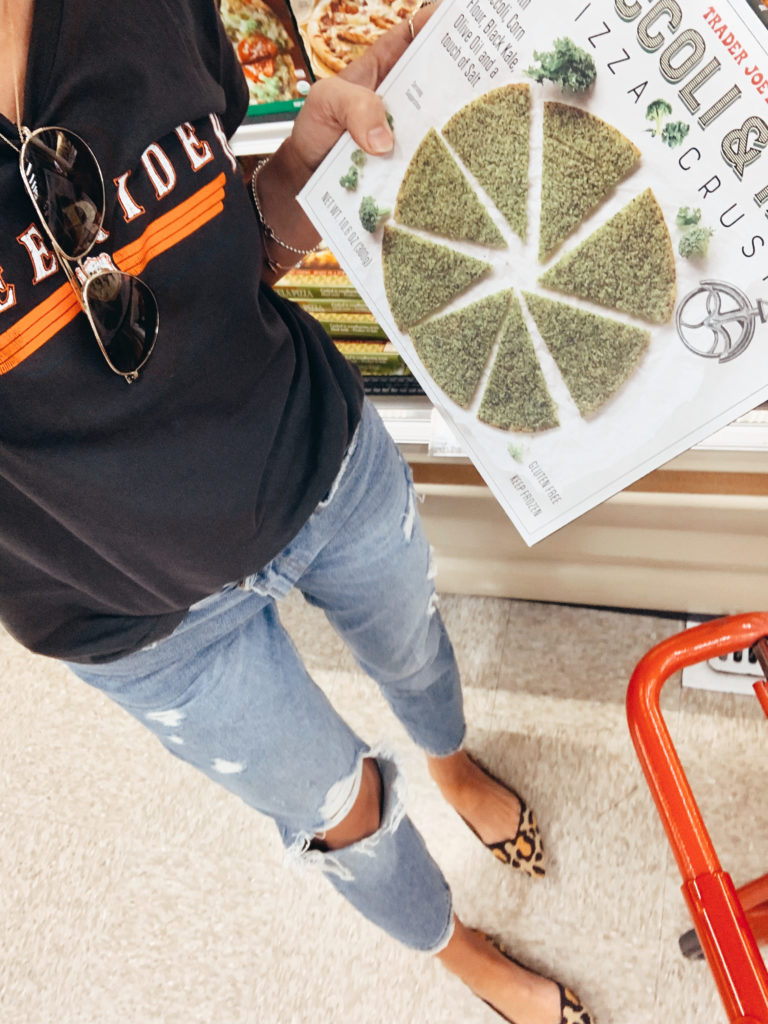 With 7 people to feed, it's no secret I'm a HUGE fan of 3 ingredient dinners and please note that my kids approve of ALL these meals. Perfect for a Monday or a Sunday night when you have NO IDEA what is for dinner. I know I've been there. After 30 revisions, I am finally publishing this. I will also say, this was Reid's favorite blog post I've written in a while. I think because he liked our kitchen transformed into a "test kitchen" for many of these recipes. Feeding your family is a big deal, so researching these recipes and putting together meals has been a labor of love. I'm no food blogger, but these work for me and my hungry family of 7. I have an option with a plus sign by some of the recipes, to make it health(ier). Totally up to you. Take notes, pack up your reusable bags, and head to Trader Joe's for your next 3 ingredient dinner.
Let's
dive
right
in: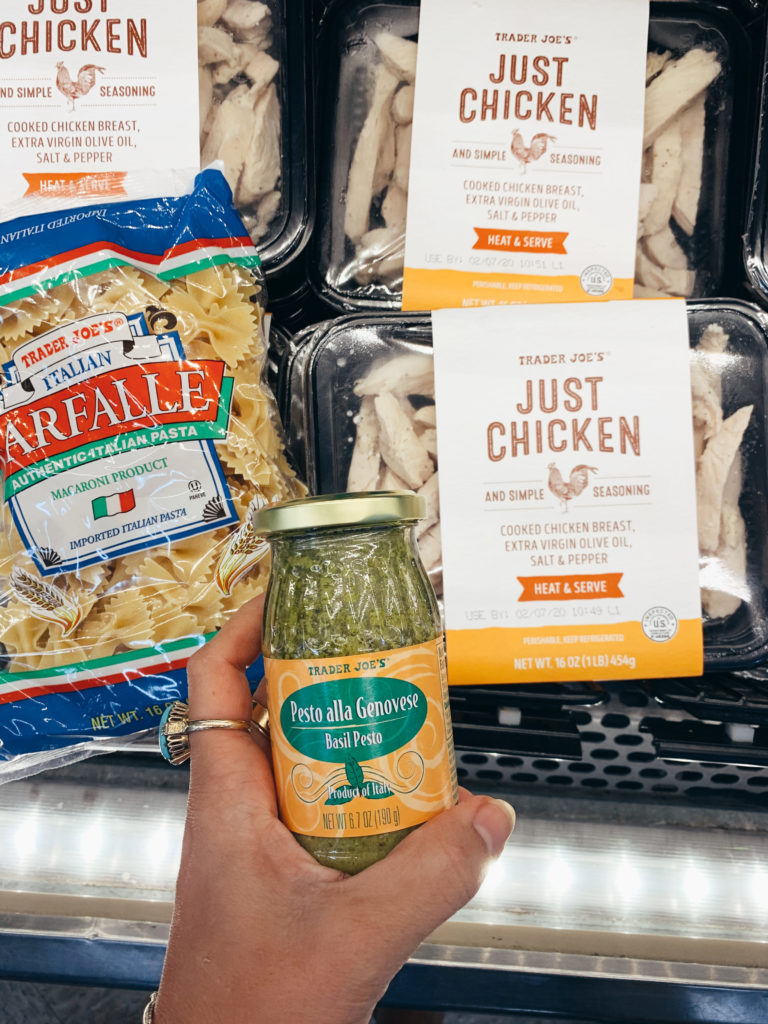 1. Pasta + Pesto + Grilled Chicken
(good source of protein, some greens) + add sautéed spinach and garlic
Cook the pasta per the instructions on the back, add chicken, pesto and avocado oil to mix. serve warm or chilled. Perfect as leftovers too! Reid takes the leftovers to work for lunch. Honestly, there are hardly ever any leftovers.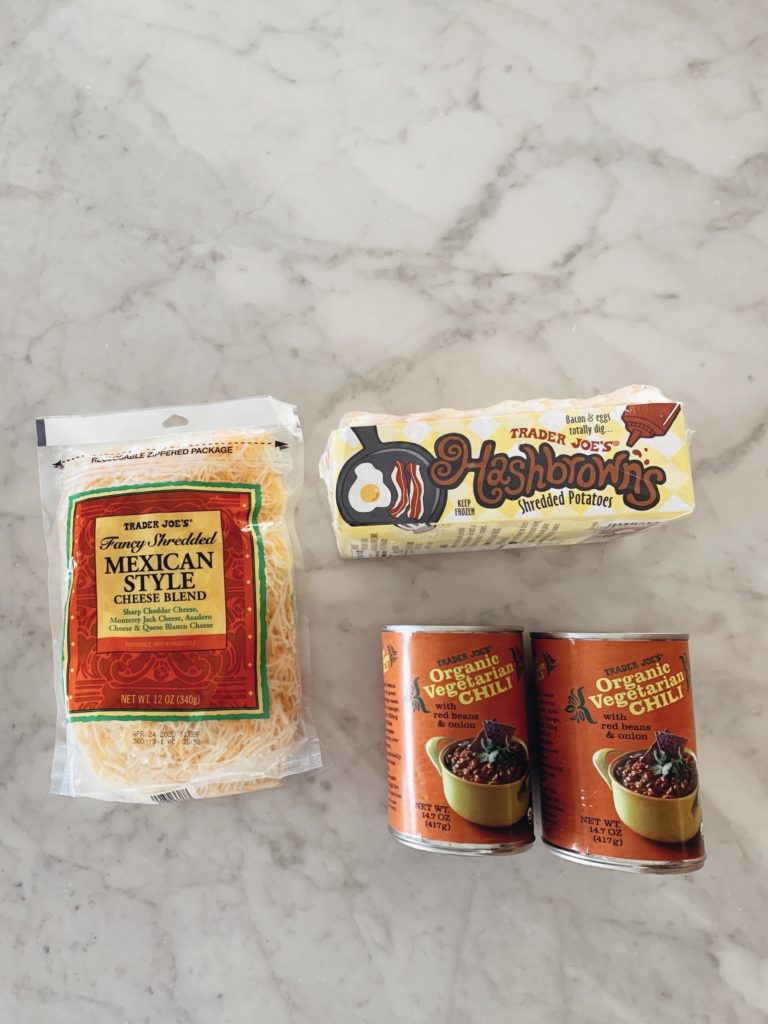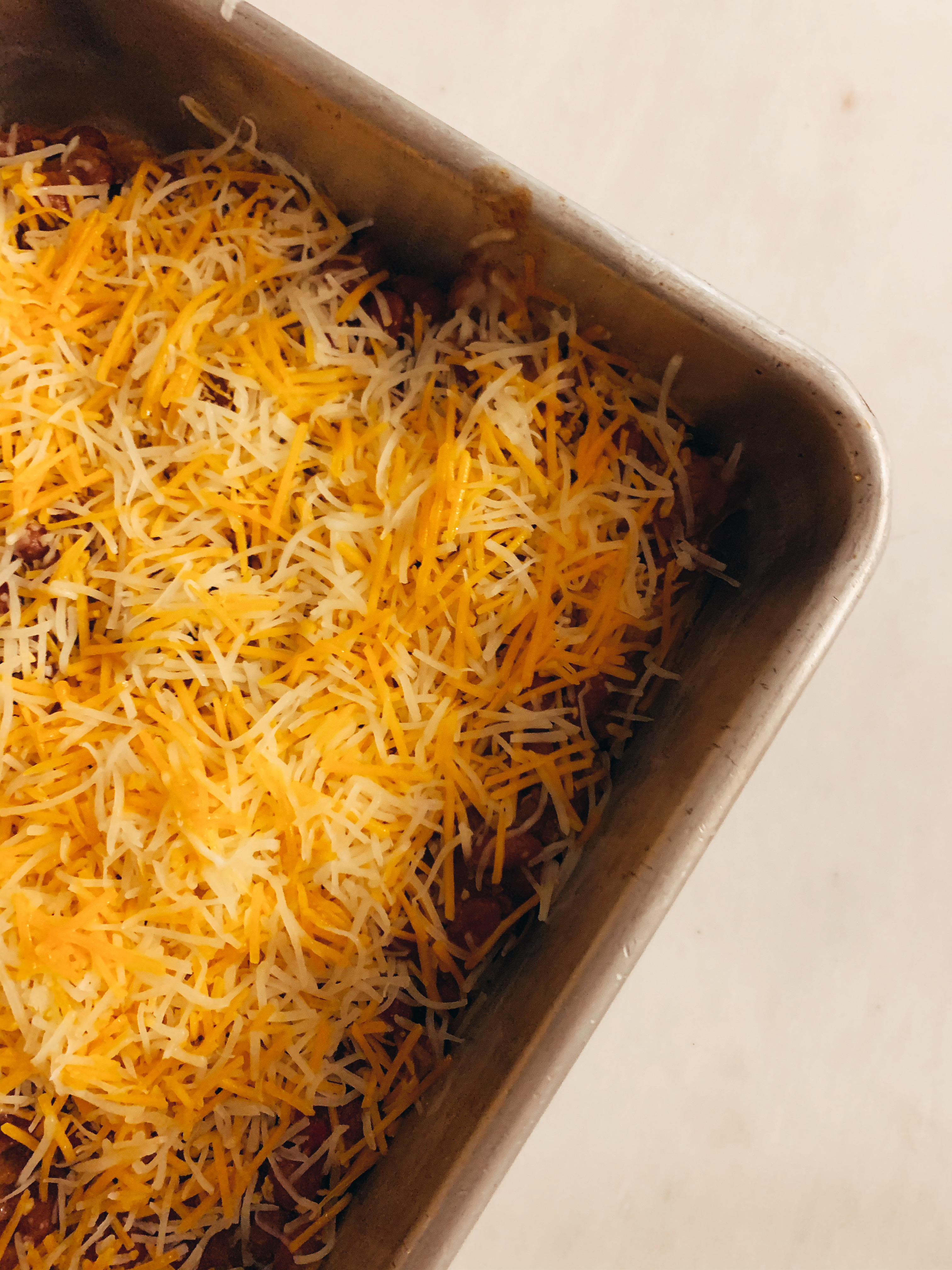 2. Hashbrowns + Veggie Chili + Shredded Cheese
+ kale chips for extra protein!
This dinner is such a hit at my house, I didn't even get an "after" picture!
3 steps: arrange hash browns on a 9×13 pan, empty 2 cans of vegetarian chili onto the hash brown layer. and finally sprinkle cheese over this.
Bake 350 degrees for 18-20 minutes depending on your oven.
I get a ton of DM's about this simple recipe and I kind of chuckle to myself and think, wow, this is such an easy meal, why don't more people know about it? I make 2 of these for my family of 7.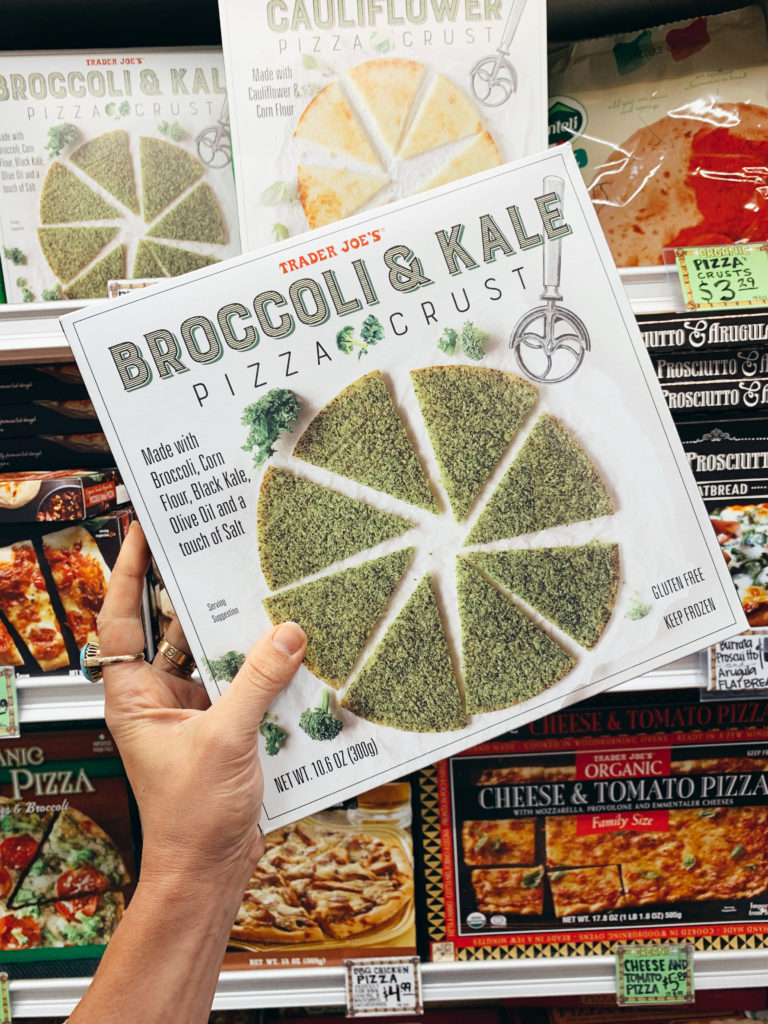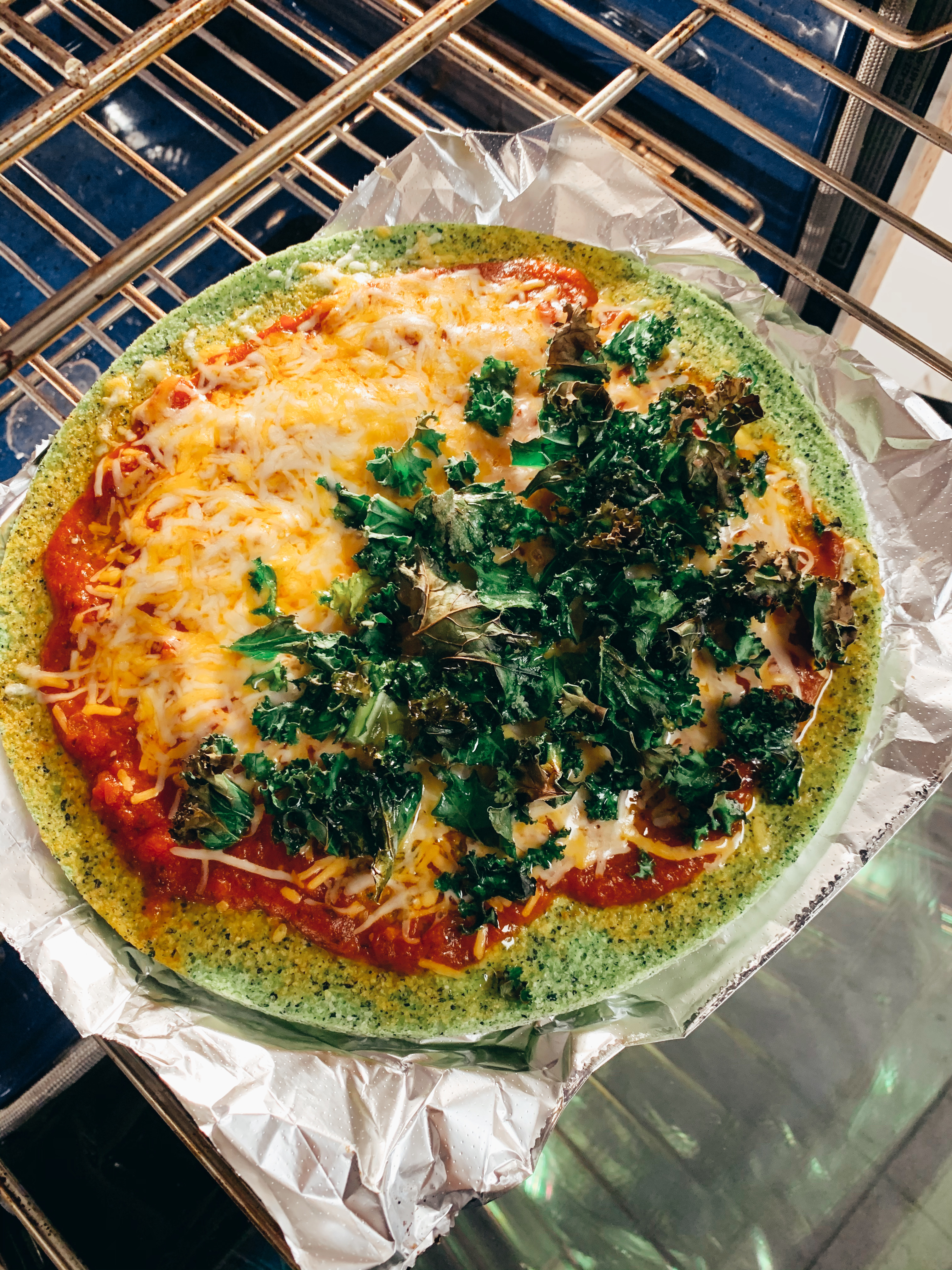 3. Kale Pizza Crust + Shredded Mozzerella + Marinara Sauce
Arrange the sauce, marinara sauce, cheese and kale (dipped in avocado oil and pink salt) and cook according to the packaging. I bake for 400 degrees for about 18 minutes.
Delish!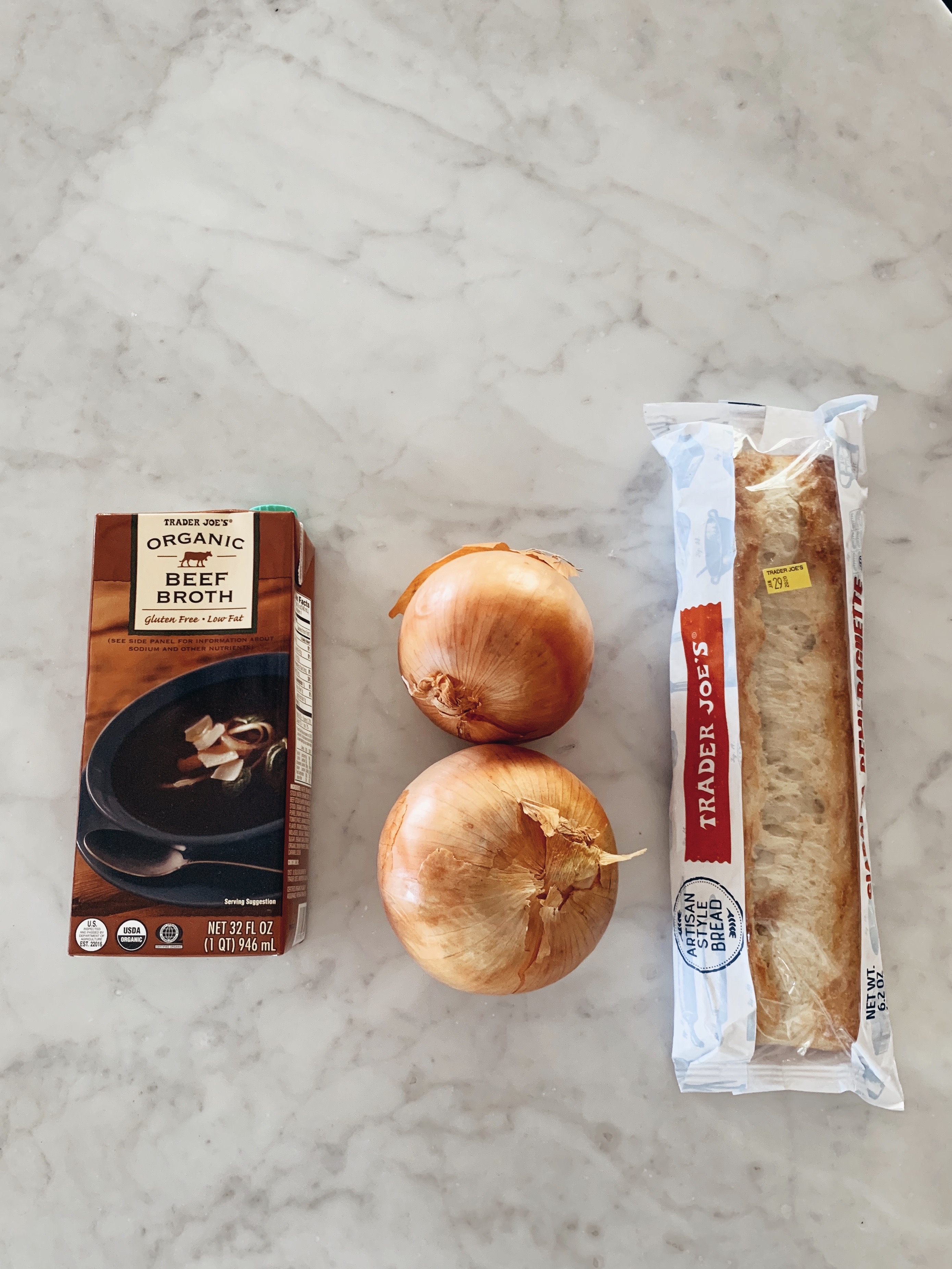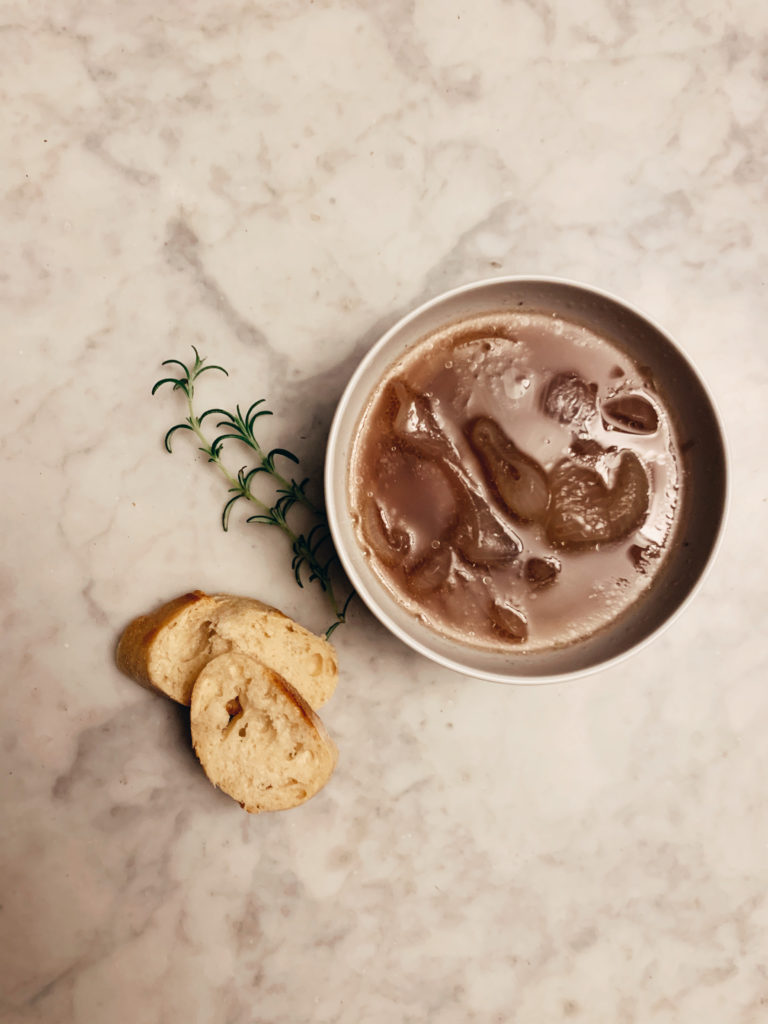 4. Cheese free Onion Soup
Sauté onions with avocado oil until the onions are see through. Add beef broth, (a dash of red wine is optional), and pink himalayan salt. Let it boil than sit. Double what you see here if you have a family of 4 or more. At least 2 beef broth containers and 4 onions, depending on how many you serve. I figure, more soup is always a good thing. My boys beg for soup, and we live in a warm climate, go figure! Don't forget to serve this with french bread. Delicious! Click here for my onion soup recipe previously published on the blog.
Onions + Beef Broth + French Bread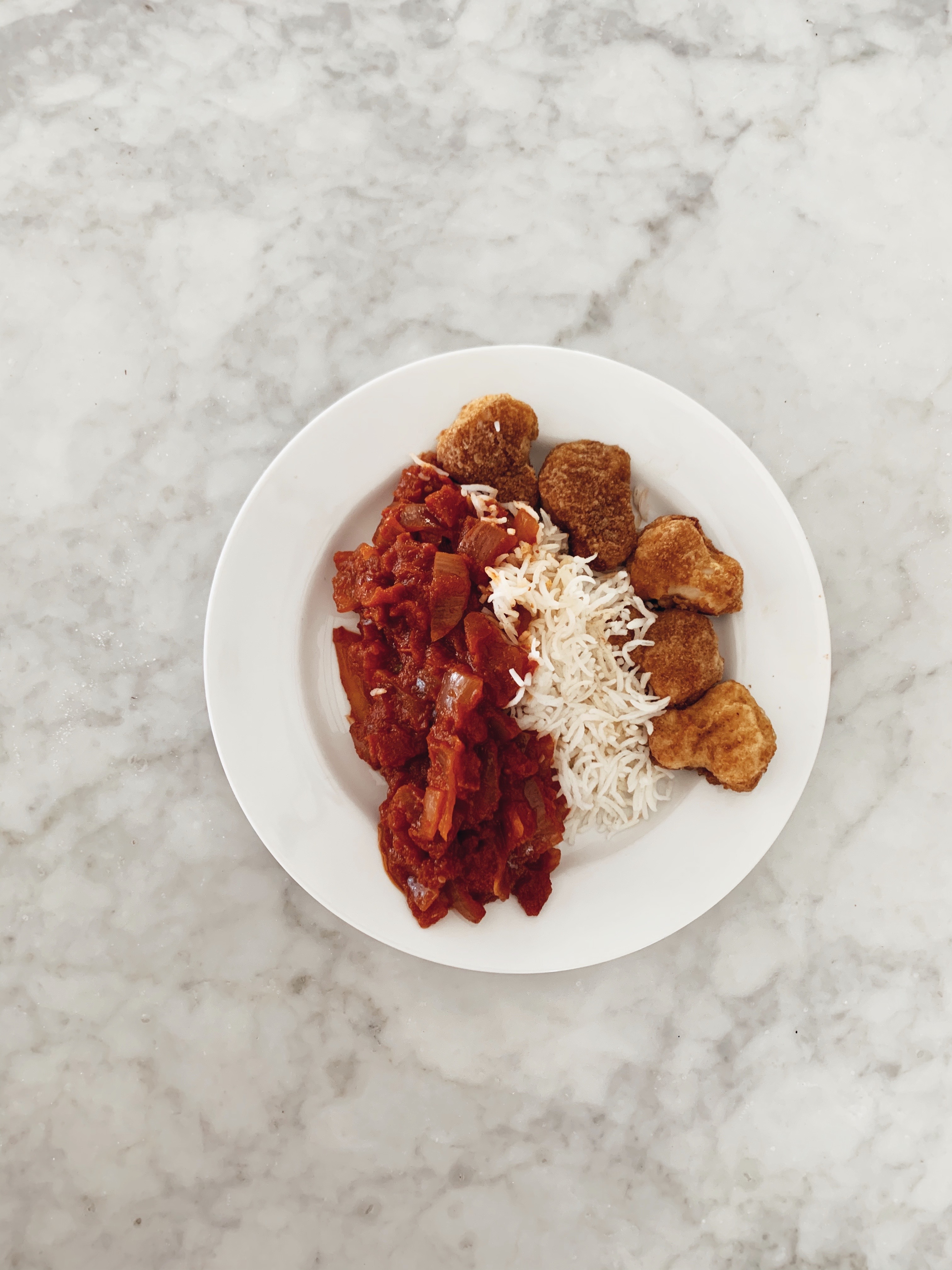 5. Frozen Chicken fingers or Nuggets + Can of Tomatoes + Jasmine Rice
This is my children's favorite dish. They even request it for their birthdays! I sautée the onions and garlic in avocado oil, add a large can of tomatoes, pink himalyan salt, and a cube of "not chick'n bouillon." I heat the chicken nuggets or fingers per the ingredients on the box. If you mix them with the tomatoes, they will get soggy. Serve the chicken beside the bed of rice and tomato mixture.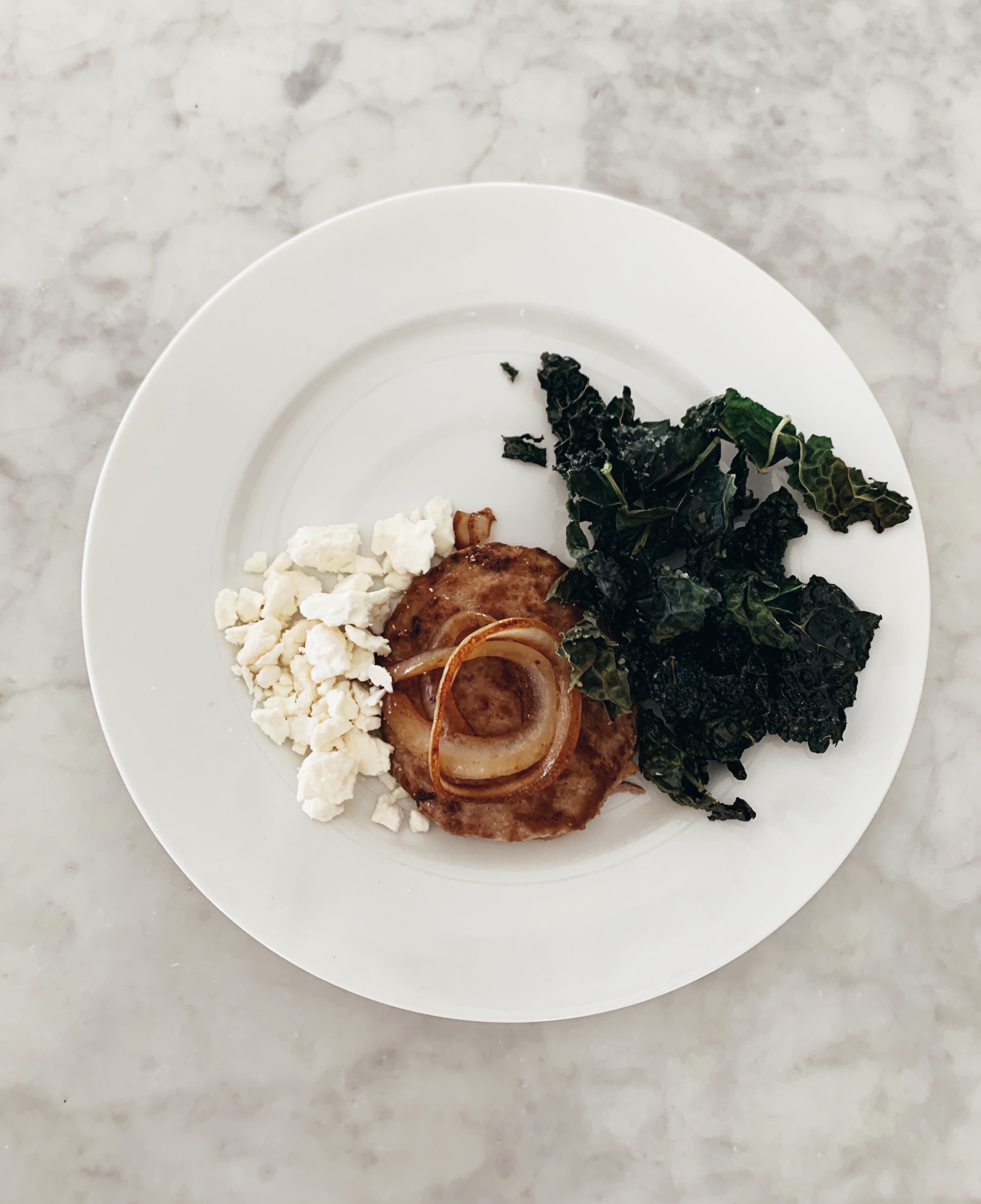 Sear the frozen turkey burgers in some avocado oil on the stove top, add some pink himalayan salt. (Another option: you can sear the turkey burger with Bragg amino acids. I love this soy sauce flavor, but not all do). Pair the burger with Kale chips, roasted onion (optional) and feta. This is a delicious and a yummy way to get your daily protein and greens.
6. Turkey Burger + Kale + Feta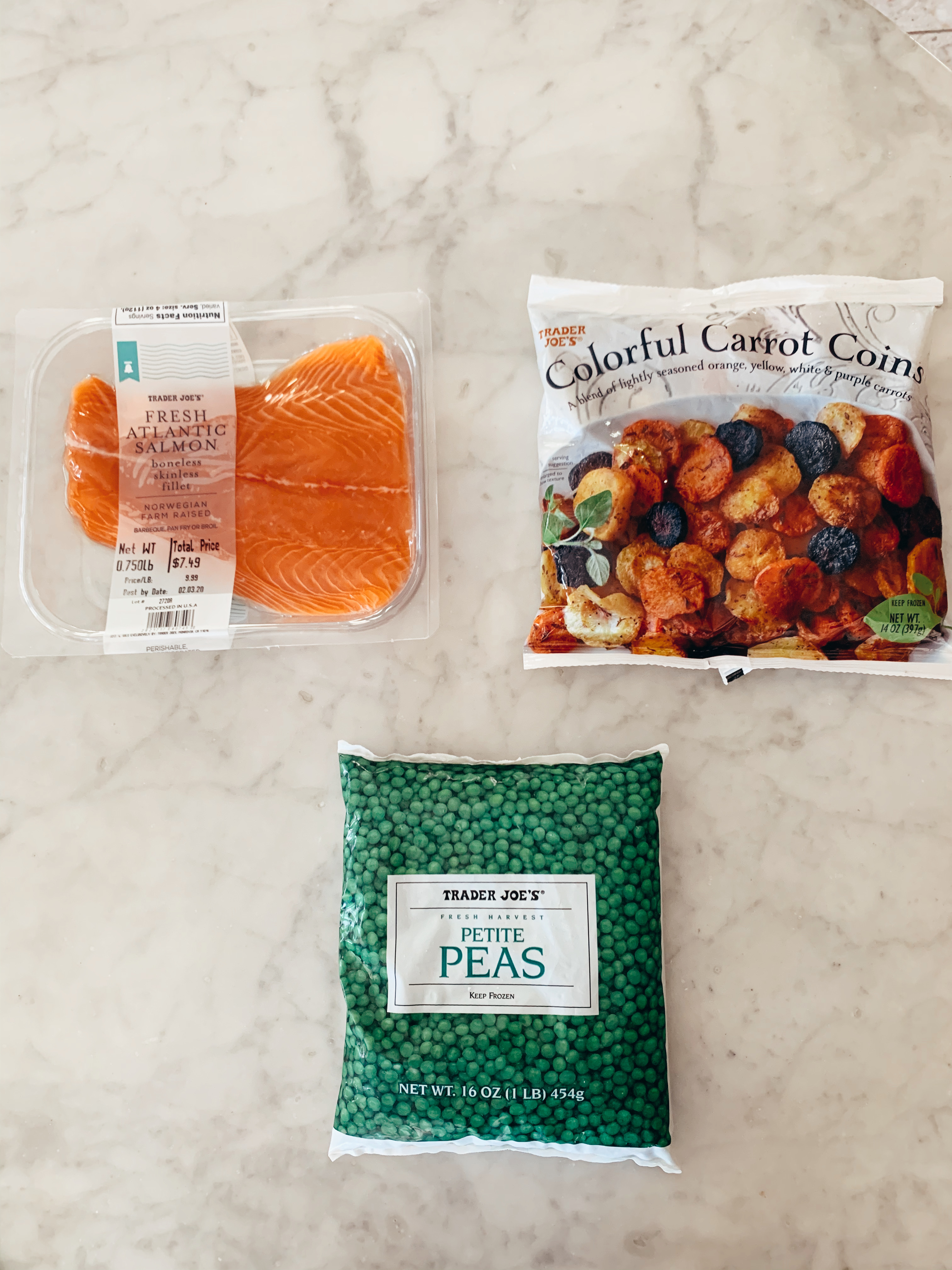 7. One Pan Salmon + Frozen peas + Frozen carrots
Cook the salmon in 425 degrees and add lemon and salt to the top. I usually cook it for 12-15 min, depending on the size of your salmon. TIP: roast your salmon 4-6min per 1/2 inch thickness of salmon. Salmon is usually done when you can take a fork to it and flake it. When the salmon flakes with a fork, it is done!
Add frozen peas and frozen carrots surrounding the salmon. I love the little to no clean up with this recipe!
Bonus 8. Two Ingredient QUESO DIP: This is not technically a meal, however, it is worth mentioning as its a perfect family snack or game appetizer. I originally saw this on Lisa's Instagram and knew I had to make it. It serves 4-6, and ready around in about 5 minutes!
Microwave the chili for 2.5 minutes in a microwave friendly bowl. Stir in 1/2 cup of queso cheese and continue until smooth. Enjoy warm with chips!
Note: you can double or make two of most of all of these dishes for larger families of 6+. Please comment with the dish you're most excited to make. Also, if you have a favorite 3 ingredient dinner that I can add to my repertoire, PLEASE LET ME KNOW. Enter "FOODIE FRIDAY" into my blog's search page for more recipes.
Bon Appetit!
xx Shalice 🙂